Last month, we spent a weekend at Hoshinoya Fuji, a luxury glamping (more on this later) resort overlooking Lake Kawaguchiko. I've been meaning to write this post ever since we got back, but life and work has been very busy over the past few weeks. I guess late is better than never, so here's a summary, with plenty of photographs, of our weekend stay at Hoshinoya Fuji. In case you're wondering, all photos in this post were shot with my trusty Leica Q2.
First, let me tell you why in the world we decided to go to Hoshinoya Fuji in the first place. I've been working my butt off since the beginning of 2020, and we felt it was finally time to take a weekend off to relax. I wanted to go somewhere with a nice view of Mt. Fuji (because I'm still a gaijin who's obsessed with Mt. Fuji), and Ayaka (my wife) wanted to find a place that J (our son) could walk around and enjoy. So, that kind of crossed most traditional onsen resorts off the list.
After some digging, Ayaka found Hoshinoya Fuji. To be completely honest, I thought the resort looked so unappealing when she first told me about the glamping concept. If you're not familiar with glamping, it's short for "glamorous camping". From what I understand, the premise of glamping is "camping for people don't want to camp". As someone who prefers authentic experiences, going somewhere to "camp by not camping" sounded absurd.
Long story short, I initially said, "No way! We're not going there!". After more researching, we both got exhausted and agreed to just book a "D Cabin" (king size bed) at Hoshinoya Fuji. The total came out to ~$2000 for the two-night stay ($500/person/night) – definitely not cheap, but we wanted to treat ourselves.
The Journey to Hoshinoya Fuji
To get to Hoshinoya Fuji, we took the Fuji Excursion train from Shinjuku Station to Kawaguchiko Station. I highly recommend this option over the normal unreserved subway-style trains because it's way more comfortable. Since the Fuji Excursion is a special train of sorts, there's usually less passengers as well – very important considering we're still in the middle of the COVID-19 pandemic.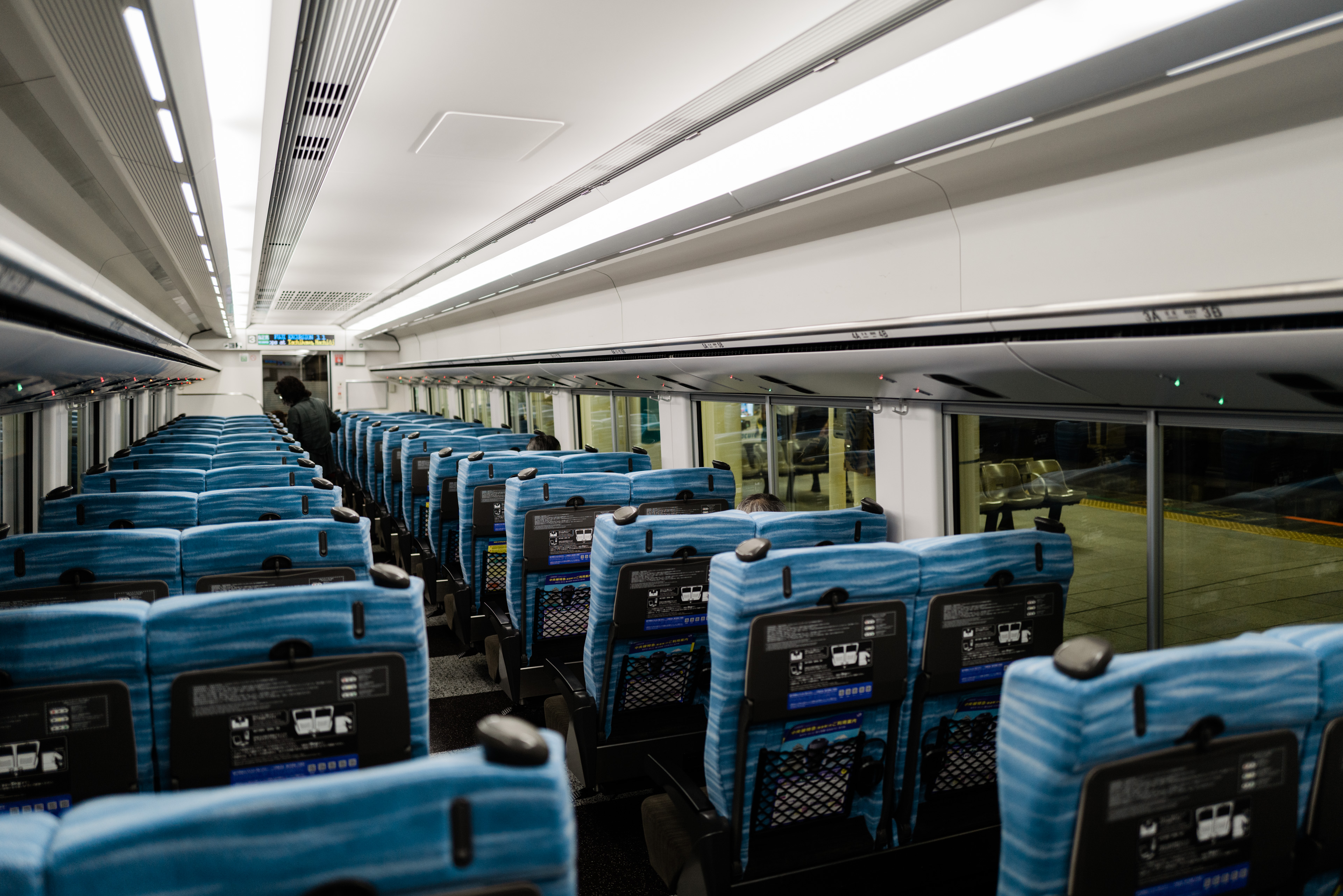 After an hour and a half on the Fuji Excursion, we arrived at Kawaguchiko. Overall, it was a very pleasant ride, though I did have to stand in between cars for the last half hour or so because J was getting antsy. Traveling on a train (or maybe traveling in general) with an almost-two year old is always a challenge.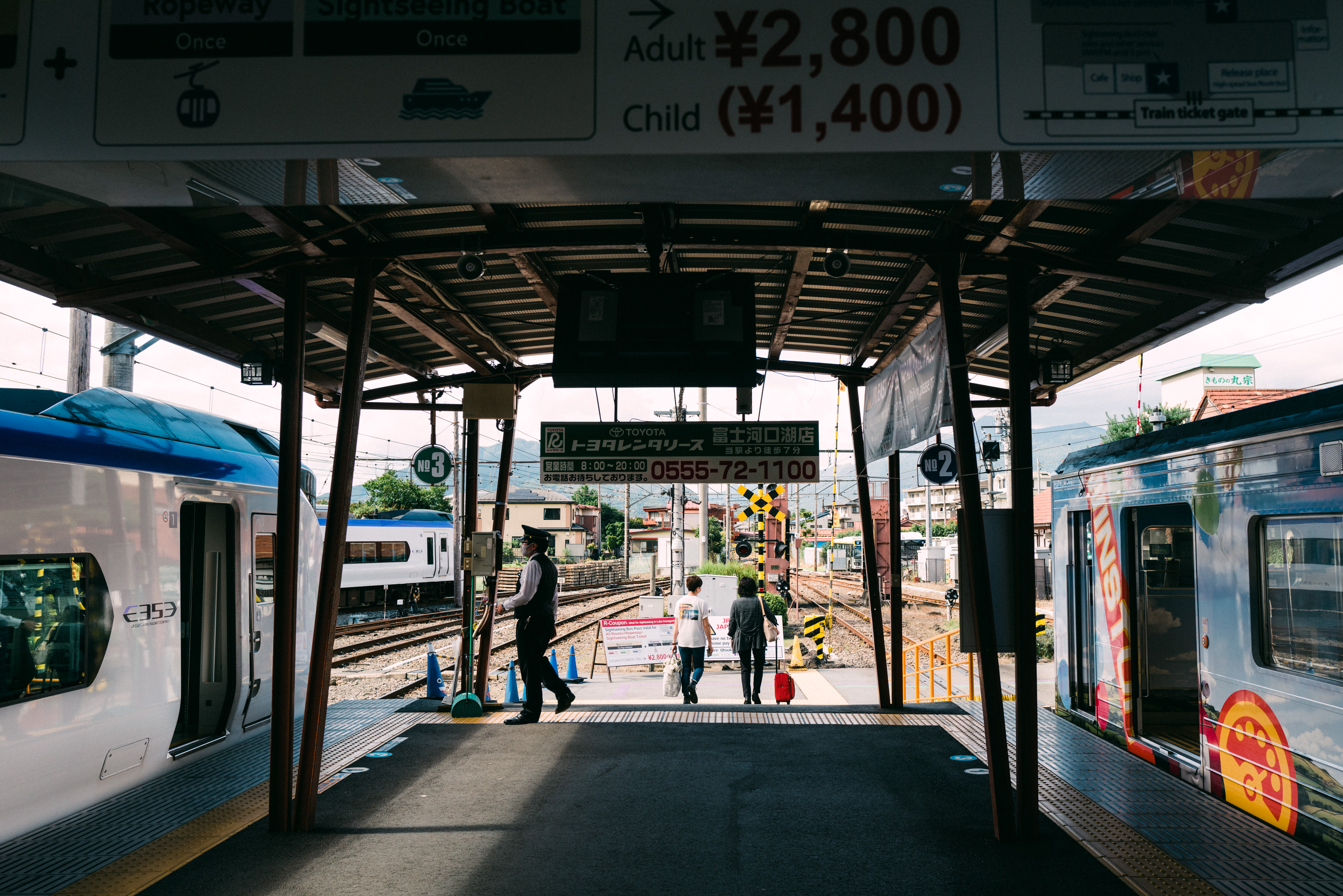 Upon arriving in Kawaguchiko, we still had a few hours before our check-in time at Hoshinoya Fuji, so we took a taxi to get a bite to eat first.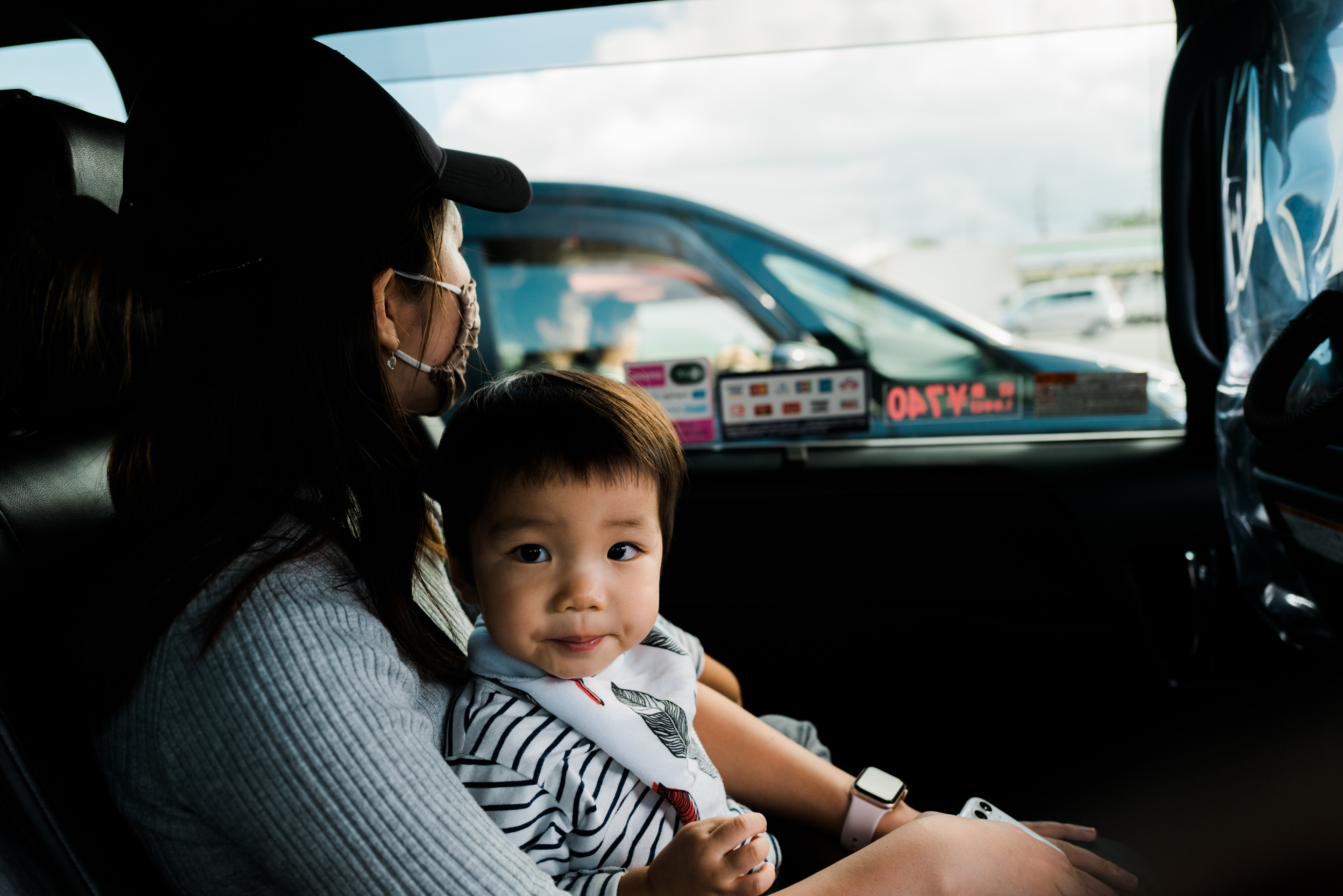 One of my favorite things to do in Japan is trying new kinds of food. During our initial trip planning, Ayaka found a famous hōtō restaurant called Hōtō Fudou. Hōtō is a Yamanashi specialty, and it's basically comprised of thick flat udon noodles and vegetables in a thick miso-based broth.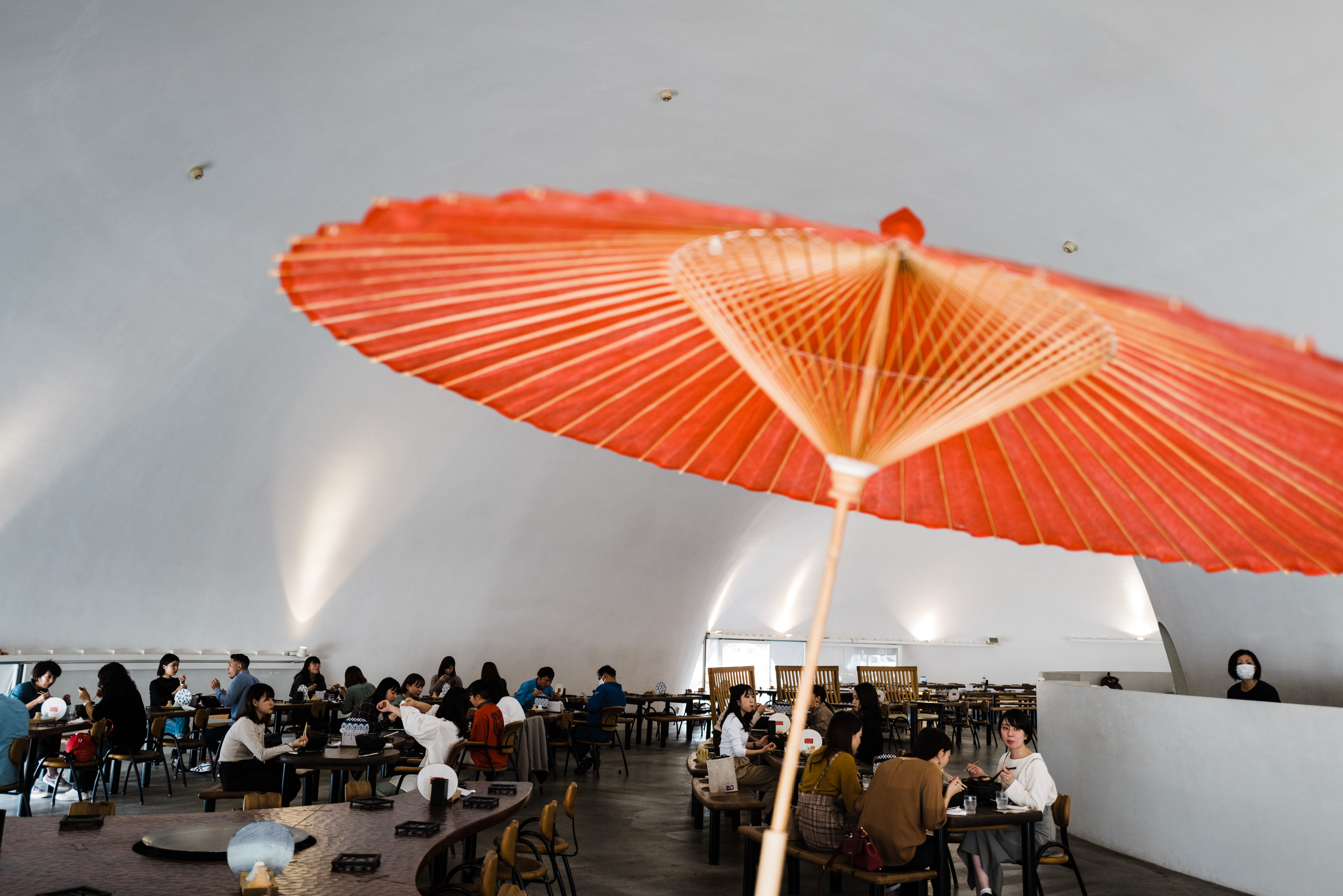 Here's what our meal looked like. Hōtō noodles in a giant bowl – just perfect. Say what you want about Hōtō Fudou being an overpriced tourist trap. In my opinion, their food is delicious and a good value regardless of what the haters say.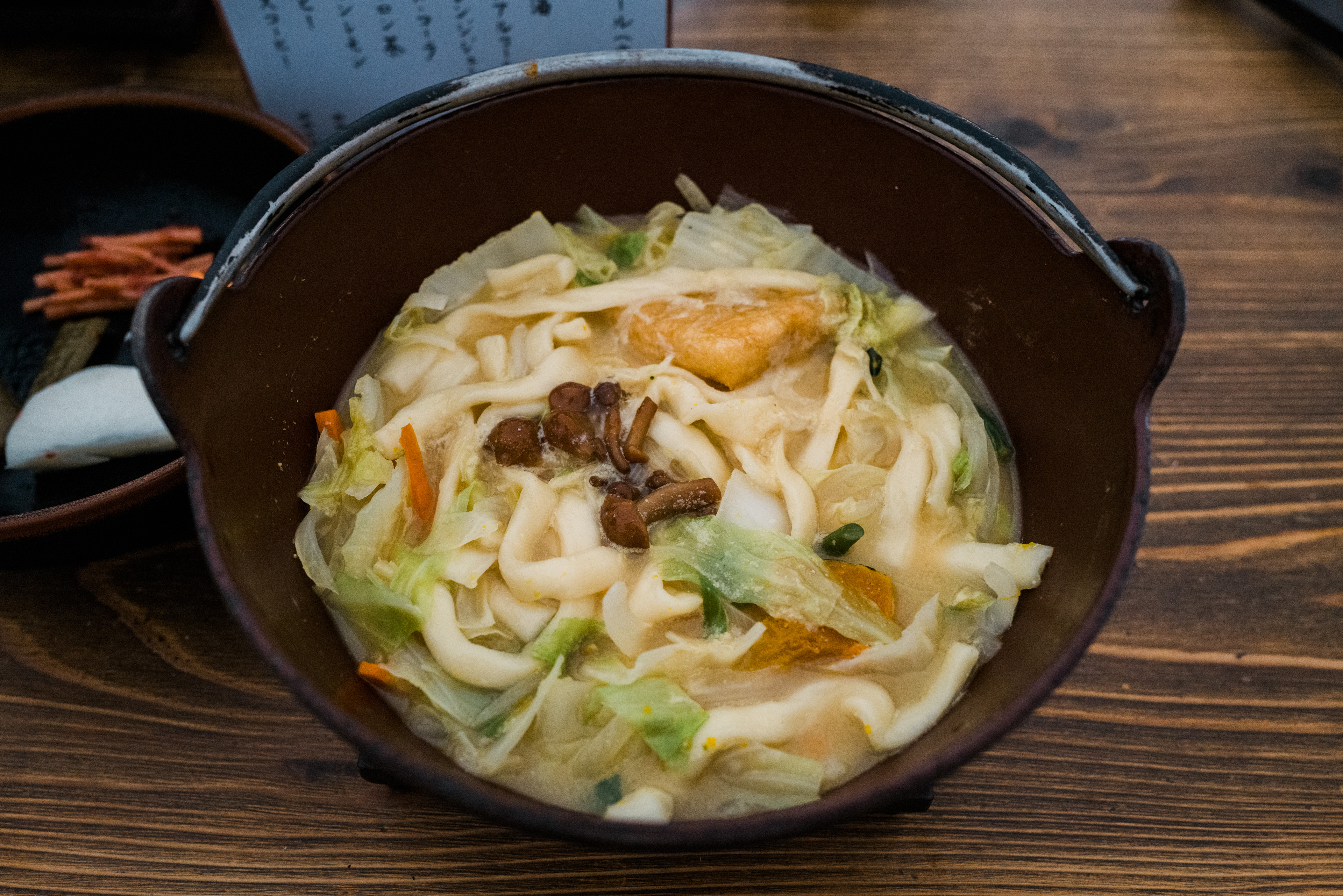 After lunch, we took a taxi over to Hoshinoya Fuji. There was still about an hour and a half until our check-in time, but we figured it was okay to get there a little early to explore the property. Hoshinoya Fuji has two check-in locations. Since the actual cabins are high up on a hill overlooking Lake Kawaguchiko, they've also set up what I like to call a "base station" at ground level. The base station is where the taxi dropped us off after a 15 minute ride.
Arrival at Hoshinoya Fuji
The Hoshinoya staff members at the base station were wonderful, and helped us with our bags and stroller. After that, they gave us a map of the property and told us about all of the various daily activities. There were so many to choose from, but I wanted to try the activities below the most.
Early Morning Canoeing
Electric Bicycle Tour
Forest Pizza Workshop
Fuji no Jukai Nature Tour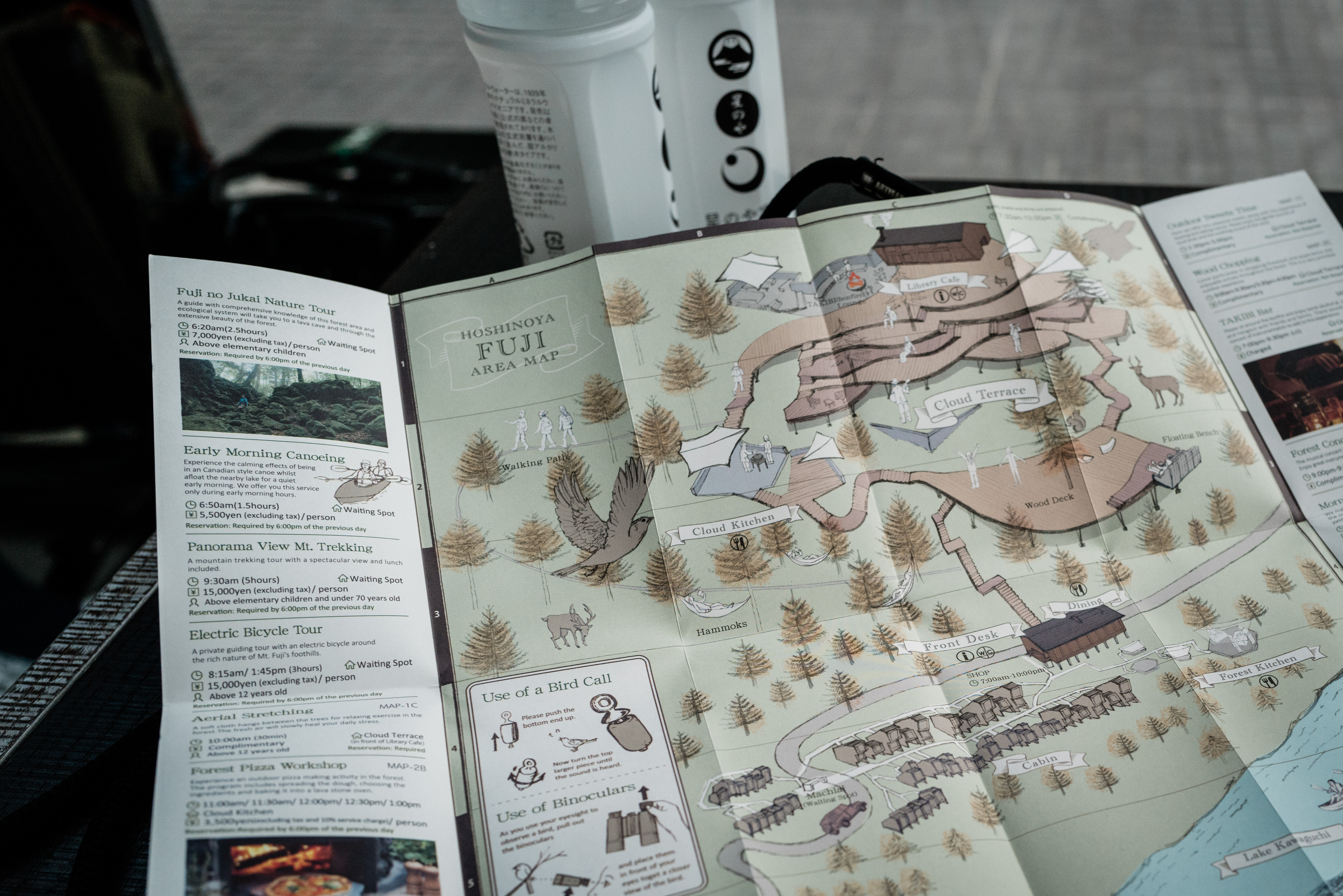 Alas, I wasn't able to do any of these activities. Remember when I told you about how traveling with a toddler can be a challenge? Well, it turns out most of these activities were designed for a minimum of two people. Since J is still young, we always have to keep an eye on him, so this means we can't participate in activities designed for couples. With that said, I'd normally be fine with canoeing and hiking with strangers, but I didn't want to risk it this time around due to COVID-19. In the end, Ayaka signed up for the "Aerial Stretching" course for both days, which she ended up enjoying a lot.
Before heading up to the main property, the staff instructed each of us to choose a backpack. I chose a navy one, and Ayaka went for a grey one. Inside the backpack, we found a water bottle, tumbler, headlights, snacks, and a few other items. I guess the backpack was supposed to add to the glamping experience. J got to choose a small backpack as well, which you'll see later on in this post.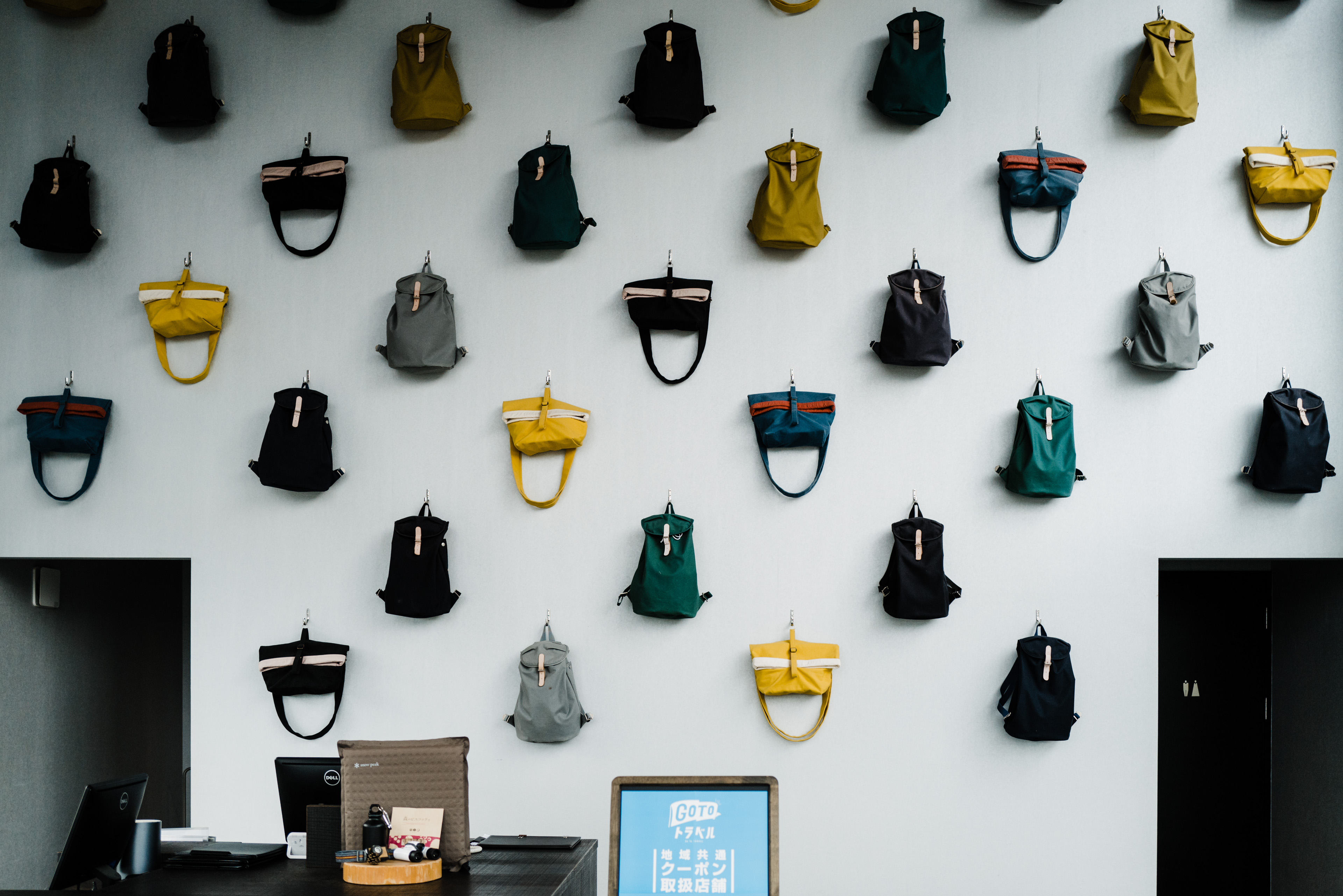 Finally, it was time to drive up to the main property. During my pre-trip research, I discovered that Hoshinoya Fuji uses Jeep Wranglers to drive guests around. For some reason, people seem to make a big deal out of this in their Hoshinoya Fuji reviews. I don't really understand the hype because I'm used to seeing them around in the USA. Maybe Jeeps are rare in Japan or something.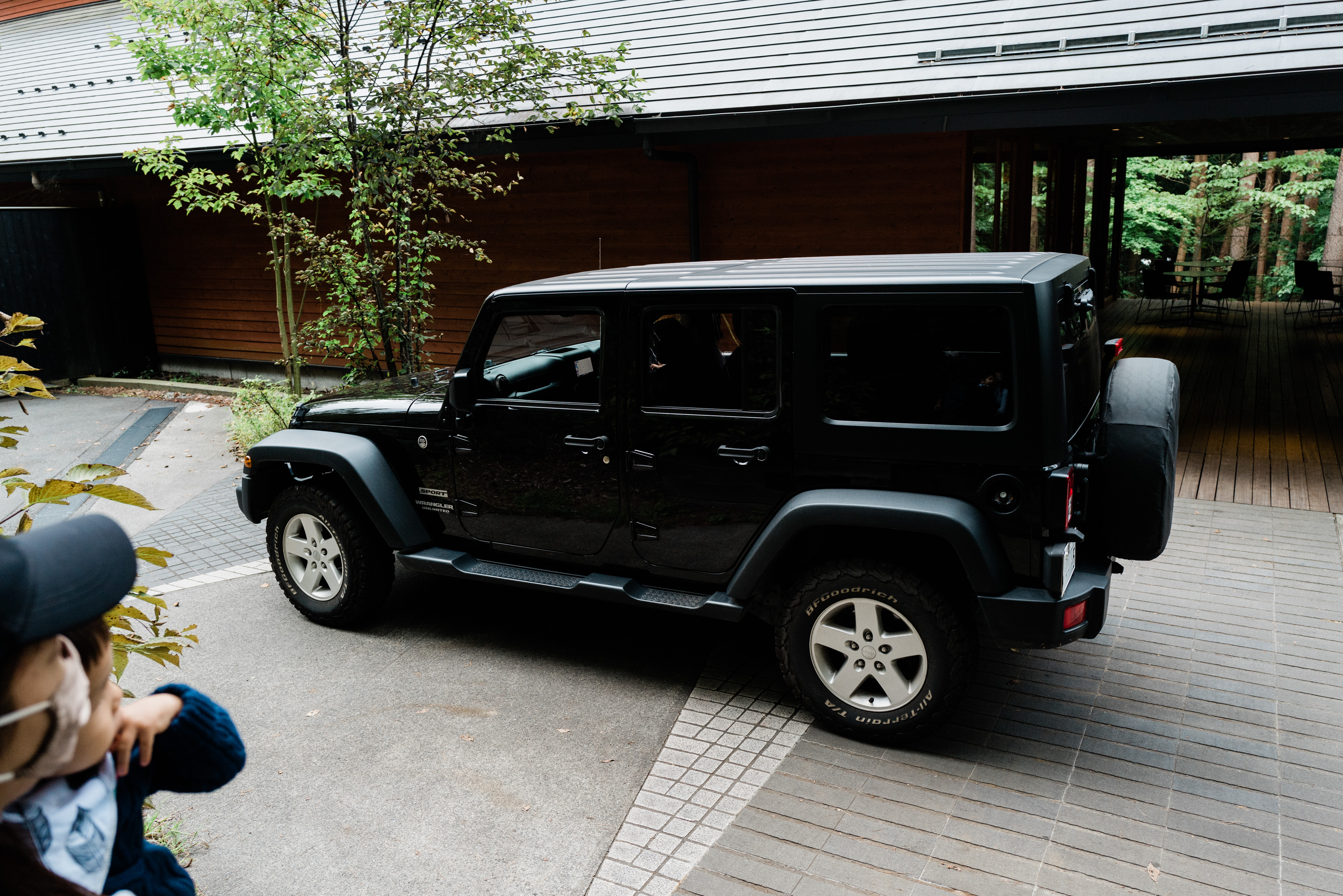 After a few minutes of driving, we arrived at the main property and disembarked. We still had about 45 minutes until check-in, so we walked up to the terrace to chill for a while. One good (or bad depending how you look at it) thing about Hoshinoya Fuji is the amount of walking up and down one has to do to get places. Be prepared for a light workout, especially if you have to carry a toddler.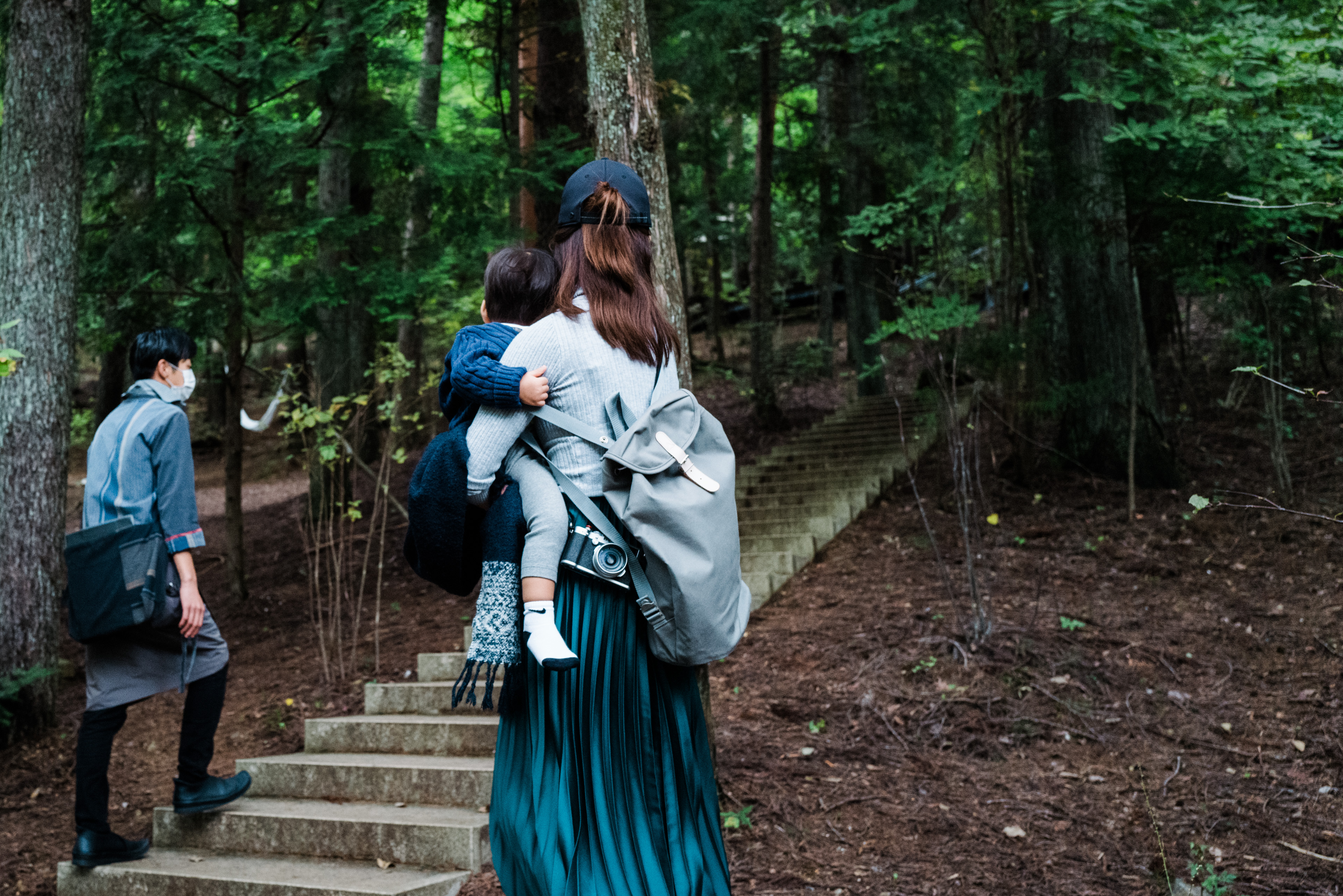 The terrace was super peaceful. There were a bunch of cozy seats with heated blankets, so that's where we spent about 15 minutes in peace before J started getting fussy. The air quality was incredible as well. Living in Tokyo, I sometimes lose touch with how breathing clean air feels. On a related note, breathing was one of my favorite activities during the weekend at Hoshinoya Fuji. I don't mean that sarcastically at all. The air in Tokyo gives me bad allergies sometimes, so I try to take advantage of clean air as much as possible.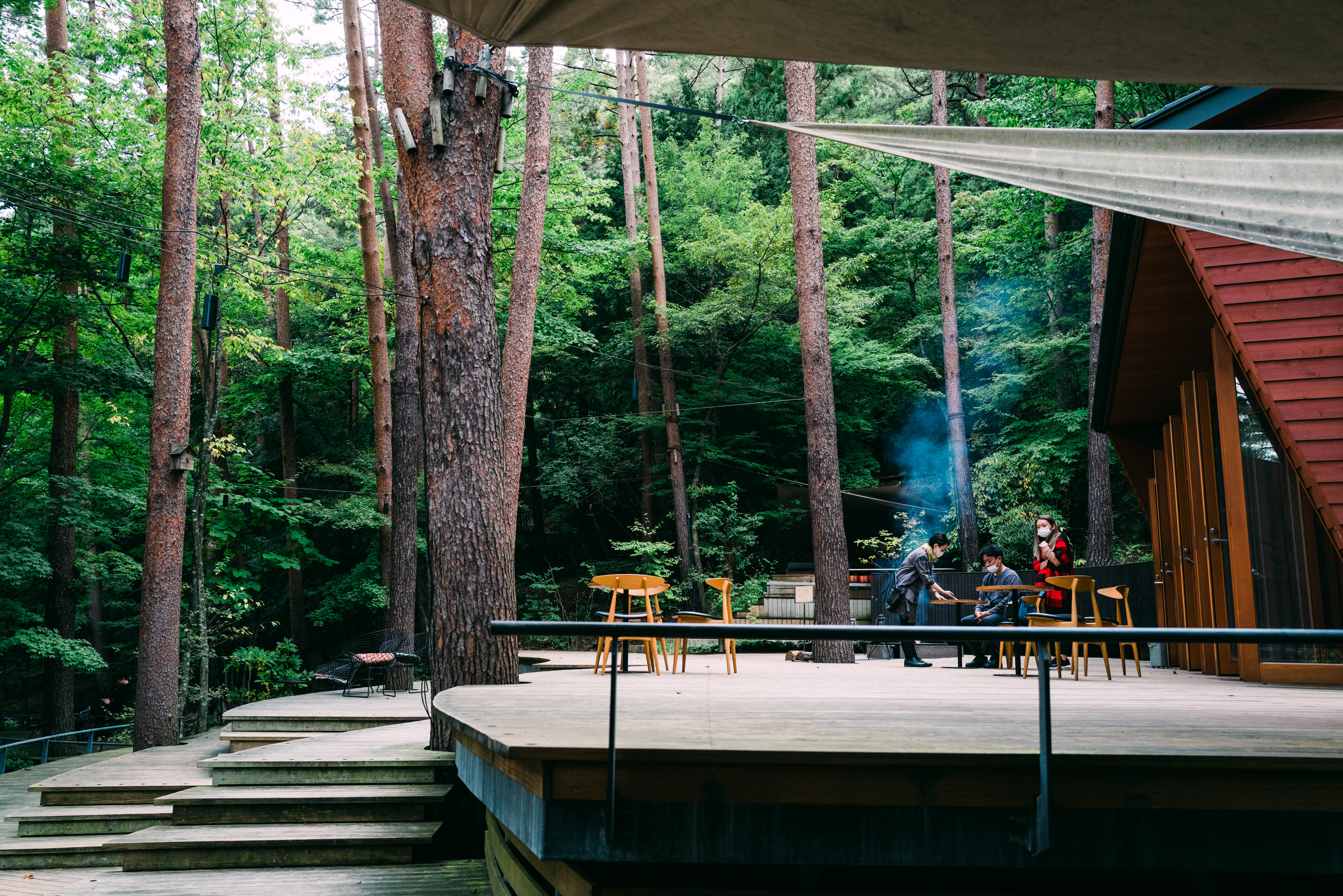 Finally, it was time to check in. During the check-in process, we found out that Hoshinoya Fuji was actually participating in Japan's Go To Travel campaign. If you're not familiar with the campaign, it's basically a travel discount program that was created to encourage people to go on trips and stimulate the economy. Unfortunately, we didn't see any Go To Travel offers when we made the original booking, so we missed out on a 35% discount – oh well.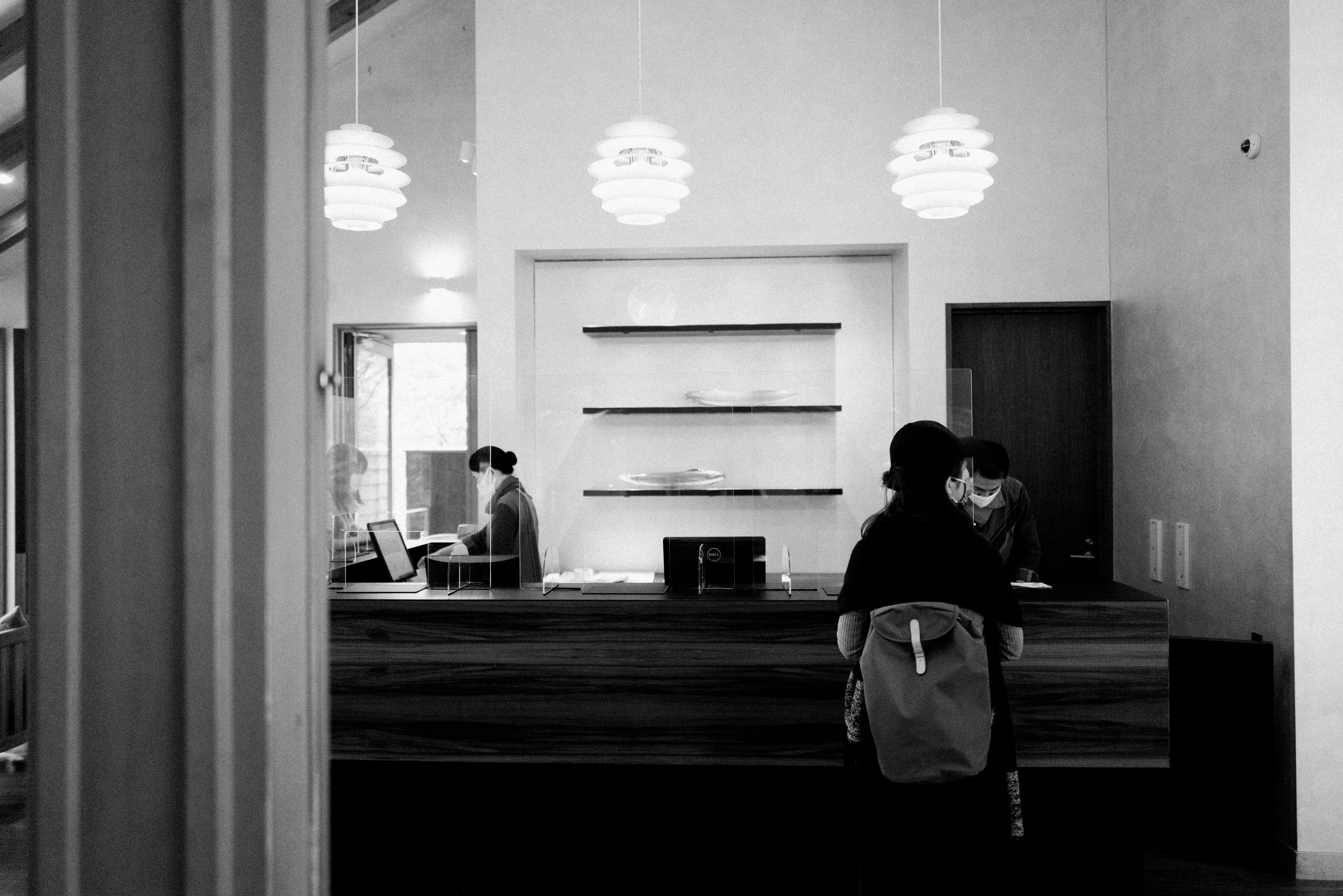 After checking in, we made our way over to our assigned cabin. You can see J's backpack in the photo below. He had never worn a backpack prior to this trip. After seeing how cute he was with a backpack, we wanted to get one for him as soon as possible. He's almost two years old now, so I think he's old enough to start carrying his own diapers and snacks around.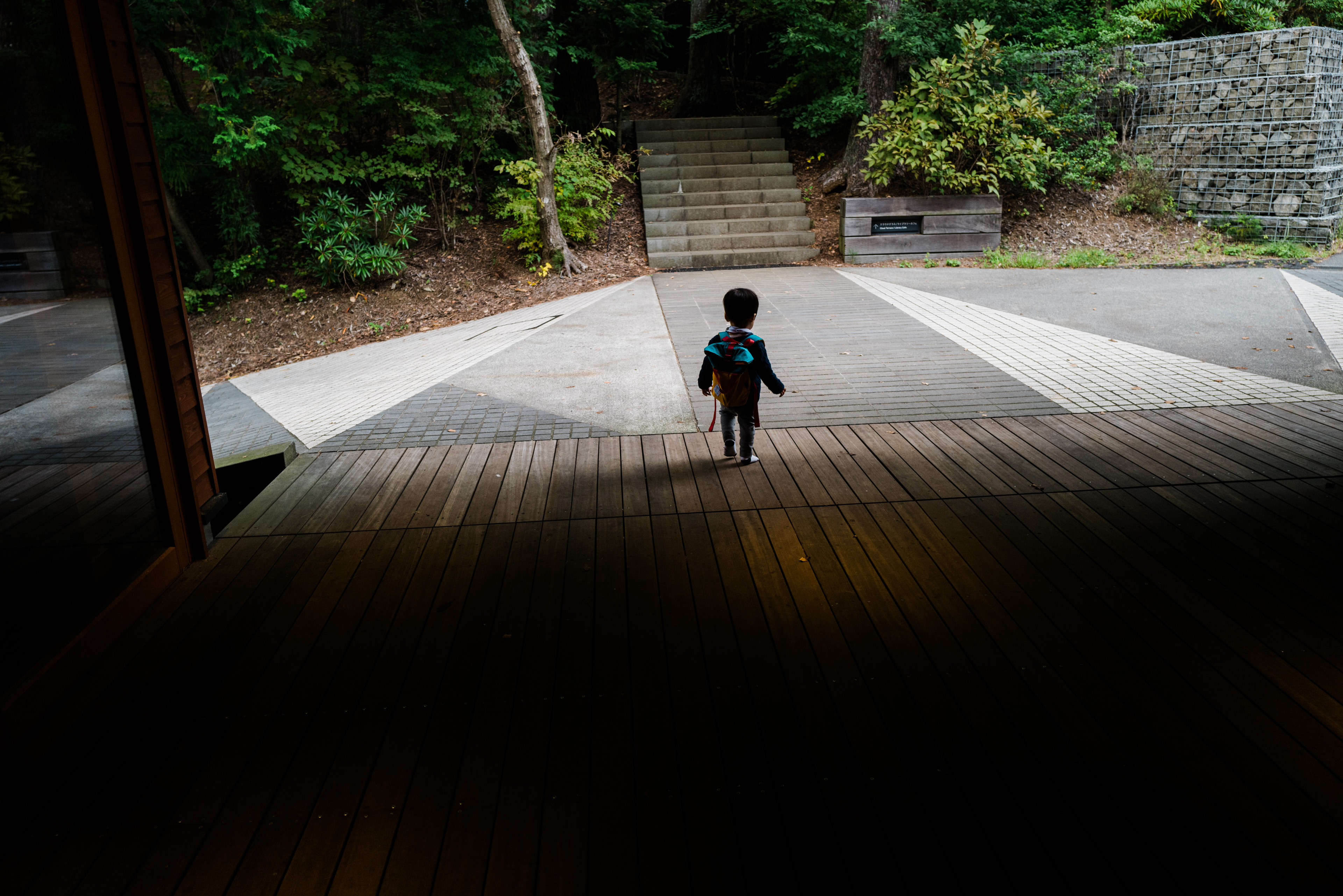 The cabins at Hoshinoya Fuji don't look like traditional log cabins. I'm not an expert on construction materials, but I think Hoshinoya Fuji's cabins are mostly made of concrete, which I love. They're also pretty big and spacious.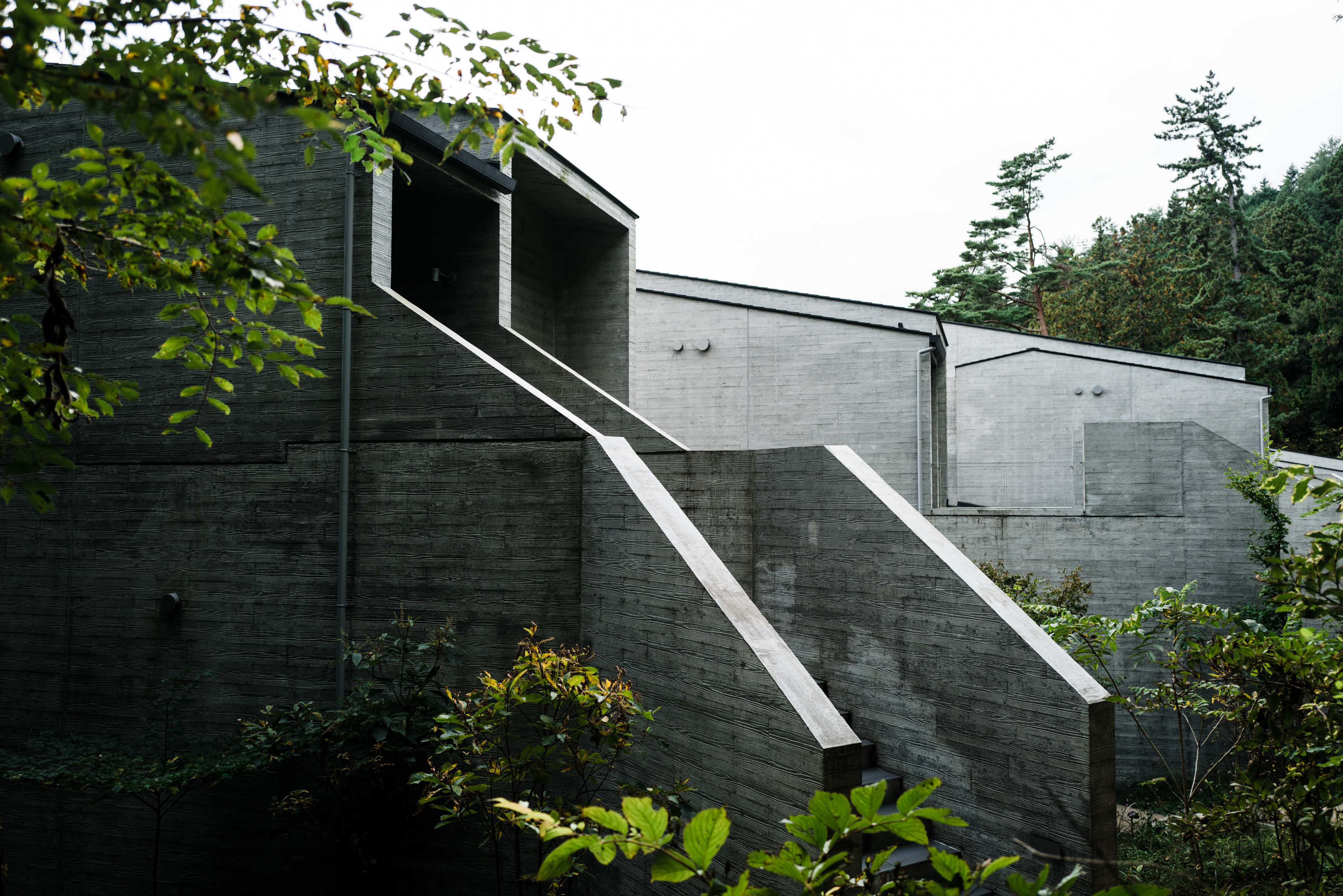 As I mentioned earlier, we opted for the "D Cabin" which has a king size bed and a nice view overlooking Lake Kawaguchiko. Hoshinoya Fuji is baby-friendly, so the staff was able to prepare a comfortable crib for J as well.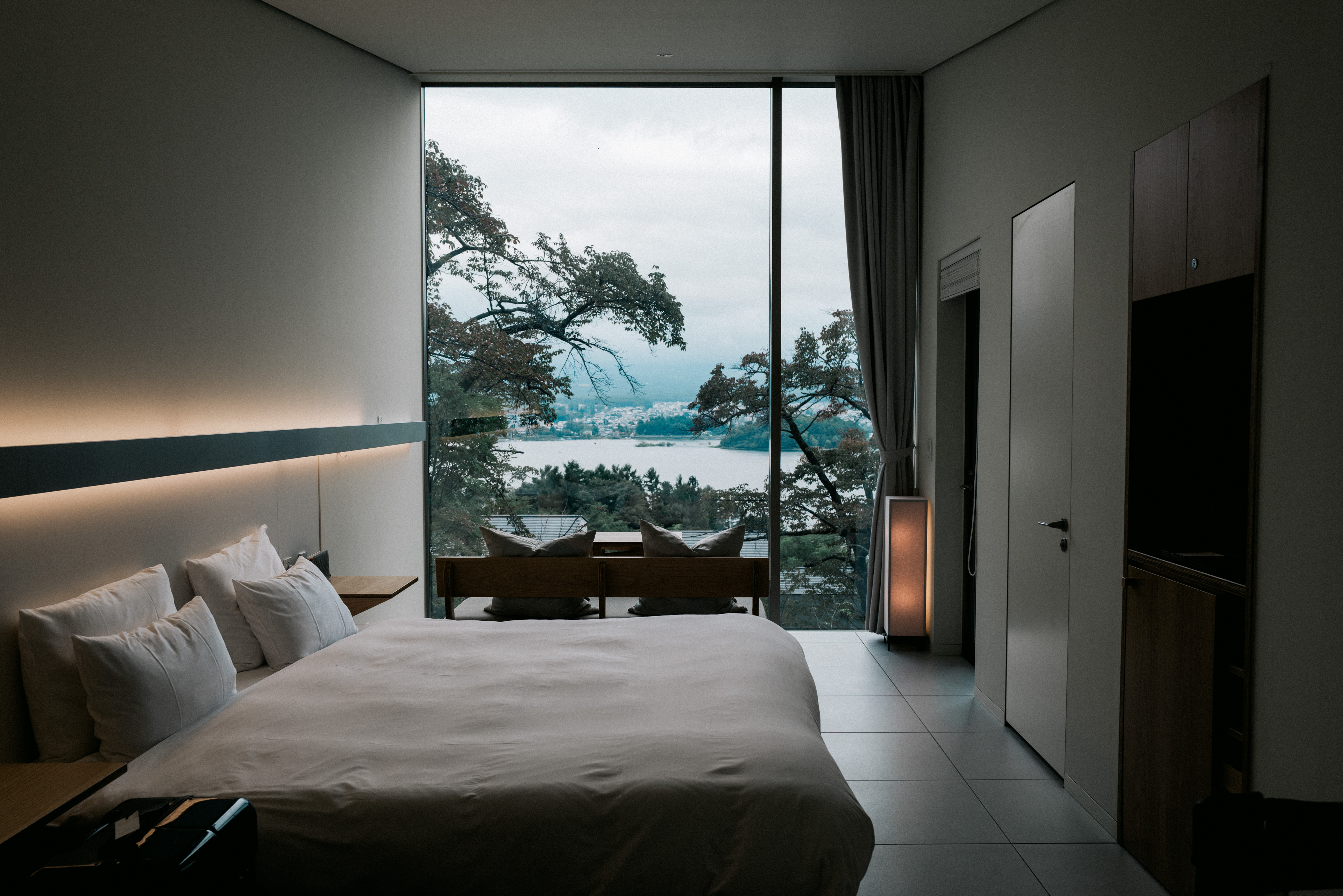 Our cabin had an incredible view of Mt. Fuji and Lake Kawaguchiko. Even though it was cloudy for most of our stay, Mt. Fuji did make a few appearances. I have to admit that all of my reservations about glamping went away after I saw the view from our cabin. The floor-to-ceiling windows make for an amazing viewing experience of Japan's premier landmark. Imagine waking up this view everyday. That would be pretty awesome, at least until Mt. Fuji's next eruption.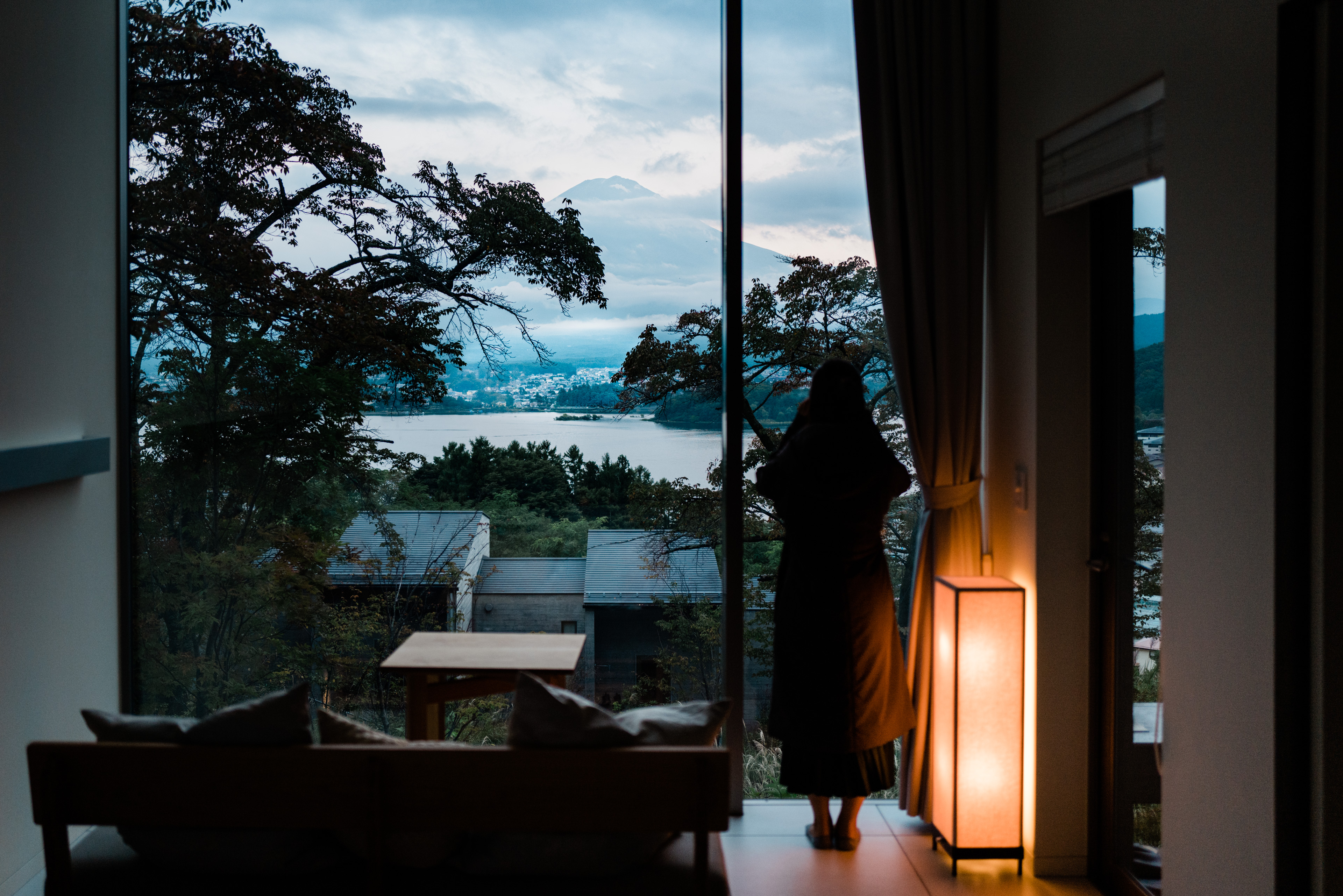 Our cabin had a super cozy balcony equipped with a sofa-ish thing and a built-in fireplace. I ended up spending a considerable amount of time out there. Waking up early to read and blog on the balcony with a piping hot cup of coffee, while breathing in the crisp Mt. Fuji morning air was incredible relaxing.
In the evenings after J fell asleep, Ayaka and I chilled outside with wine and cheese. The outdoor fireplace and Hoshinoya-branded jackets kept us warm. It was wonderful to just enjoy ourselves, relax, and reconnect. Raising a baby is exhausting, and it's a really a compromise in some aspects. If you're a parent, you know how it goes – going through the motions of everyday life, you sometimes lose sight of what's important. Thus, being able to just sit and talk in a new environment really allowed us to reconnect. Vacations are amazing.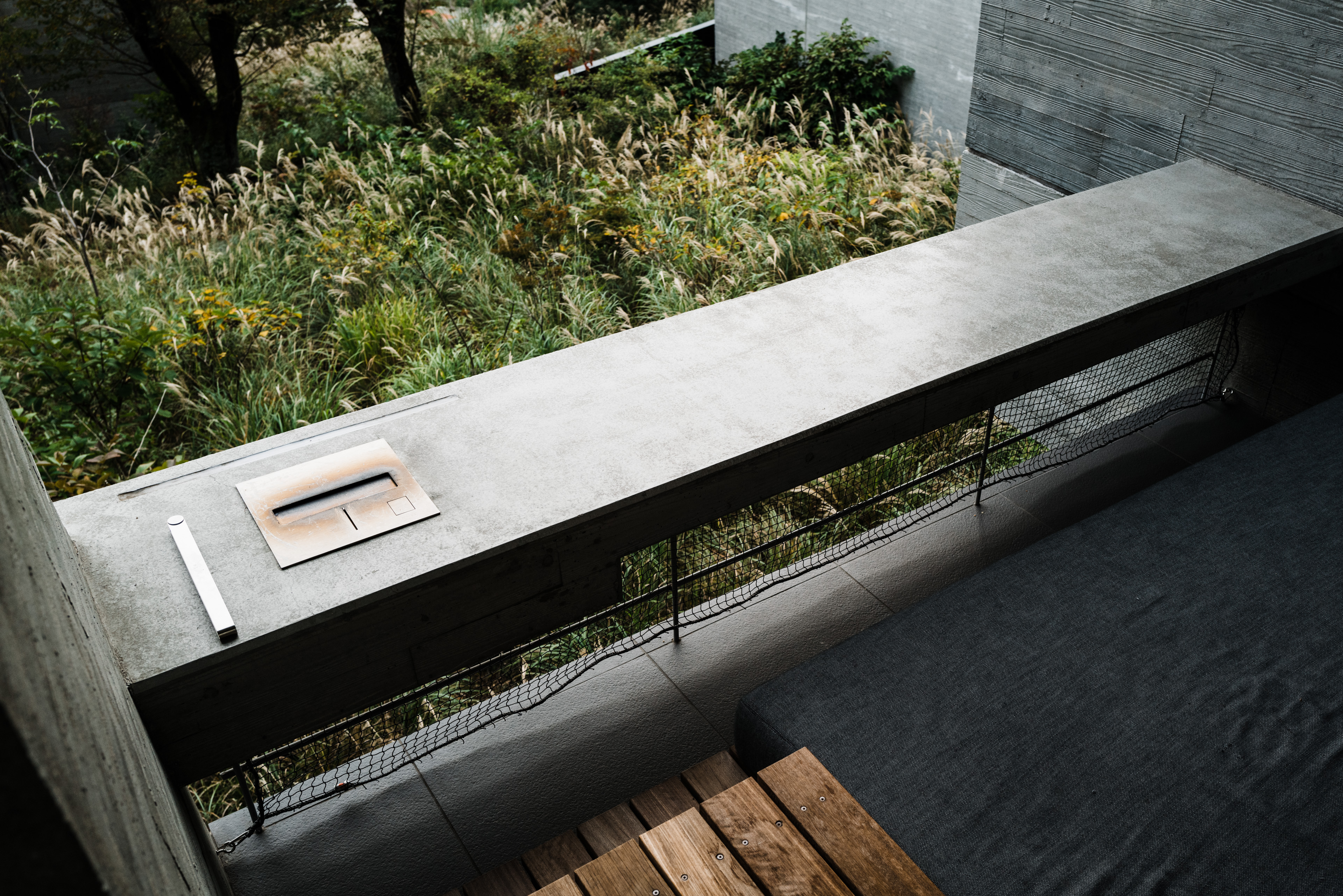 Ayaka and I weren't the only two who enjoyed the balcony. J had a lot of fun out there as well. Looking at this photo, I have to admit I'm a little jealous of this baby. He's not even two years old yet, and he's already visited so many places. Off the top of my head, he's already been to Hawaii, Boston, New York, San Francisco, Los Angeles, Las Vegas, various parts of Japan, and now Hoshinoya Fuji!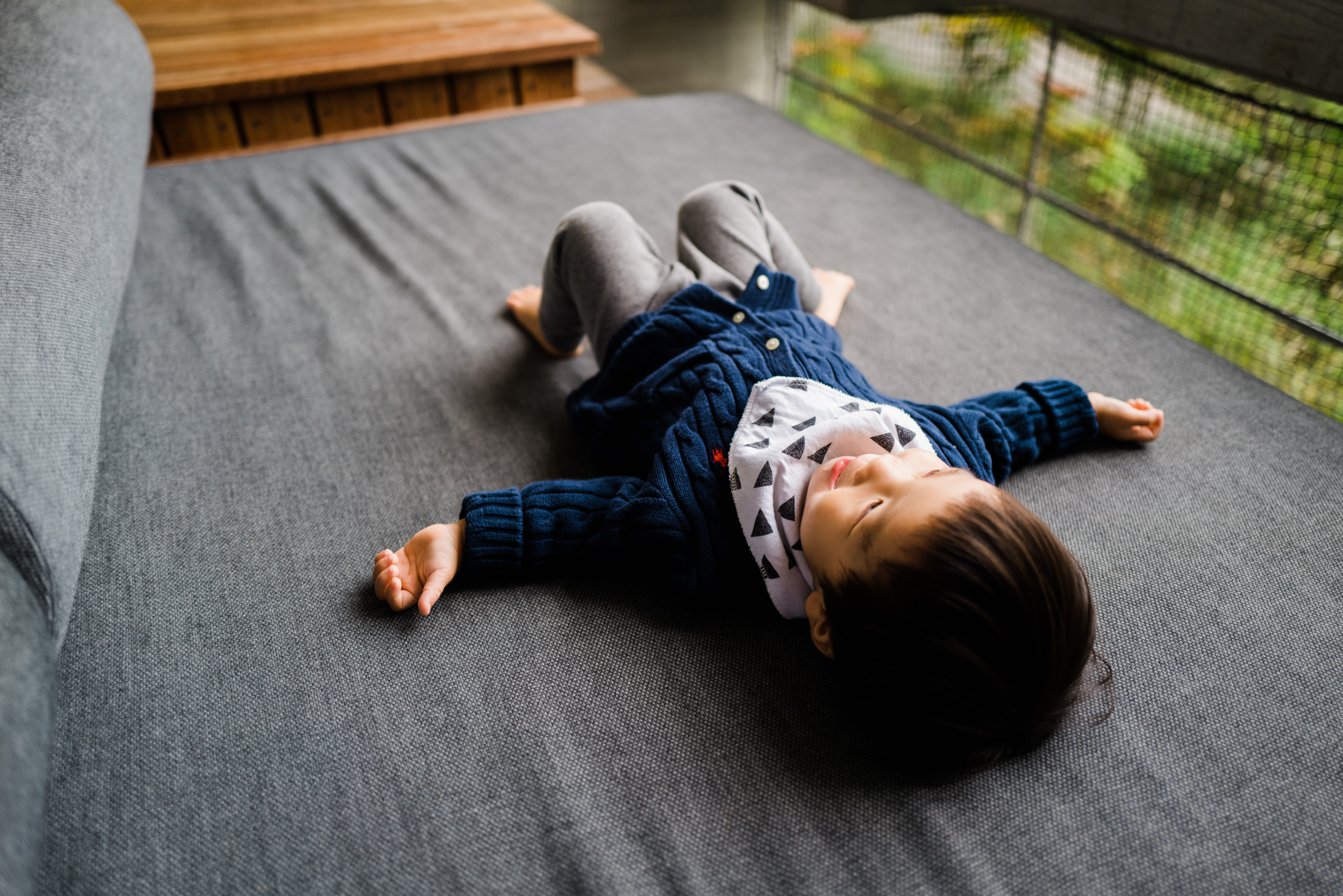 Later on in the afternoon, we went back up to the main terrace to check out the library/bar and roast marshmallows. I know roasting marshmallows is the quintessential camping activity, but I hate it. When I was young, I ate too many marshmallows once before vomiting them back out. Since then, I've had a severe case of marshmallow PTSD. Ayaka loves them though.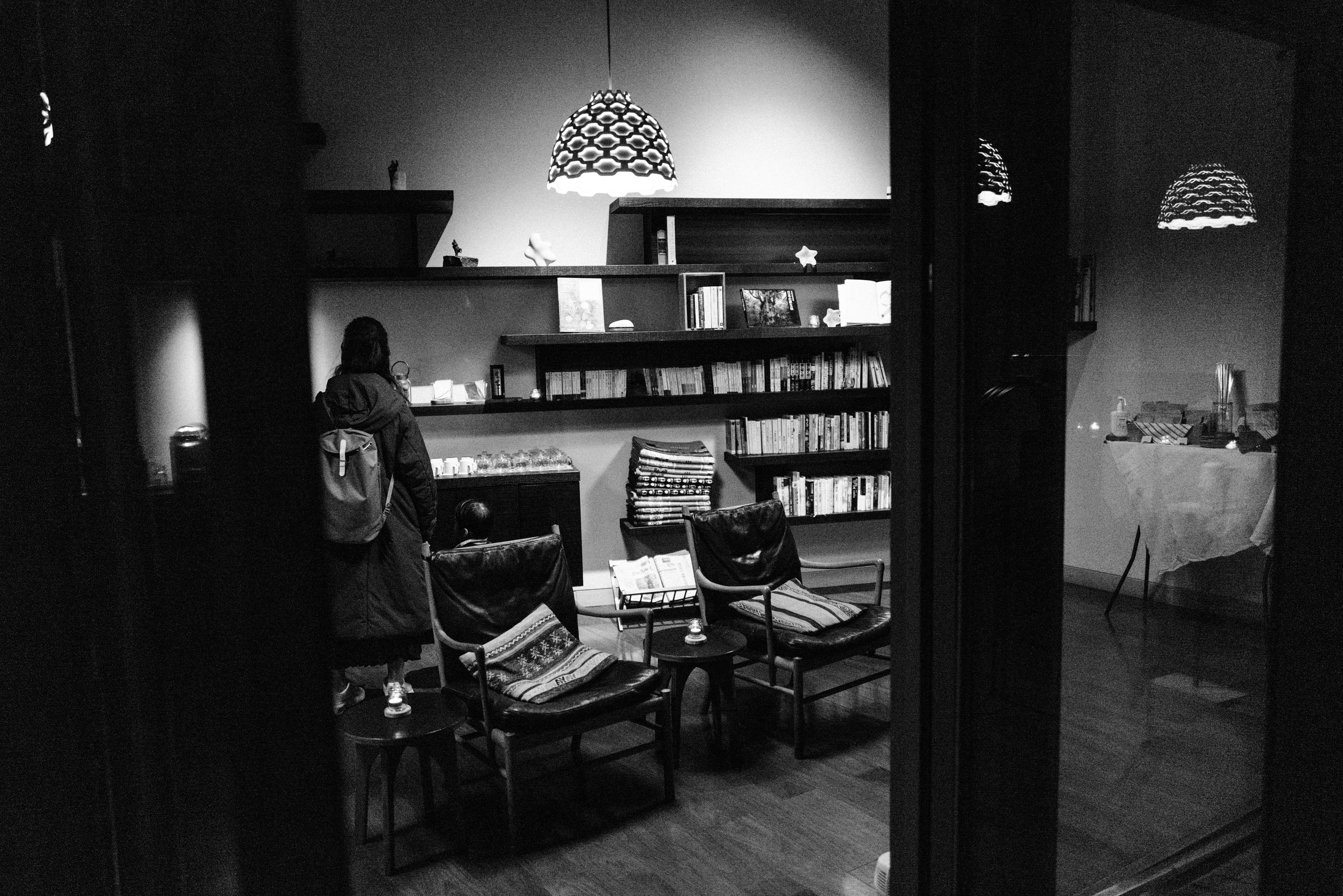 At 6:30 PM, we walked over to the restaurant for dinner. By this point, we were absolutely starving! Back at home, we usually eat dinner around 5:30, so I don't recall why we chose to have dinner at 6:30. Anyway, the restaurant was pretty nice and the food was great. Sorry for not sharing any photos of the food – I was too hungry to photograph the food before eating it.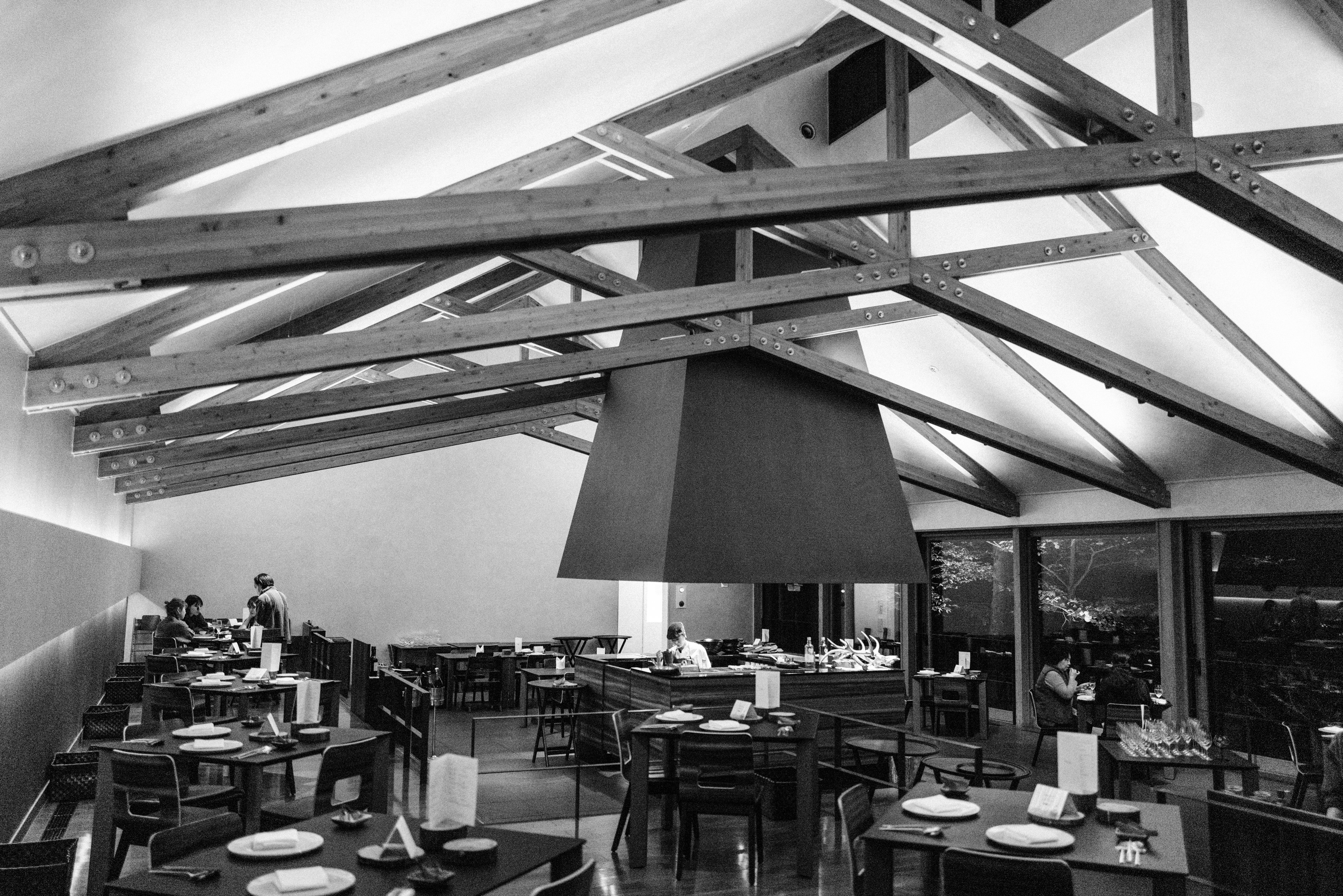 The next morning, we ordered the often-recommended breakfast box. We chose to eat breakfast out on the balcony, so one of the Hoshinoya Fuji staff members set everything up while we got J ready for the day.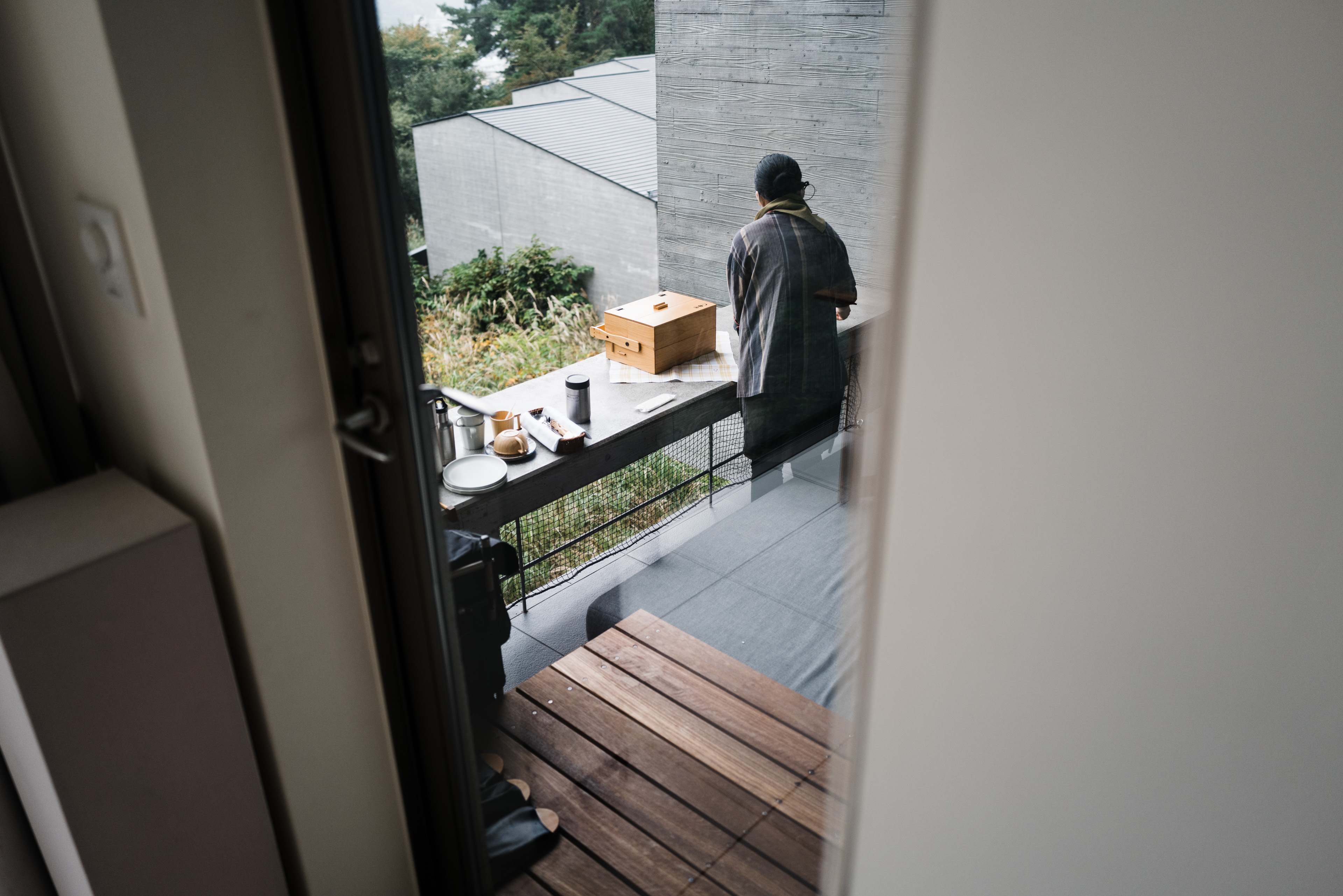 There are few things better than a good breakfast, and this was a great one. The "Dutch oven" bread was my favorite part – super tasty! I don't remember every single item in the box, but there was an omelette, mushroom soup, yogurt, grape juice, herbal tea, and a few other things. Everything was excellent!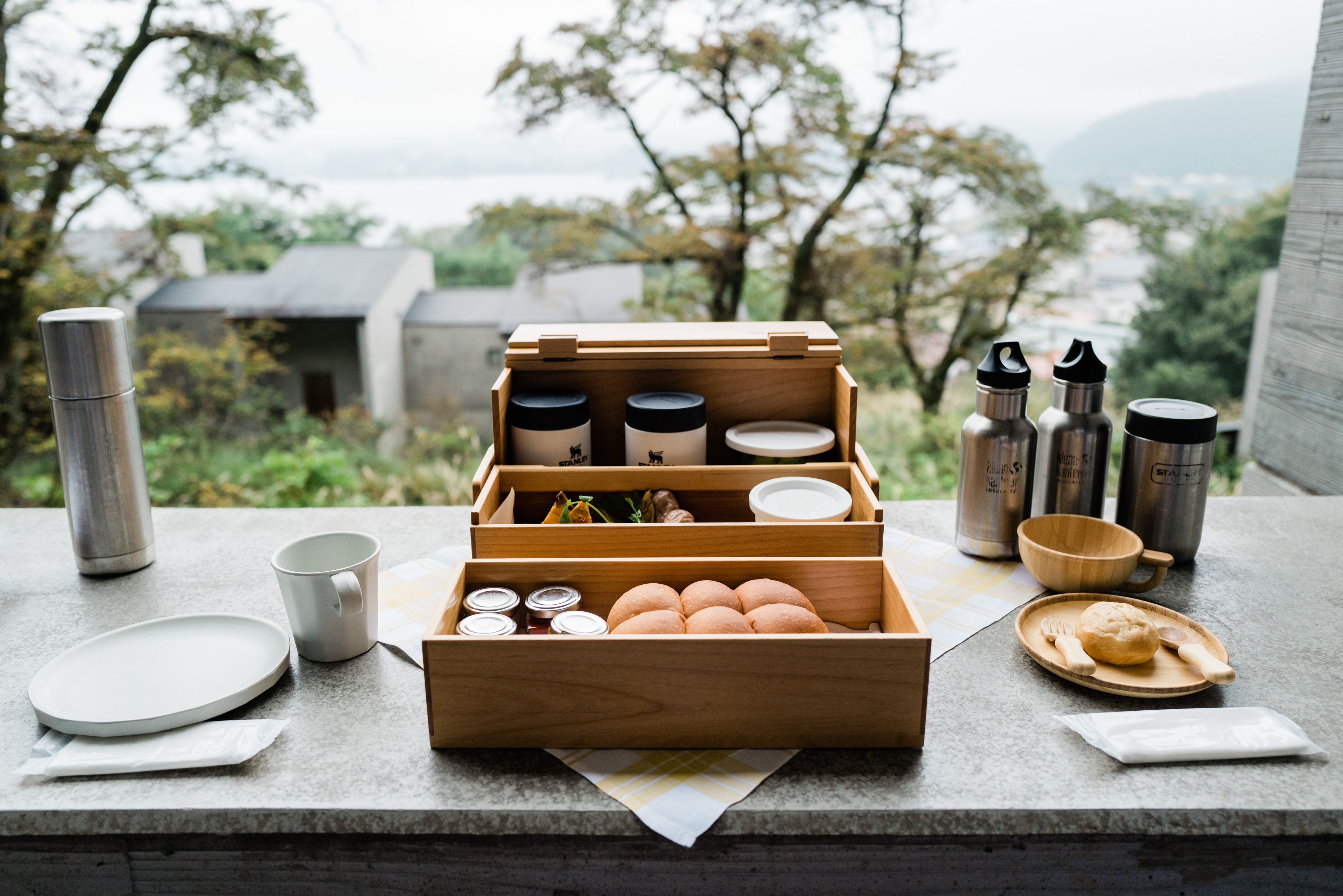 On our second day, we sort of just took it easy. We explored the property a bit more, and went back to our room for lunch. Hoshinoya Fuji has a decent room service menu, so we ordered gyūdon (beef bowl) and udon noodles. Since it was a little too chilly for J outside, we had lunch inside. Like the breakfast (and everything else), our lunch was great and surprisingly affordable as well. If you're on a budget and don't care for extravagant multi-course meals, I'd recommend ordering lunch and dinner from the tasty and cheap room service menu.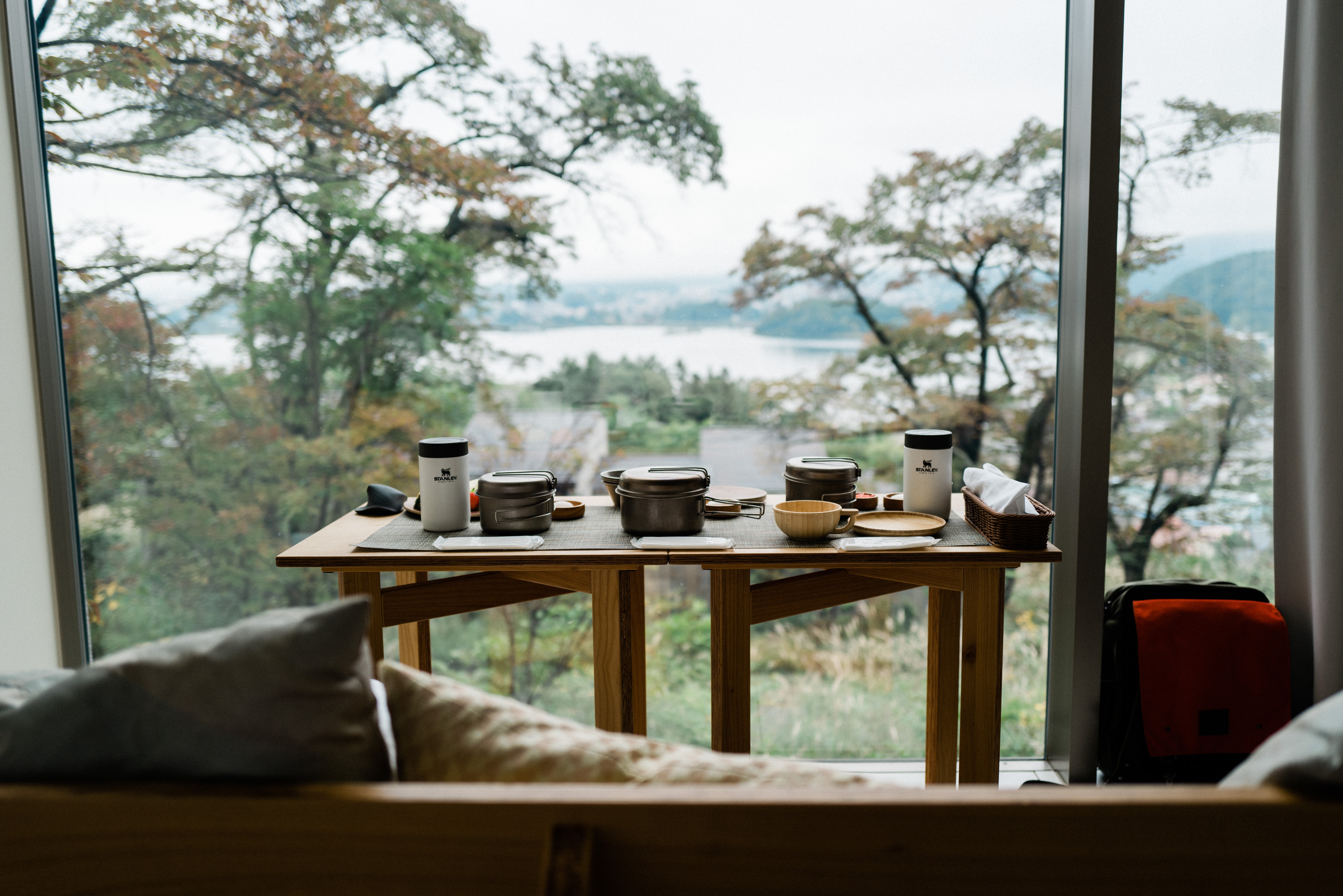 In the evening, we had shabu-shabu on the balcony. They turn the fireplace on before dinnertime, so it was once again every cozy out on the balcony. At this point, I don't know what else to say about dinner. The meat was very high quality, the vegetables were fresh and sourced locally, and the mushrooms were next-level (J and I are mushroom connoisseurs). I also enjoyed a locally-brewed beer during dinner, and Ayaka had a glass of white wine.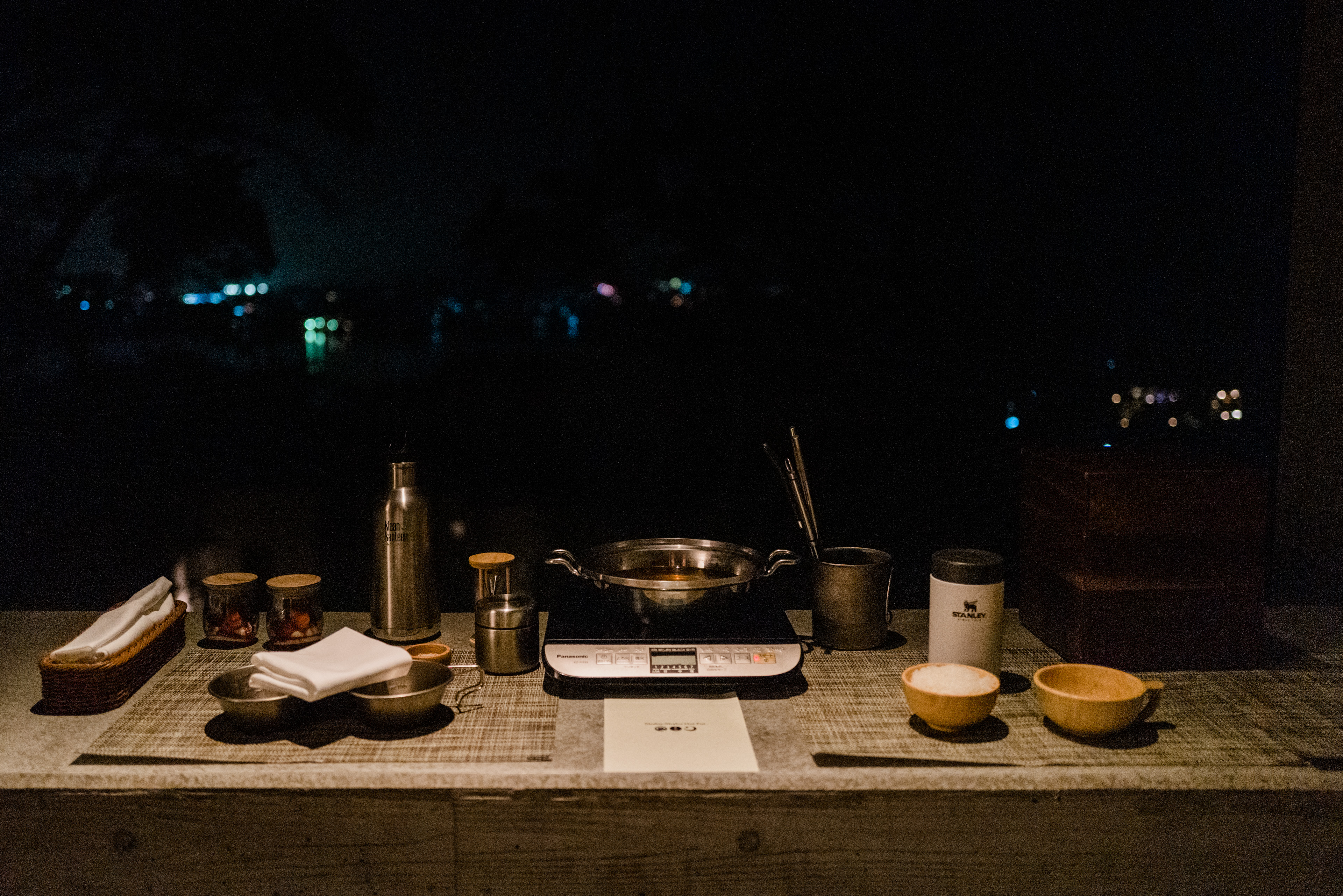 Conclusion
So, should you make the trip to Hoshinoya Fuji? I think it's a great resort for couples and families. The glamping concept, environment, luxurious rooms, and activities can make for a very romantic experiences for couples. For families with children over five years old, there are plenty of activities like hiking and canoeing to stay busy. If you have a toddler like us, Hoshinoya Fuji is a great place to slow down, eat lots of good food, relax, and reboot.
Life has been difficult this year with the COVID-19 pandemic, and prior to staying at Hoshinoya Fuji, we spent most of the year in isolation with family in the USA. It was so nice to just see people do normal things for a change – roasting marshmallows, enjoying a cup of coffee on the terrace, and exploring nature. While we didn't talk to any of the other guests during our stay, I can't help but think there was some non-verbal communication going on. We were just happy to be in the presence of other people – what a wonderful thing.
Despite my initial, perhaps misguided, attitude towards glamping, we had a wonderful stay at Hoshinoya Fuji. The cabin was comfortable, the views were stunning, the air was clean, and the food was delicious. The overall experience was just top notch. Most importantly for us, Hoshinoya Fuji was also very family-friendly. If you're looking for a luxurious weekend getaway that's accessible from Tokyo, I highly recommend booking a stay at Hoshinoya Fuji.