The Kawai VPC1 marries a world class keyboard action with gorgeous design, and does so at a relatively affordable price point. Despite a few silly (to me) design flaws, the VPC1 maintains its position as the finest pure MIDI controller keyboard on the market.
Features
RM3II Keyboard Action
The Kawai VPC1 uses the RM3II keyboard action, which is second only to the full-sized GF action found on the MP11. The RM3II features wooden keys, triple-sensor technology, and Kawai's signature Ivory Touch finish.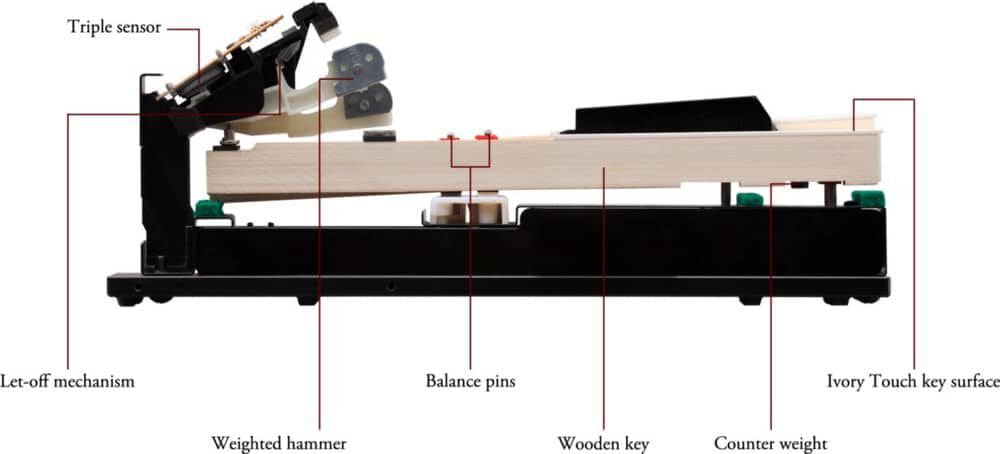 The RM3II keyboard action employs a number of clever engineering feats to emulate the experience of playing an acoustic piano. The VPC1 features fully wooden keys with grade-weighted hammers and counterweights. The weight of the hammers decrease from left to right, while the counterweights in the lower keys enable soft bass passages to be played with a light touch.
The VPC1 ships with the Kawai F-30 triple pedal unit (a $179 value).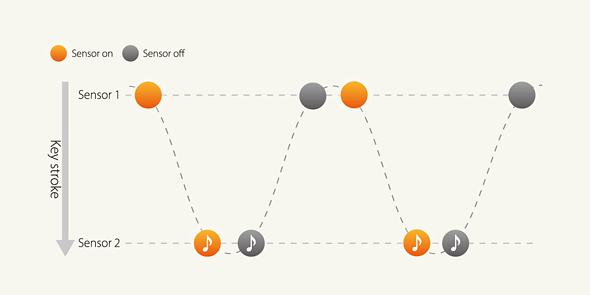 The Kawai VPC1 features triple-sensor technology, which improves responsiveness when repeatedly striking a key. The RM3II keyboard action also employs a let-off simulation, which recreates the subtle "notch" that can be felt when playing a grand piano very lightly.
Lastly, the RM3II keyboard action features a natural matte finish dubbed Ivory Touch, which is also used on Kawai's high end digital pianos. The Ivory Touch finish absorbs surface moisture and oils, ensuring maximum control over the instruments at all times.
Connectivity
The Kawai VPC1 features MIDI In/Out via traditional 5-Pin DIN connectors, and MIDI In/Out is also available via the USB port. Both the DIN and USB ports can be used simultaneously.
The USB-MIDI port can be used to connect the VPC1 to a computer to control software instruments in MainStage or Forte. In complex MIDI setups, the USB-MIDI port can also be used to connect the VPC1 to USB-supported MIDI interface like the iConnectivity mio4.

The DIN MIDI Out port can be used to connect the VPC1 to hardware sound module like the Roland Integra-7 or a traditional MIDI interface, while the DIN MIDI In port can be used to add additional pedal ports with the MIDI Solutions Continuous Pedal Controller. Be aware the VPC1 does not have a MIDI Thru port, so you shouldn't put it at the end of your MIDI chain.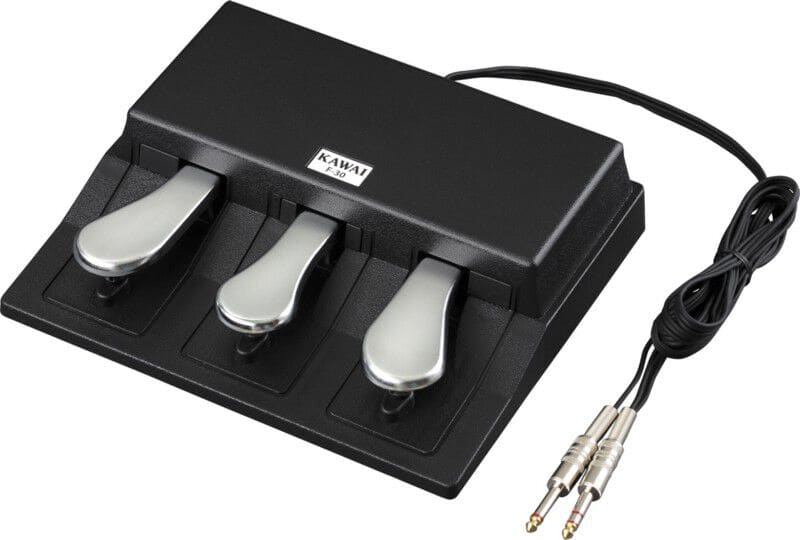 alt="" />
The VPC1 ships with Kawai's F-30, a triple pedal unit featuring sustain with half damper support, soft pedal, and sostenuto. Lastly, the VPC1 can be powered via USB or a 12V AC adapter. I recommend using the more reliable AC power adapter, especially if your setup includes USB hubs.
Software
The Kawai VPC1's velocity curve and MIDI settings can be configured with VPCEditor, a free software editor available on Kawai's website. More on that later on in the review.
Design
Before judging Kawai's design choices with the VPC1, it's important to consider the ethos of this product. Kawai analyzed an acoustic piano's user experience, and distilled the most important aspects into the VPC1's UX design. The result is an impeccably designed instrument that interfaces human touch with a digital tone generator in a strangely analog way.
So, what exactly did Kawai borrow from an acoustic piano's UX?

First, the obvious. The seemingly indestructible matte black casing, wooden keyboard action, and hint of red felt are all reminiscent of the acoustic piano experience. Secondly, the VPC1's screen-less and almost button-less design gravitates the user to the keyboard action. There are no faders, knobs, and menus. There are no distractions.
So, why didn't Kawai go all the way with this solid UX design concept?
The Curse of the Power Button
The first design flaw is the placement of the power button. It's on the lower right hand side of the VPC1's top casing, and it glows bright red when the instrument is powered on.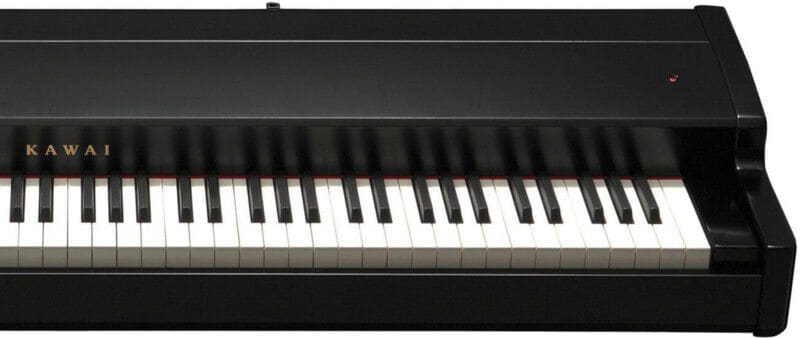 There are so many better places to stick a glowing red power button. It really doesn't belong on the otherwise beautifully blank top casing. I would have preferred if the power button was under the instrument, or perhaps on the back panel next to the power port. You know… the two logical places.
Then it hit me.
Why does the VPC1 even need a power button? When was the last time you saw a true acoustic piano with a power button?
Never.
The lack of a power button is one of the defining aspects of an acoustic piano's user experience, so why did Kawai not take this into consideration when designing the VPC1's UX?
Imaging sitting down at an acoustic piano. What do you do before you can play the instrument? You raise the keylid and remove the protective red felt. Only then are you ready to play the instrument.
What you don't do is press the power button, and wait for it to glow red.
Kawai could've taken the VPC1's user experience one step further by integrating the "power button" into a keylid mechanism. Raise the keylid to power on the VPC1, and close it to power it off. Simple and elegant.
Secondly, the addition of a keylid would also serve as a layer of protection for the keyboard action. It's a win-win situation.
VPC1's Got Curves
The VPC1's curved top was either a massive oversight or a stroke of genius.
In the spirit of full disclosure, I have no idea if this is how things actually went down at Kawai HQ, but it makes sense to me.
At first glance, one might view the VPC1's curved top as a purely aesthetic design choice. Curves are sexy, right?
Since setting up the VPC1 in my room a few days ago, I've thought about this extensively. My conclusion is that the curved top was a deliberate and functional design choice intended to fulfill the VPC1's UX goals.
It's quite simple.
The VPC1, a digital MIDI controller that requires a sound module or laptop for tone generation, aims to provide an acoustic piano experience.
People don't put expensive laptops (in my case, a $4000 2016 MacBook Pro with a Touch Bar for DJing) on acoustic pianos — it's just not part of the user experience.
Make the top of the VPC1 curved to discourage people from resting their expensive laptops on it. This prevents people from unknowingly ruining the VPC1's intended UX design with electronic distractions.
This made sense to me until I saw this photo on Kawai's VPC1 website.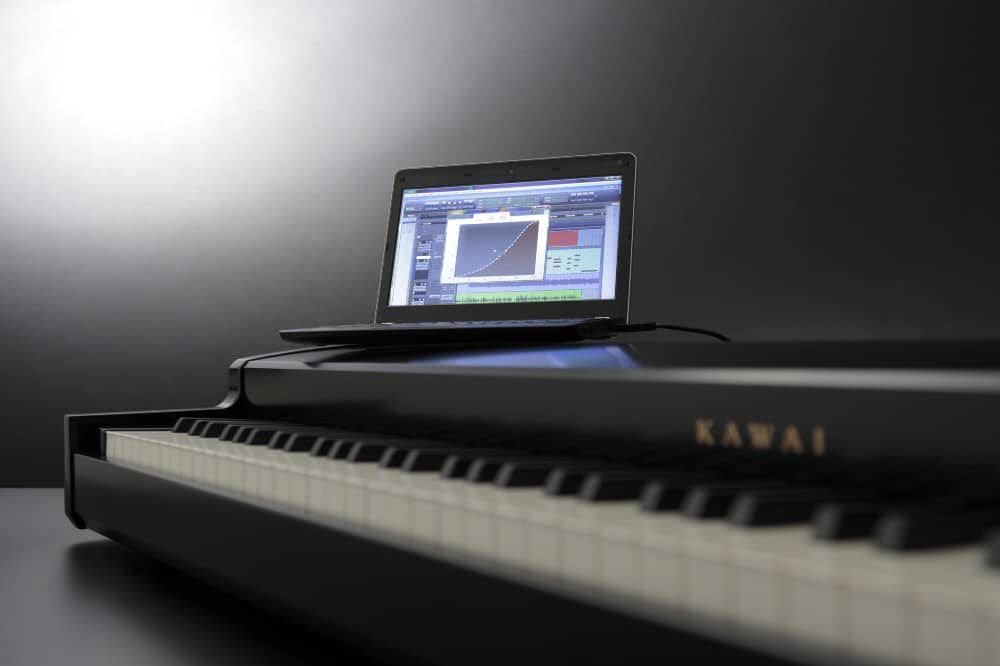 Am I the only one who sees how the laptop could easily fall off the VPC1?
Instead of marketing the curved top as a design choice to rid the piano playing experience of electronic distractions (not associating any function to it at all), it's marketed as a work surface. This miscommunication (or lack of communication) between the design and marketing departments turns the Kawai VPC1 into a confused product.
Why would a work surface be curved?
Below is another example of the VPC1 as a work surface. This is yet another terrible portrayal of the VPC1 in action because using a mouse on the curved surface just doesn't work. I tried to use my Logitech mouse while doing some programming work, and it kept on slipping and falling onto the keys.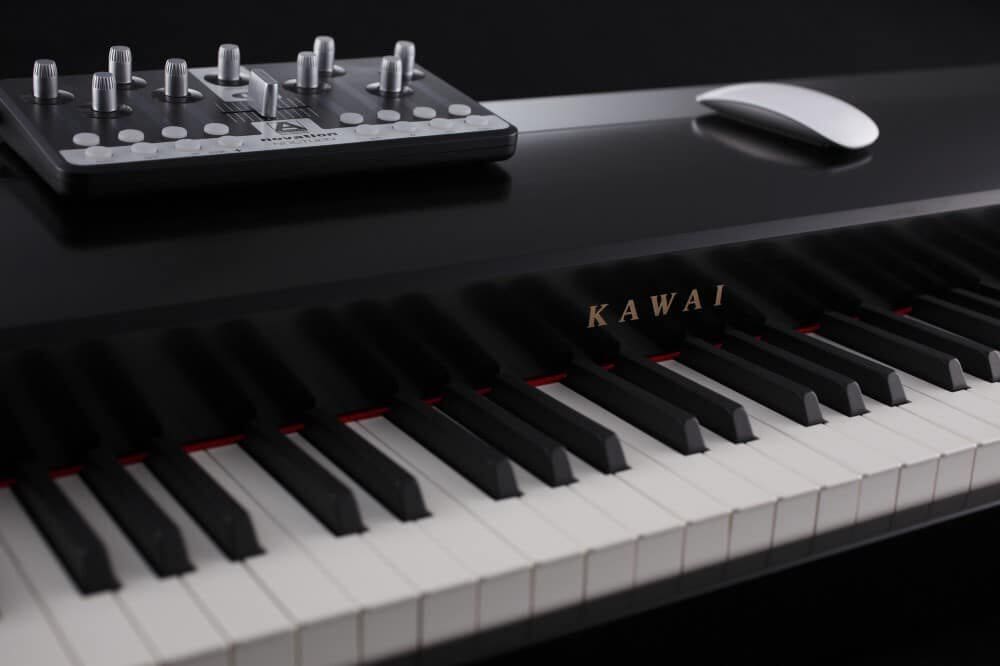 Was there any "real world usage" testing before this photo was taken?
I rarely care this much about the relationship between product design and perception, but the VPC1 is honestly so close to perfection.
Experience
At this point in time, I work as a keyboardist and electronic music designer. I live in Las Vegas, but I'm often in New York City for programming keyboards for Broadway shows and the like.
Prior to purchasing the Kawai VPC1, I was using a Yamaha CP40 for both practice and programming work. The CP40, which is equipped with mod wheel, pitch bend, and extra pedal ports, is a solid (and inexpensive) option for programming purposes.
However, I never saw it as an instrument for pure piano playing. This, of course, is no fault of Yamaha's. The CP40 was designed to be a portable stage piano; not a replacement for an acoustic piano experience.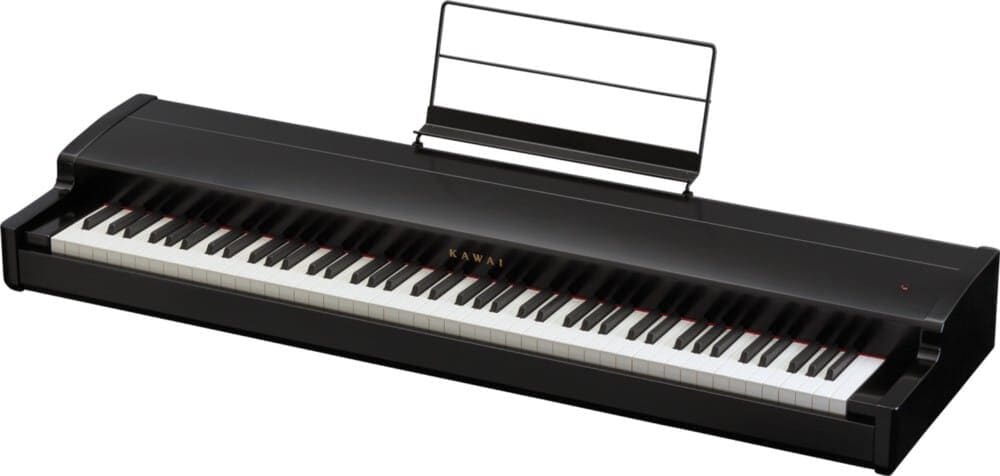 When the VPC1 arrived, I immediately hooked it up to my computer, and began cycling through various VSTs and sample libraries. I ended up trying (in no particular order) Modartt PianoTeq, Synthogy Ivory II, Spectrasonics Keyscape, UVI Ravenscroft 275, and Native Instruments Alicia's Keys.
In terms of playability, the VPC1 plus PianoTeq is a match made in heaven. Unfortunately, PianoTeq's mathematically modeled sound is severely lacking when compared to properly sampled pianos. In the end, Ravenscroft 275 offered the best combination of playabiliy and sound quality for me.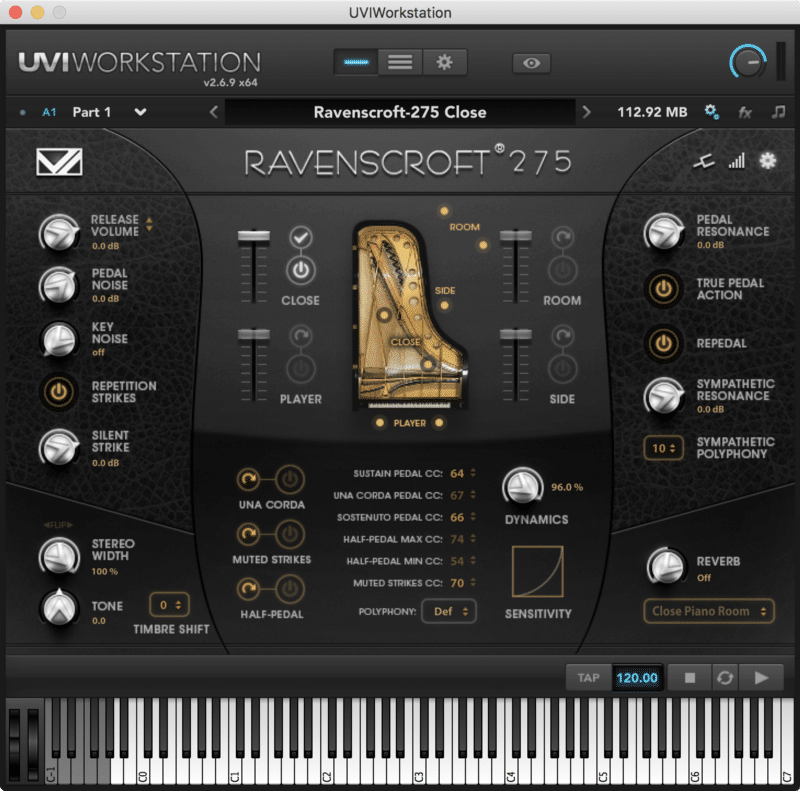 After deciding on Ravenscroft 275, I proceeded to optimize performance by reducing buffer size and latency as much as possible. There are three major factors to consider when optimizing latency — audio interface driver, sample rate, and buffer size.
Audio Driver
The first audio interface I tested was my 2016 MacBook Pro's internal sound card, and the performance was terrible. I clocked latency at 22 ms with frequent audio clicks and pops. Completely unusable.
Next, I plugged in my RME Babyface, and the latency decreased to 4.6 ms without any other optimizations. Finally, I hooked up my JDS Labs O2+ODAC, which ended up being the best choice. Latency-wise, it performed the same as the RME Babyface, but it was able to drive my high-impedance Sennheiser HD600 headphones better.

the way, if you're looking for an affordable audio interface with super low latency, look no further than the Zoom UAC-2. If you want a top tier USB DAC, check out the Grace Design m920.
Sample Rate
Increasing sample rate reduces latency at the expense of CPU cycles. A sample rate of 48 KHz was the sweet spot for me. It offered slightly better performance than 44.1 KHz without crazy CPU spikes.
Buffer Size
Decreasing the buffer size reduces latency at the expense of CPU cycles. A buffer size of 64 samples was the sweet spot for me.
Lastly, always use standalone mode if you're just practicing or playing for fun. There's no reason to load up a DAW to host a VST. For example, using Ravenscroft 275 in MainStage adds one whole millisecond of latency plus some CPU/RAM overhead.
With all these optimizations plus decent monitoring (Sennheiser HD600 headphones), I found myself playing the Kawai VPC1 for hours on end and loving every single minute of it.
Rearranging My Room
I wasn't joking when I said electronic distractions completely ruin the VPC1's intended user experience design. In fact, I ended up rearranging all the furniture in my room because of this.
Instead of resting electronics on the VPC1's curved surface, both my MacBook Pro and JDS Labs O2+ODAC sit on my workstation desk behind me. The desk still houses my Yamaha CP40 for programming work, and the VPC1 sits on an On Stage Stands WS8550 keyboard stand for those times I want to unplug and play the piano without electronic distractions.
VPCEditor
VPCEditor is the Kawai VPC1's software editor, and is compatible with both Windows and MacOS. Linux is not supported. Windows users will also have to download a separate USB-MIDI driver.
VPCEditor consists of three panels.
The first panel lets you select a velocity curve for the VPC1. In addition to the generic light, normal, and heavy curves, VPCEditor also ships with official curves for Galaxy Vintage D, Modartt PianoTeq, Native Instruments Alicia's Keys, and Synthogy Ivory.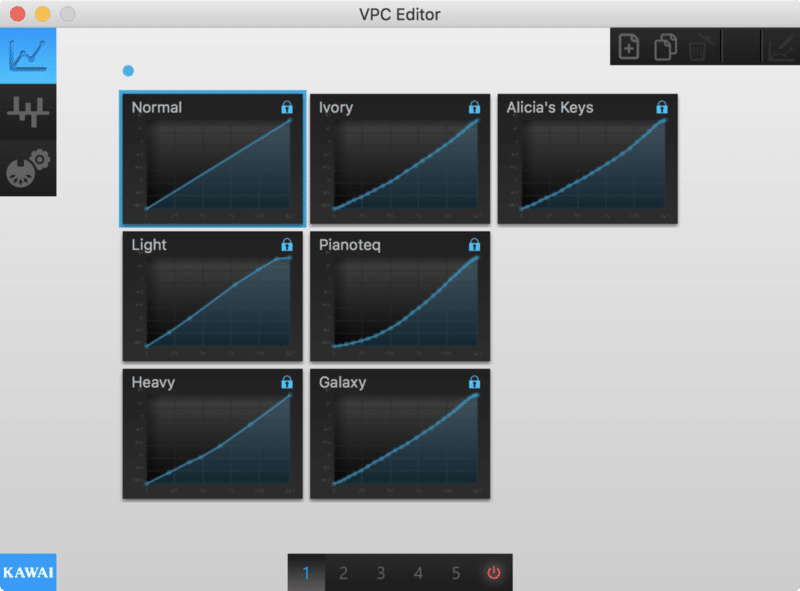 The second panel lets you assign velocity offsets on a per note basis.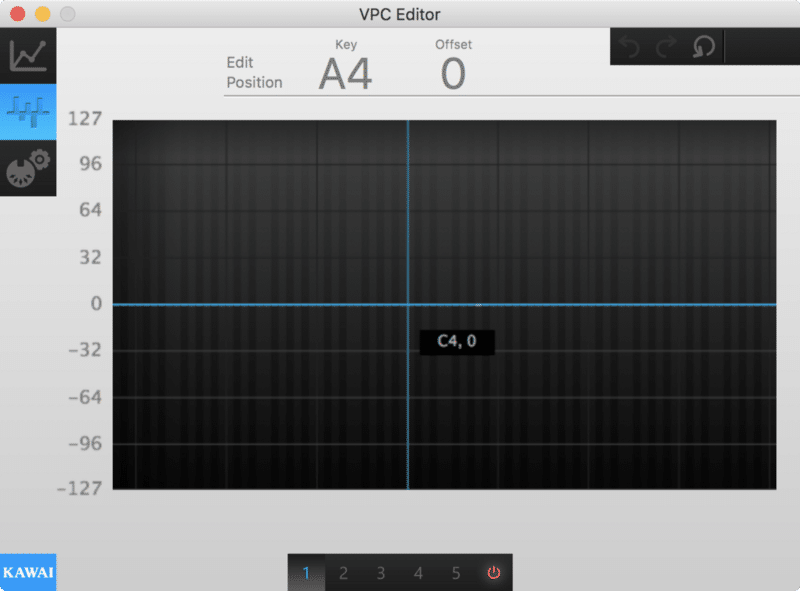 The third panel contains settings for MIDI transmit channel, pedal CC## assignments, and MIDI port settings.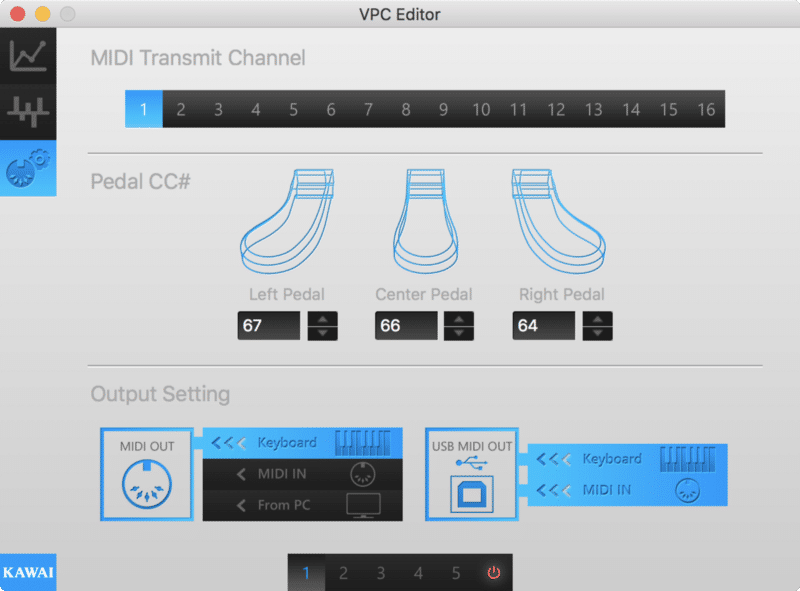 I don't have any complaints about VPCEditor. It's a well laid out and feature-rich software editor, and the official velocity curves are especially helpful. I hope an official curve for Spectrasonics Keyscape will be added in the future.
Conclusion
The Kawai VPC1 manages to distill the experience of playing an acoustic piano into a beautiful and inspiring digital instrument. Even though I thought the VPC1's curved top and power button placement were poor design choices, it remains an unmatched product in terms of playability, user experience, and value.
With that said, the Kawai VPC1 is not for everyone. If you're a touring keyboardist who prefers onboard sounds, get a Roland RD-2000. If you're a music producer who needs a ton of mappable knobs and faders, look elsewhere. If you're an avid pianist looking to combine the analog experience of playing an acoustic instrument with the flexibility of modern sample libraries, do yourself a favor and buy the Kawai VPC1.
I hope there will be a Kawai VPC2 someday — an instrument with Kawai's GF action, a flat surface for those times you need to do actual work on the instrument, and no visible power button. That would be perfection.