Apple MainStage used to be part of Logic Studio, which was $499. Now, it's available as a standalone app on the App Store for $29. It's possibly the best deal in music software history. After you buy and install MainStage, click "Download Additional Content" under "MainStage" in the menu bar. These are free sounds that can be used in MainStage. I recommend only downloading the instruments and not the Apple Loops. The download will take a while, so let's talk about a few other pieces of equipment you'll need for a functional musical theatre setup.
Keyboard
If you're reading this post, there's a good chance you already own a keyboard. Almost all musical theatre shows are best played on an 88-key weighted keyboard. MIDI controllers are keyboards that are not capable of generating sounds on their own. Instead, they send MIDI messages to an external sound source — either a software program like MainStage or a hardware sound module. I recommend getting a keyboard with onboard sounds as well as MIDI capability. External sound sources are never 100% reliable, and it's always good to have backup sounds to fallback on. A piano sound is always better than a minute or two of silence.
It's hard to find a decent weighted keyboard under $1000. The only one I can recommend is the Casio PX-5S. It's available for $999, and it's possibly the best deal in keyboard history.
Audio Interface
An audio interface is a device that takes the digital sound signal from your computer, converts it to an analog signal, and sends it to any number of outputs that can be connected to speakers, recording devices, etc. It's possible to connect the 3.5 mm line out on you computer to a speaker, but I do not recommend because it sounds awful.
For the budget-minded, I recommend the Focusrite 2i2. It's a great deal, and lets you connect your keyboard's audio outputs for fallback sounds in case MainStage crashes.
The MOTU UltraLite AVB is THE interface to get if you're looking for something rock solid. It's extremely well built, and MOTU's drivers are extremely stable — this means less MainStage crashes. The MOTU UltraLite AVB also comes with a large number of inputs and outputs, so you're free to route sound to a number of different places. For example, it would be possible to send a click track to a specified output. Alternatively, you could also send string and brass patches to different outputs for different processing. The possibilities are endless. The MOTU UltraLite AVB is often used on Broadway tours. I'm currently using it as my audio interface for musical theatre gigs, and I have nothing but good things to say about it.
Speakers
As a keyboardist in a musical theatre production, chances are you will be playing more than just basic keyboard sounds. In the past few shows I've done, the sounds in the keyboard book have ranged from strings to synth drums. You wouldn't buy a guitar amp to amplify a digital piano, and you shouldn't buy a keyboard amp to amplify strings or drums. The best solution is a pair of PA speakers. I know many people, including myself, who are using the QSC K-series. These speakers come in three sizes — 8, 10, and 12 inches. I'm using the 12 inch model right now. The sound quality is phenomenal, but they can be a hassle to move around. The 10 inch model is a good compromise between sound quality and weight — the bass extension won't be as low as the 12 inch model, but it still sounds great. The 8 inch model, while very portable, will not generate enough bass frequencies for your sound patches. The QSC K-series speakers are active speakers, so you won't need to purchase a separate amplifier to drive them. Keep in mind you don't need to immediately buy a pair. You can always mix down your output from MainStage to mono, and connect one speaker to your interface.
Connecting Everything Together
Let's talk about how to connect all your gear together.
Keyboard -> Computer
If you have a keyboard with USB MIDI capability, you can use a USB cable like this to connect it to your computer. You'll most likely have to install drivers on your computer as well. When in doubt, just Google "your keyboard model USB drivers,"
If you have a keyboard without USB MIDI capability, you'll need a device like this. It basically translates MIDI messages into data that can be transferred through USB.
Audio Interface -> Computer
Connecting your audio interface to your computer is fairly straightforward. Use the supplied cables that came with the interface. Once you get it connected, install drivers for the device. If your audio interface didn't come with an installation CD (or if you don't have a CD drive), the drivers should be available for download online as well.
Keyboard -> Audio Interface
Having fallback sounds in case MainStage crashes is important. To do this, choose a stereo pair (1 – 2, 3 – 4, etc) on your interface, and connect the keyboard's left and right outputs to the stereo pair. Connect the left output first. Most keyboards have unbalanced outputs, so you'll need a pair of TS cables (these are also known as instrument cables or guitar cables). If your keyboard has balanced outputs, you can use TRS cables.
Audio Interface -> Speakers
The outputs on an audio interface are typically balanced connections, so you'll need TRS cables to connect to speakers. Most speakers use XLR connectors, so you'll need 1/4″ to XLR cables like these. Connect the 1/4″ end to the output of the audio interface, and the XLR end to the input of the speaker. If your audio interface has XLR connectors for on its outputs, you should use XLR cables like these.
Apple MainStage — The Basics
MainStage consists three primary working environments — the layout window, edit window, and perform window. Any kind of programming and playing you do will be in one of these windows. Here is an overview of each window and their associated functions.
The Layout Window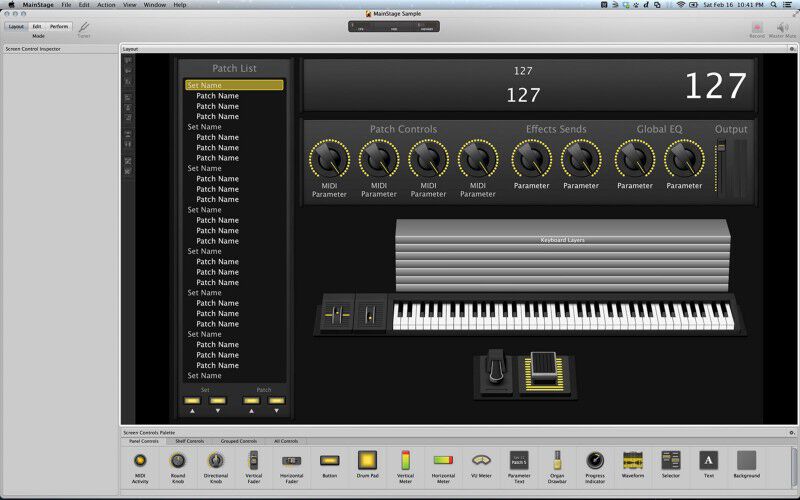 As its name implies, the layout window enables you to customize the layout and look of your performance environment. Here, you'll be able to add and map virtual controllers that correspond to your physical controllers (keyboards, pedals, footswitches, etc.). Another useful feature is the ability to add textboxes. I often use them for notes on a specific patch or song.
The Edit Window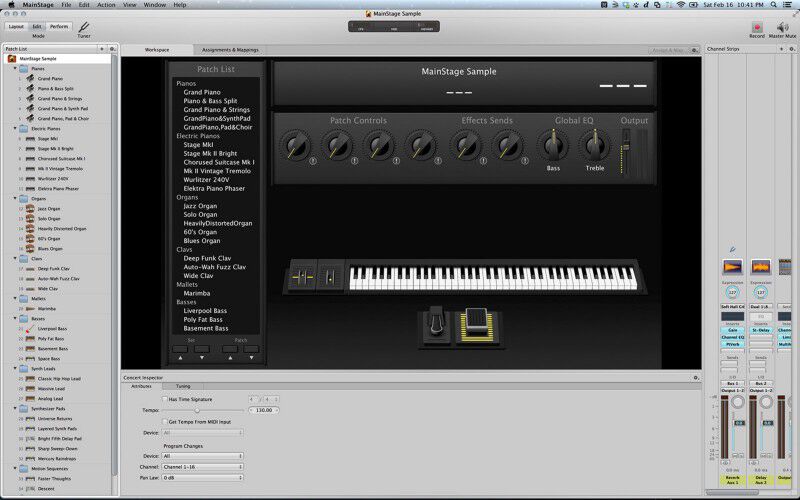 The layout window is where you'll be doing most of your programming work. Here, you'll be able to create and edit sound patches. A list of your patches can be found on the left, and they can be rearranged in any order. On the right are your "channel strips," These channel strips contain information such as sound, volume, and effects for each sound in your patch. This is also where you can set create auxiliary channel strips for reverb and other effects.
The Perform Window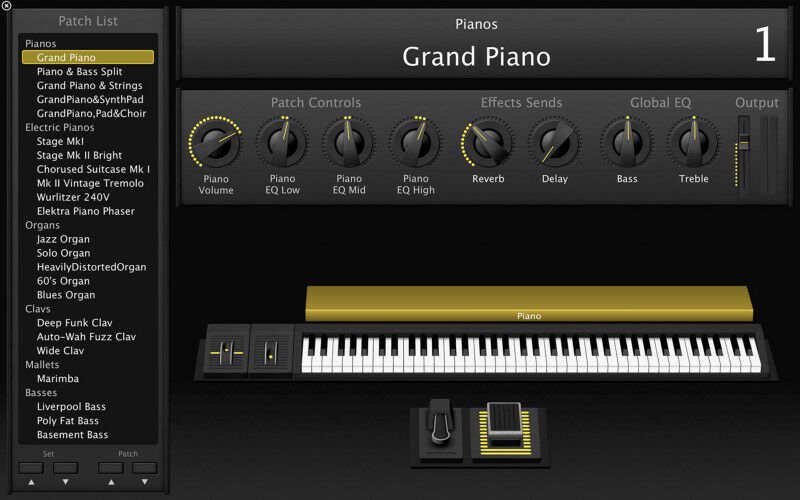 The perform window is only for performance situations. It rids the interface of any information that is not crucial to performing, such as channel strip information.
Conclusion
You should now have a good understanding about how to connect your gear together and how MainStage's three basic environments are structured. In next week's post, we'll discuss how to create, layer, split, and mix sound patches.