I've been to Japan twelve times over the past two years, but I've never visited Hakone. That finally changed this time around thanks to Ayaka's magnificent daytrip planning skills.
Our day started bright and early at Shinjuku Station, where we boarded the Odakyu Limited Express Romancecar bound for Hakone. Without getting too personal, I just want to point out how ironic it is that this Romancecar daytrip occurred a short time before we started dating.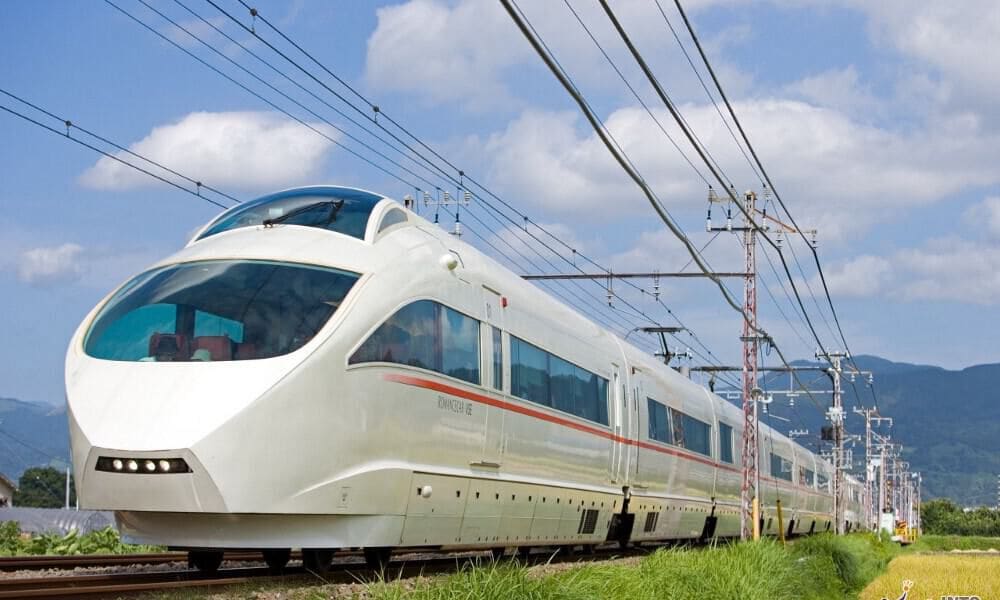 The Romancecar is operated by Odakyu Electric Railway, and it's a quick and comfortable way to travel between Tokyo and Hakone. During the two hour journey originating from Shinjuku Station, the Romancecar stops at Machida Station, Ebina Station, and Odawara Station before reaching Hakone-Yumoto Station. I recommend making seat reservations in advance, especially if you want to sit next to your special friend.
After arriving at Hakone-Yumoto Station, we boarded a bus bound for Hakone Shrine. Which bus? I have no clue. We walked around the station area for fifteen minutes before Ayaka found an employee to ask about which bus to take.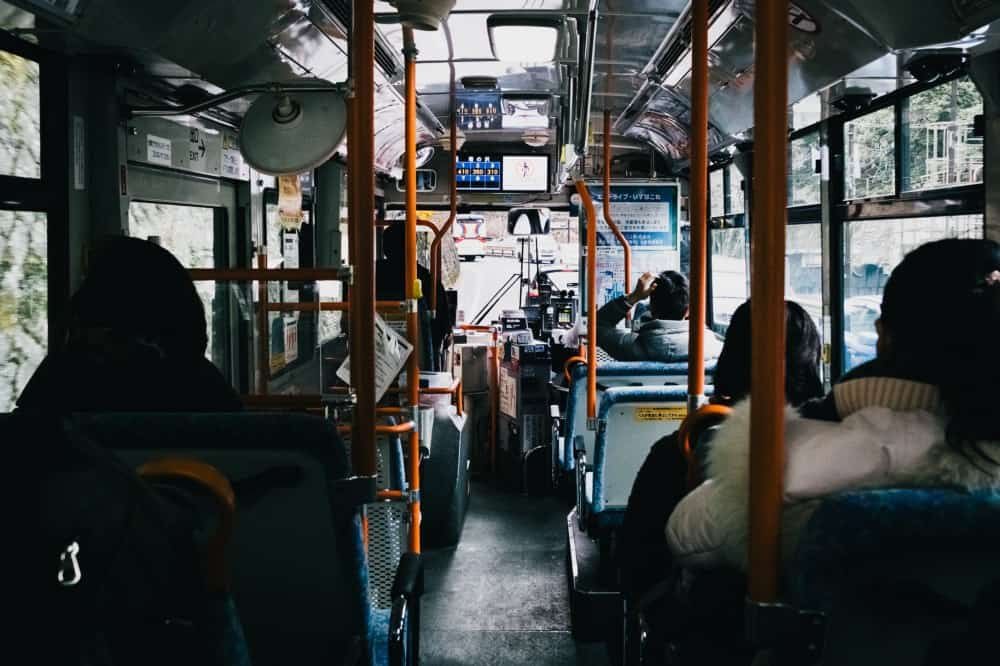 The bus ride took a little over half an hour. When we got off, we made a quick ATM and snack stop at Lawson.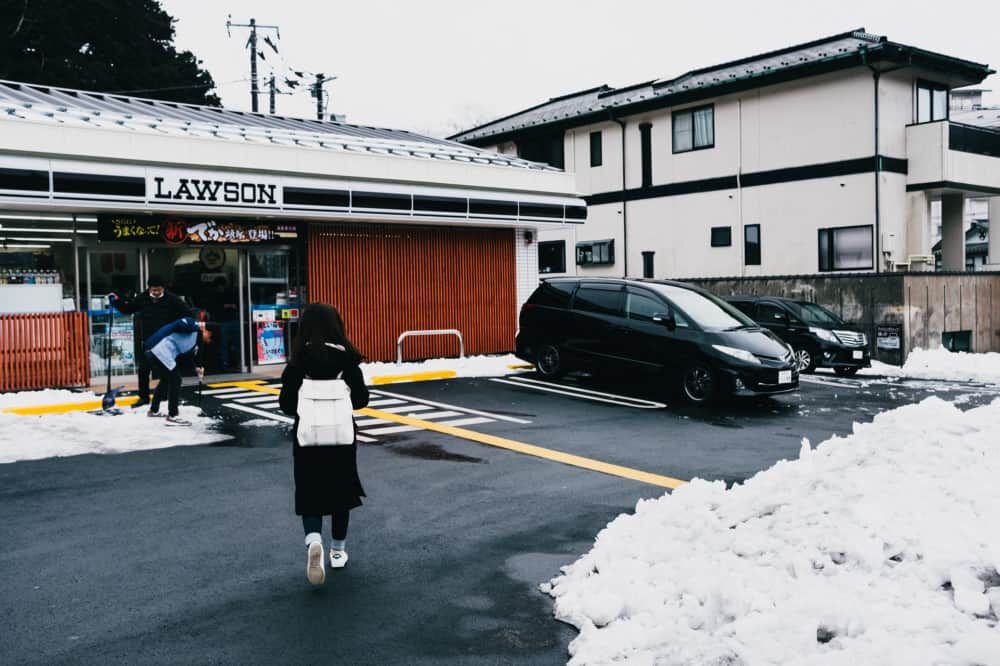 There was a decked out Subaru out front. It reminded me of my dad's old 2004 Subaru Impreza WRX STI — same color without all the cheesy rally car stickers.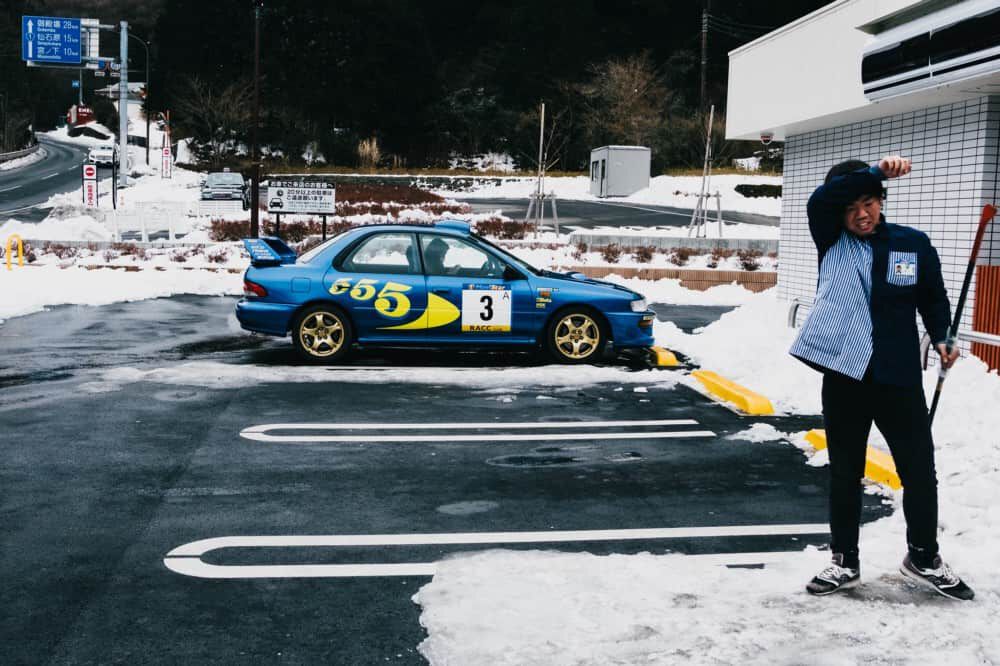 It was a chilly day, and it started snowing lightly as we walked over to the Hakone Shrine and Lake Ashi . No complaints here. The air was clean and crisp; a welcome change of scenery from Las Vegas.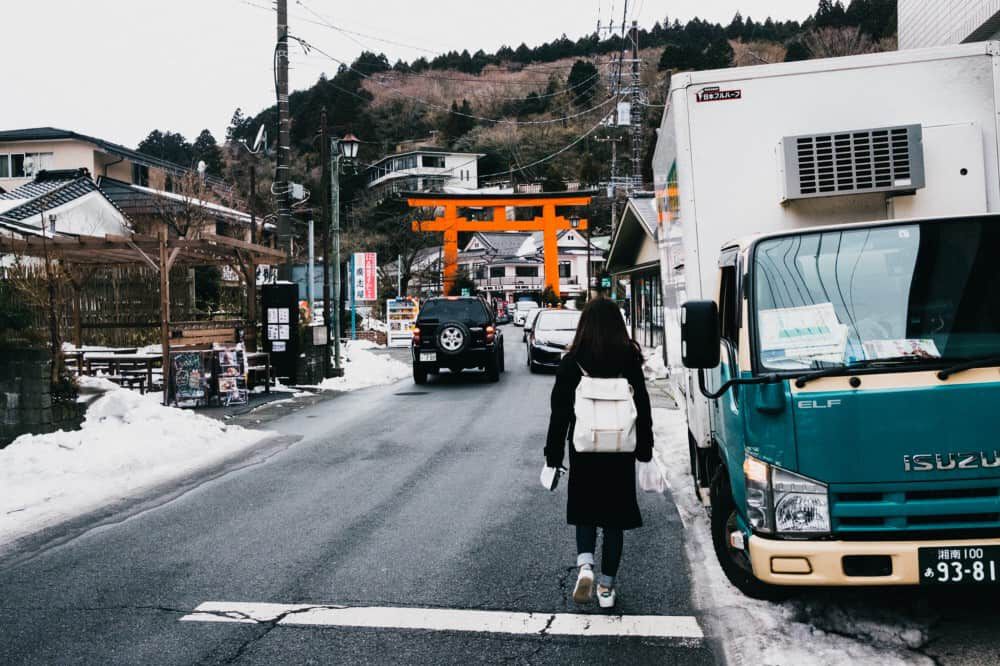 There was a chõzuya near the entrance of the shrine.
Inside the chõzuya, there are water-filled basins called ch?zubachi . Visitors use the water to wash their left hand, right hand, mouth, and ladle handle as an act of purification before entering the main shrine.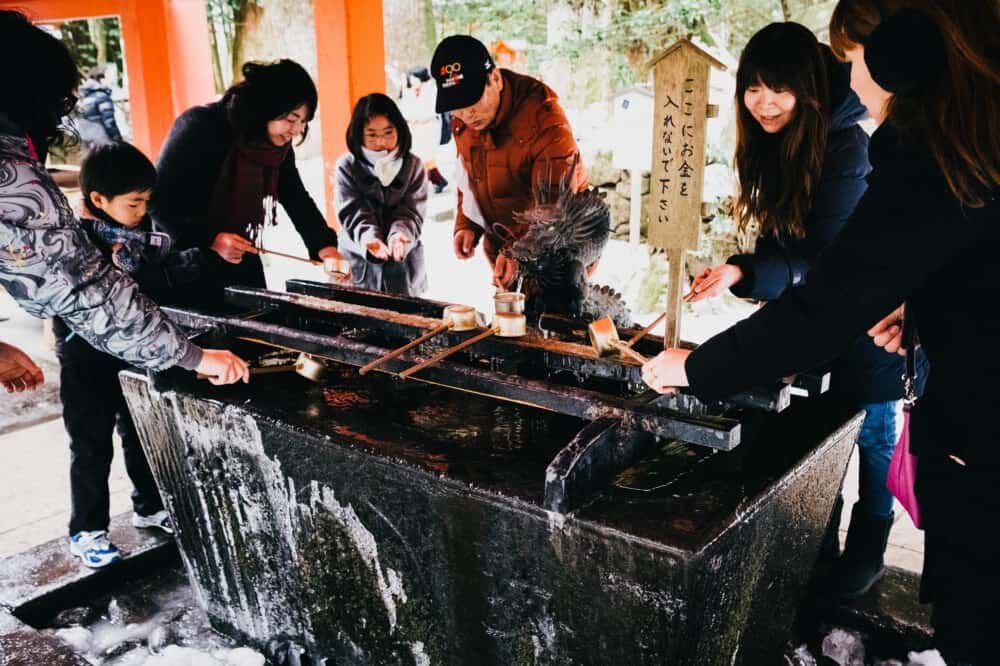 After purifying ourselves, we walked over to the Hakone Shrine.
Unfortunately, the shrine was undergoing some maintenance work, so here's a photo with a bunch of people covering up most of the construction equipment. Would you have noticed the orange construction cone if I didn't tell you?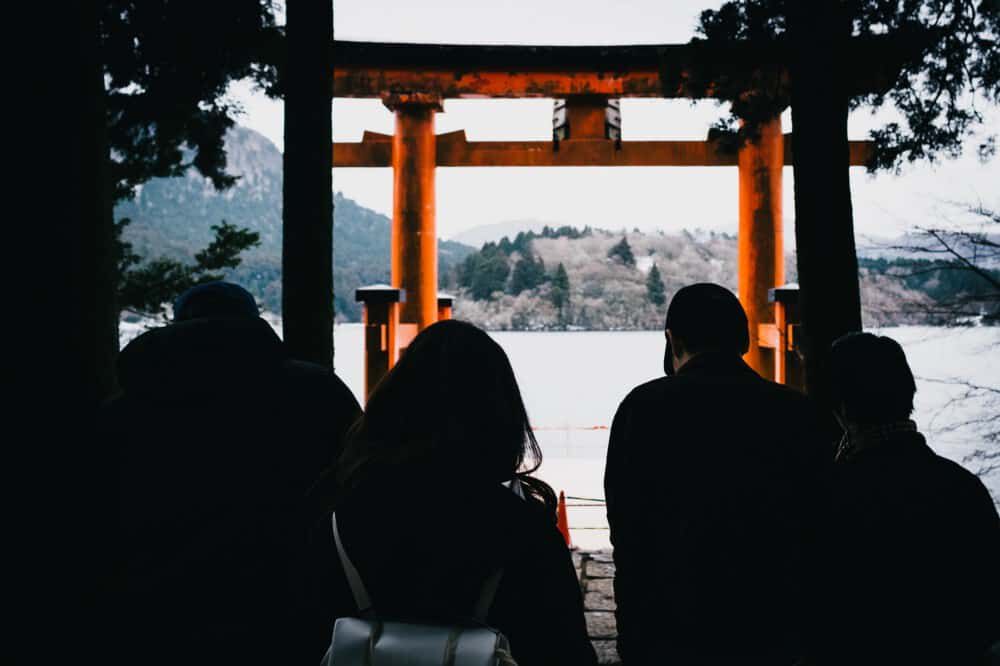 Lake Ashi was next on the itinerary, and it was just a short walk away.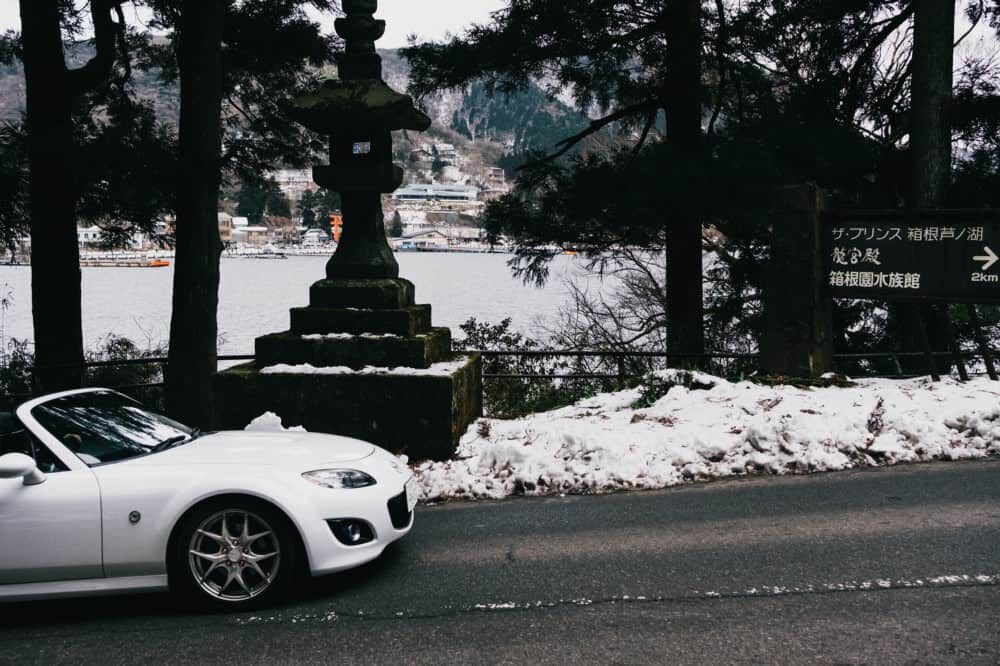 Also known as Hakone Lake and Ashinoko Lake, Lake Ashi is a crater lake southwest of Mount Hakone. The lake is famous for its scenic views of Mt. Fuji, tourist ferries, and hot springs.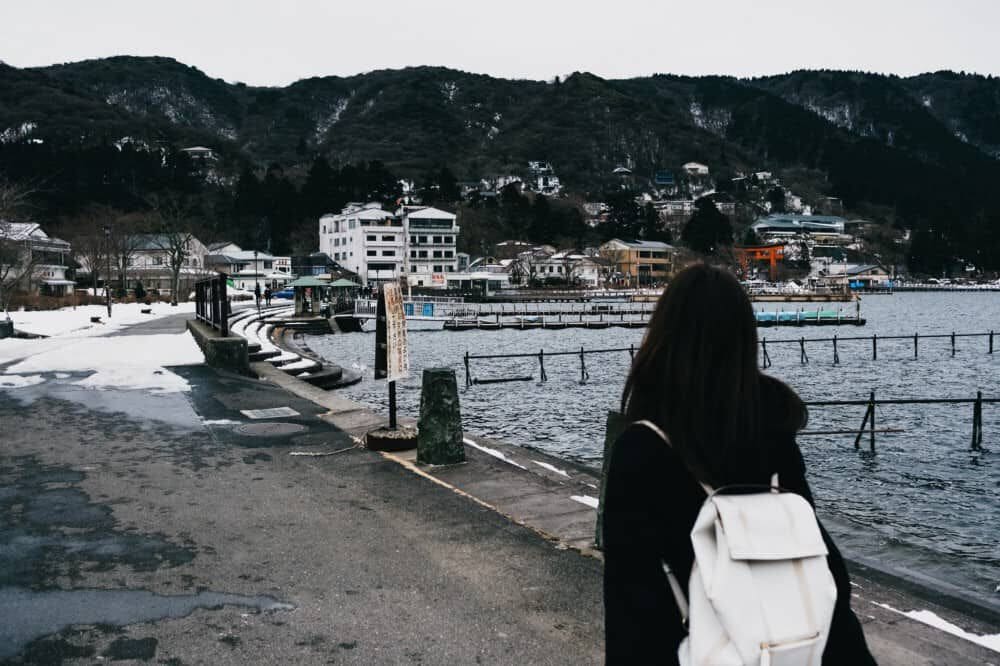 Shh! I don't think she knew I took this photo.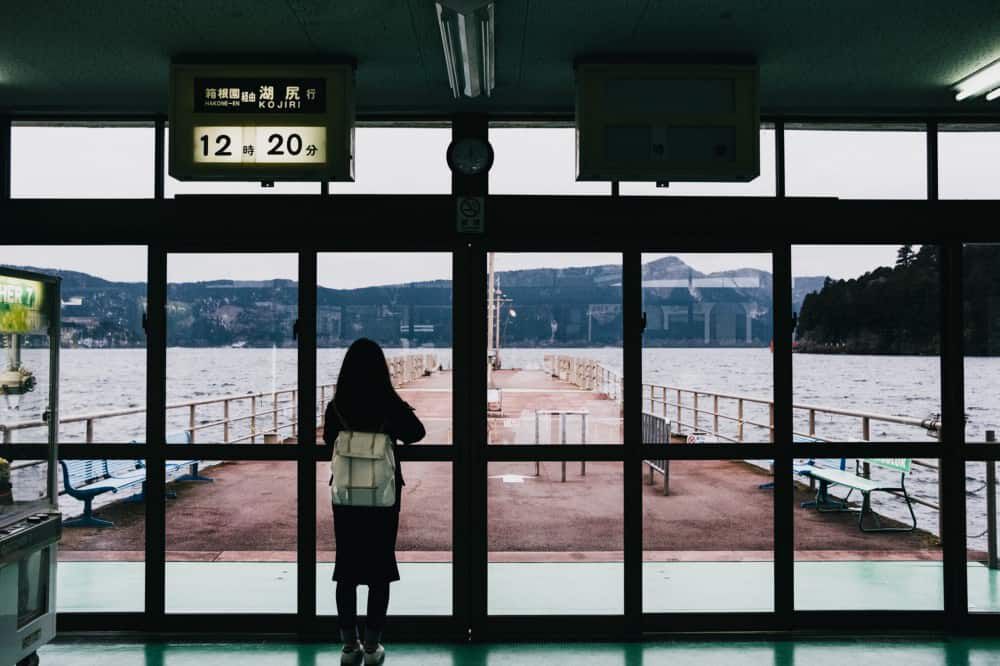 Ayaka found an awesome café called Bakery & Table. Why is it awesome? You can eat a delicious pastry while enjoying a natural spring water foot bath. Oh, and this is the view of Lake Ashi from the table.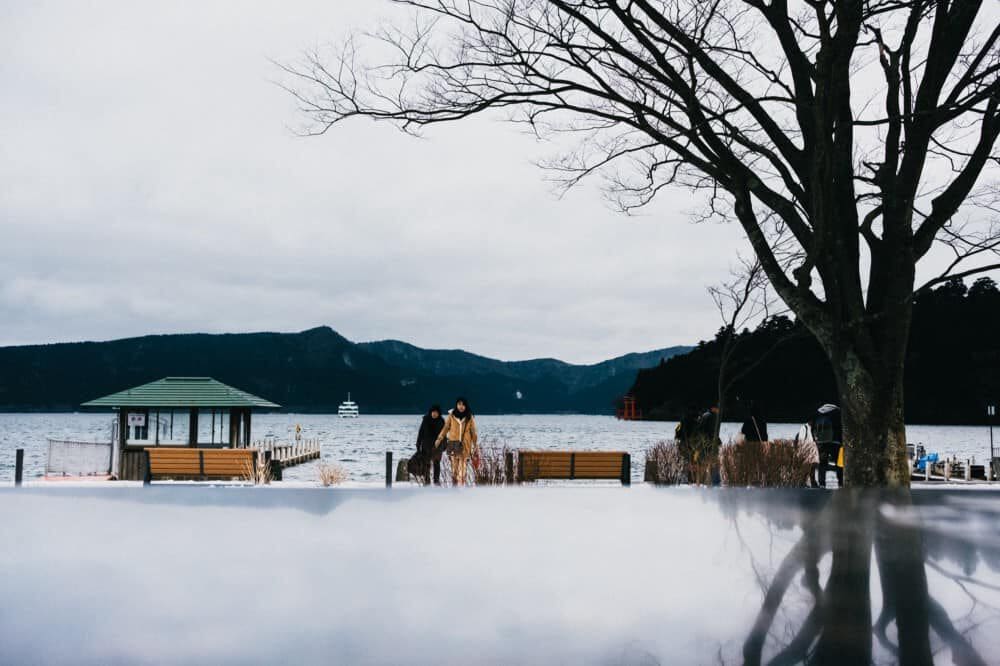 Honestly, I didn't want to do anything else after the foot bath. My feet felt so soft, and it was the perfect time to take a nap. Alas, we had to complete our itinerary before thinking about taking naps. Mount Hakone was our next stop.
To get to Mount Hakone, we first had to take a train back to Hakone-Yumoto station.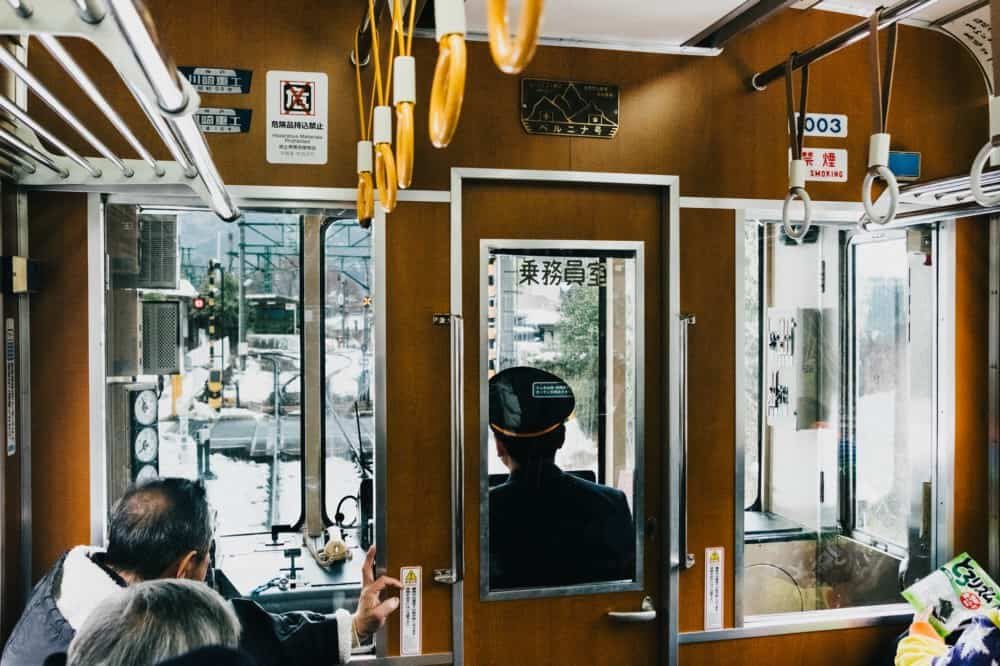 From Hakone-Yumoto we took the Hakone Tozan cable car up to Gora Station, the transfer station for the Hakone Ropeway to Mount Hakone.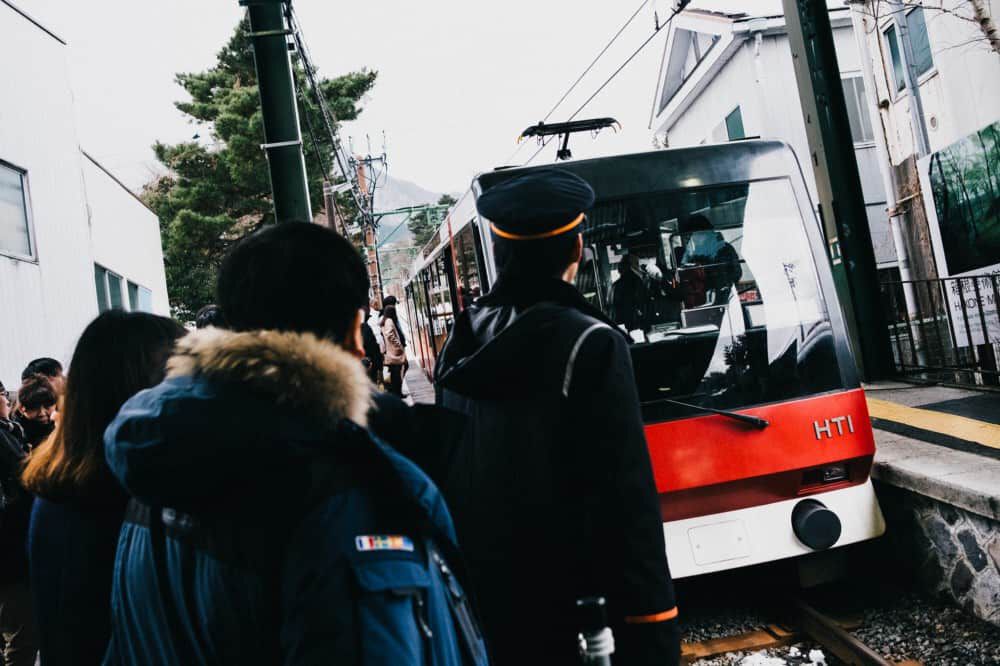 Boo! We got to Gora Station and found out the ropeway was closed due to bad weather. Feeling defeated, we took the cable car back down and went home. Just kidding. We waited outside in the cold for twenty minutes to take a bus instead. I'm glad we waited because this is what we saw when we got off.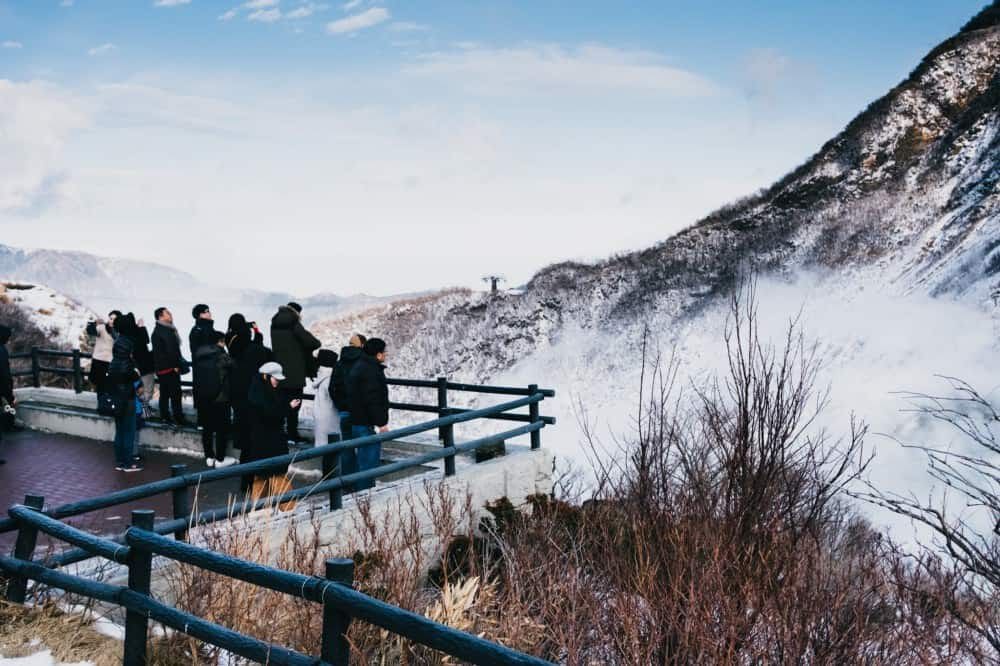 It was really windy up there, so maybe closing the ropeway was a good thing.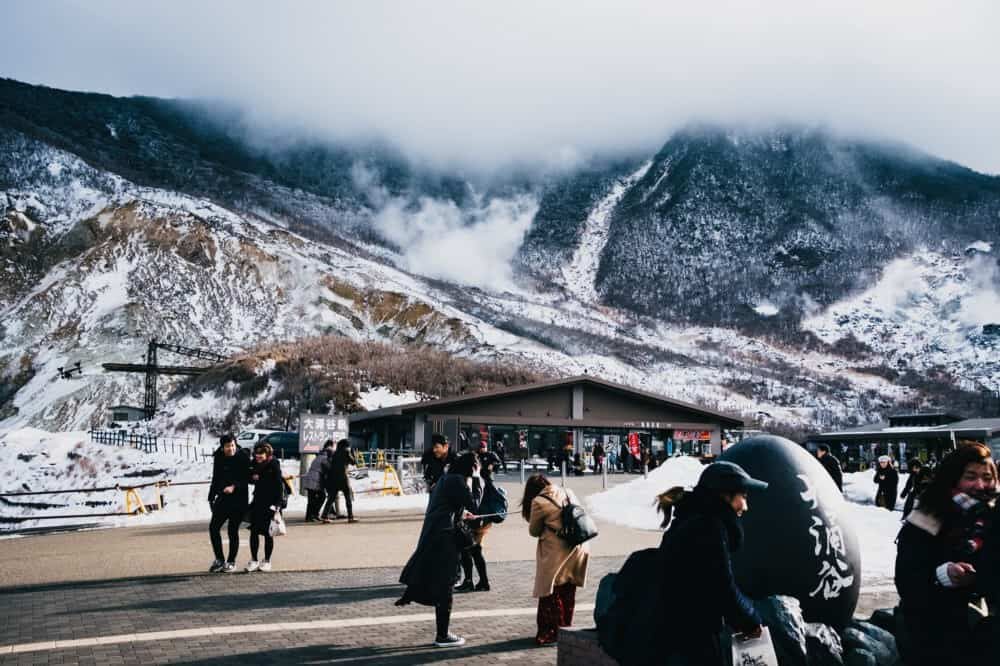 We walked around for a few minutes, but it got way too cold and windy. After eating ramen, we headed back down the mountain to Hakone-Yumoto Station.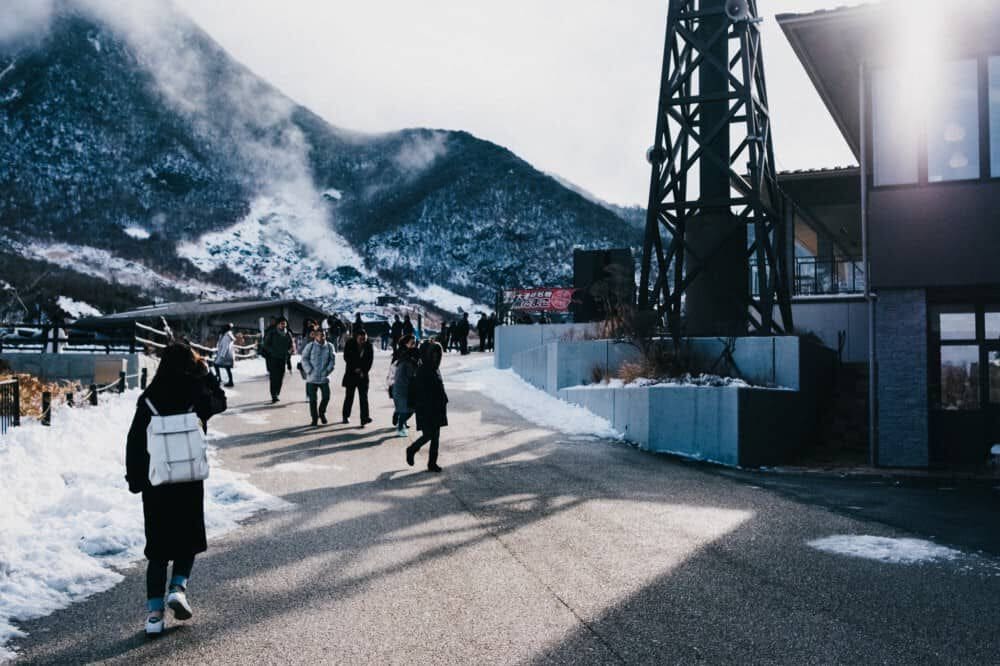 We had a little less than an hour to kill before our scheduled departure time back to Tokyo, so we wandered around town for a while.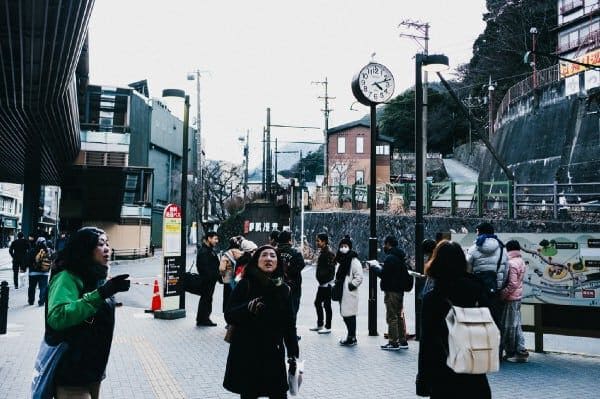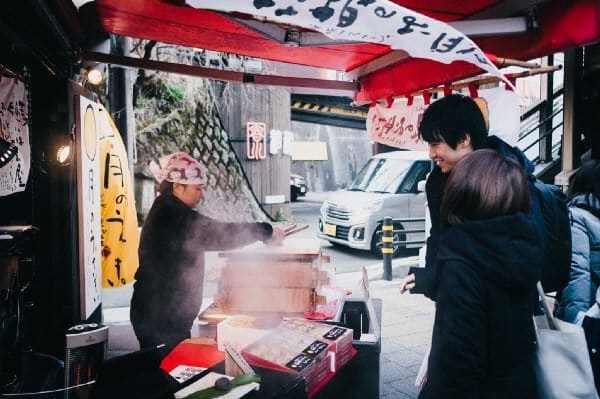 I love the nostalgia-inducing quaintness of small Japanese towns.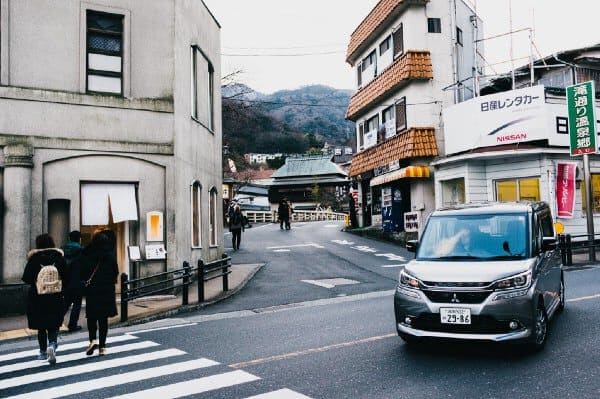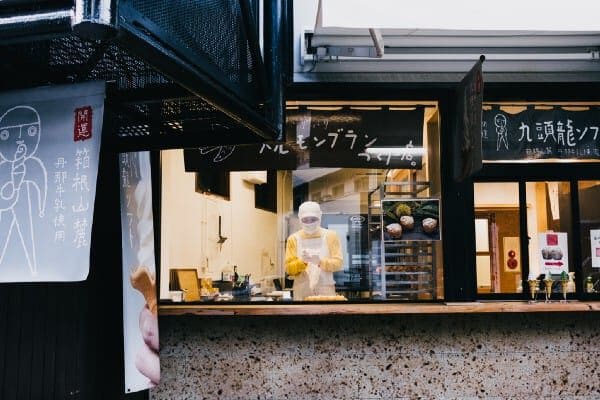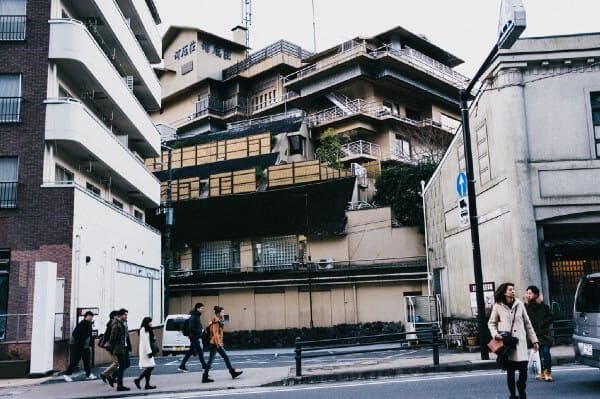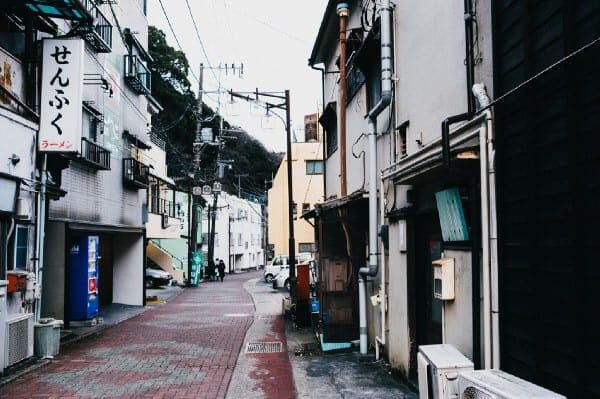 Yeah, I don't know either…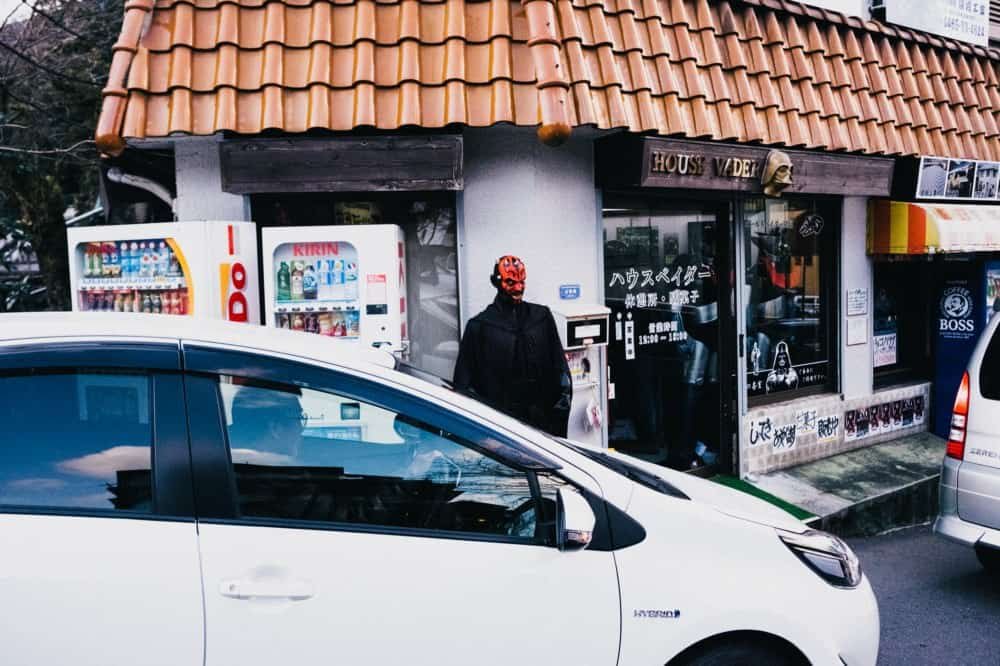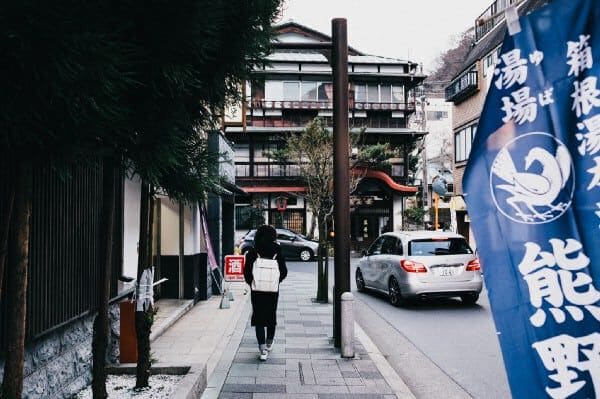 That cool looking building is the Hakone Suimeisou Hotel .
If you're thinking I almost got run over after taking this shot… you'd be right.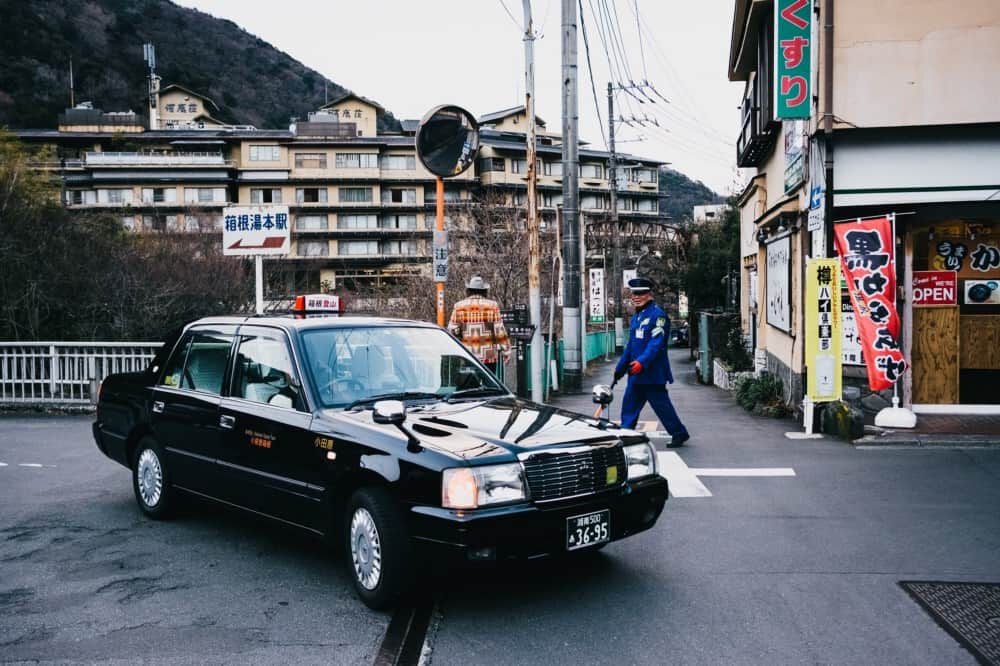 I know. I really had the whole "mysterious girl with white backpack" theme going on.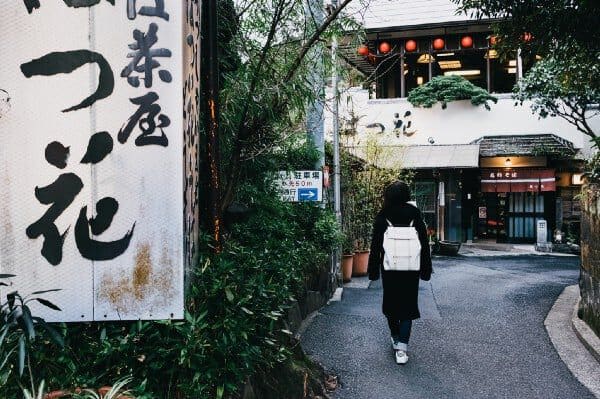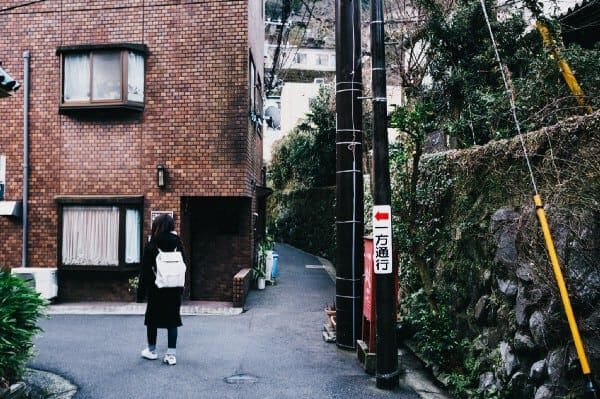 We stopped for a quick treat before boarding the Romancecar back to Tokyo.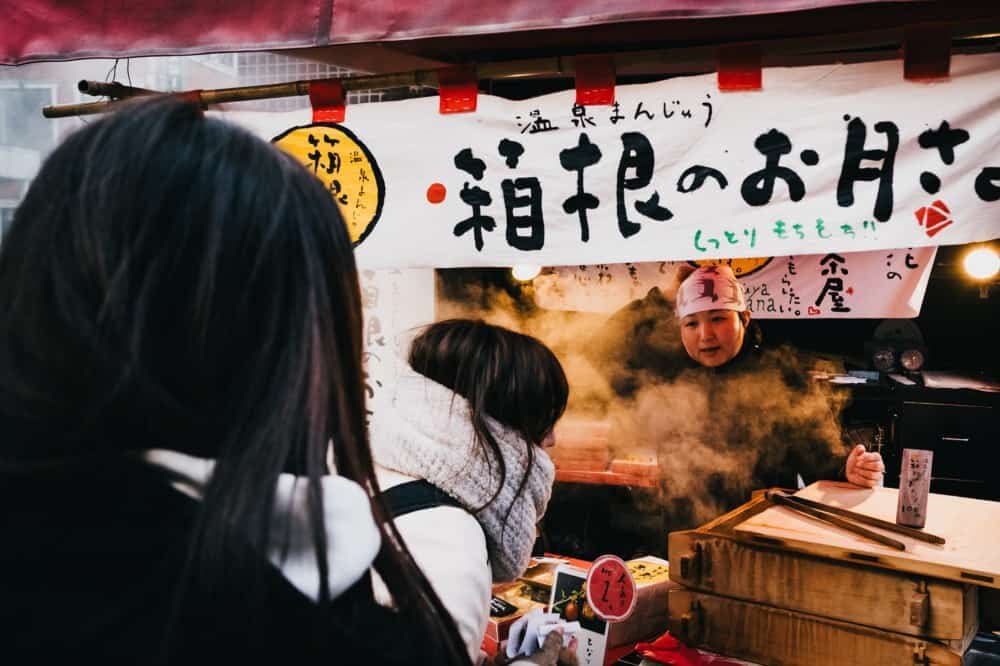 As the train departed Hakone-Yumoto Station, I took a minute to reflect on a great day. Even though we had to wake up too early and didn't get to experience the ropeway, there were many other moments to appreciate.
Zzz… The next thing I remember is waking up a few minutes before arriving at Shinjuku Station.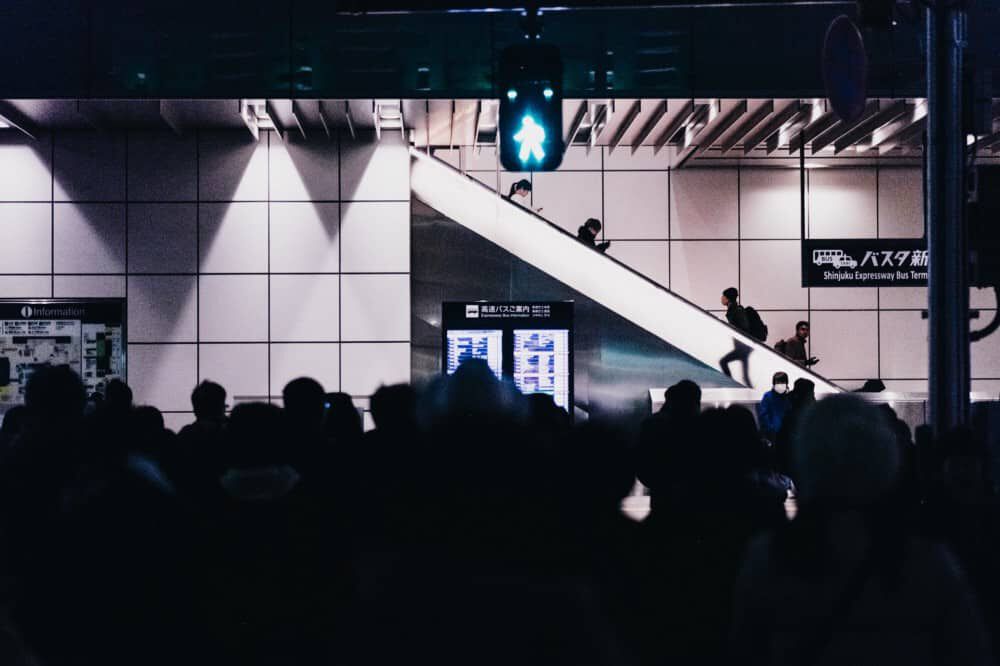 After a wonderful nap on the train, we ended the evening in Shibuya with coffee at The Roastery and burgers at The Great Burger. FYI, the coffee was great, but Blacows has a much better burger.
If you enjoyed this post, be sure to connect with us on Instagram to view more photos and stories from our travels. Have a great day and happy travels!