The RMCE-BT1 is Shure's first attempt at a Bluetooth cable with an integrated microphone and remote. Unfortunately, the Bluetooth audio codec industry sucks, so we're left with an average sounding product that's too expensive for casual users and feature-limited for most enthusiasts.
Features & Design
The Shure RMCE-BT1 is a well designed product. The MMCX-terminated cable is the perfect length (for me), and while it's not constructed with the same Kevlar reinforced material as Shure's stock IEM cables, it seems durable enough for everyday casual use. I say this because my RMCE 3.5mm cable, which has the same cable design, started malfunctioning in the left channel after two months of use. Hopefully this doesn't happen with the RMCE-BT1.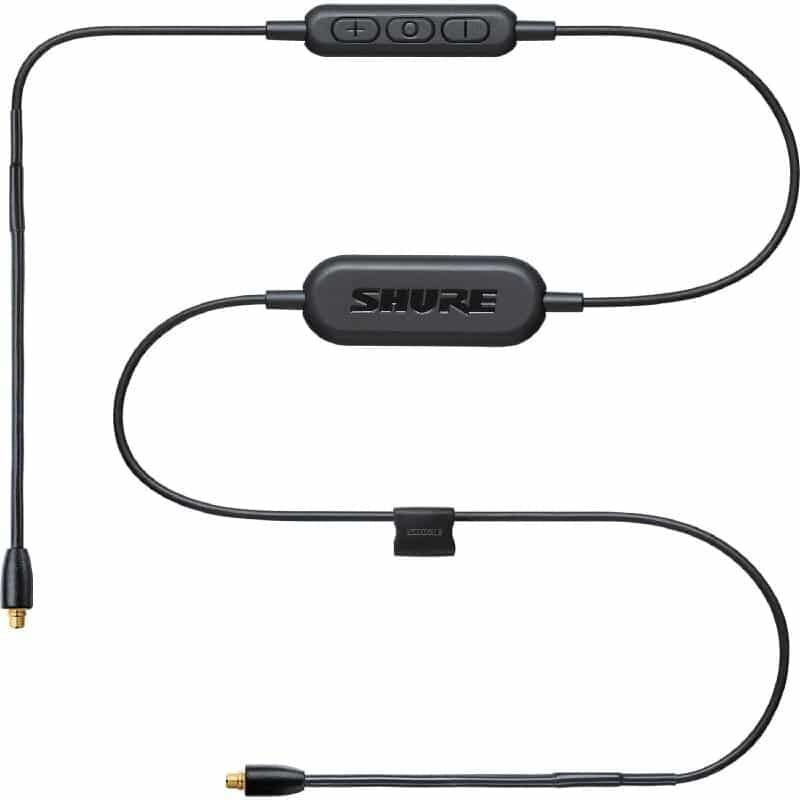 The inline remote has three buttons for power on/off, volume down, and volume up. The power button also doubles as a function button for picking up and hanging up phone calls. The built-in microphone can also be used for voice commands and other voice-activated device features. The RMCE-BT1 also ships with a handy clothing clip to prevent the cable from swaying back and forth while walking.
My only complaint about the RMCE-BT1's design is the size of the battery unit. I love the cable's 8 hour battery life, but the battery unit does seem a little big and bulky. It's not a dealbreaker, but hopefully Shure can work on making it smaller in the next iteration of this product.
Bluetooth Audio Codecs
High quality audio over Bluetooth is still very much a developing technology. Before I give my thoughts on the RMCE-BT1's sound quality, let's briefly go over the various Bluetooth audio codecs that are available today.
SBC (Subband Codec)
SBC is the industry standard, and also lowest common denominator, when it comes to Bluetooth audio transmission. This means every A2DP Bluetooth audio device has to support SBC for decoding audio at the minimum. SBC was designed to obtain "reasonable" audio quality with low computational and power demands. In technical terms, SBC supports stereo audio at a maximum sampling rate of 48kHz and bitrate of 354kbps.
Since SBC doesn't any require any extra technology and codec licensing, many companies choose to only support SBC in their products despite it's sound quality limitations.
aptX & aptX-HD
aptX and aptX-HD are proprietary lossy codecs developed by Qualcomm. These codecs aim for "CD quality" sound, but require codec licensing and support from both the playback device and the receiving headphones or speakers. In the case of aptX-HD, specialized decoding hardware is also required. As a result, many companies choose not to use these codecs in their devices in order to maximize profit margins.
In technical terms, aptX supports 16 bit audio at 352kbps, while aptX-HD supports 24 bit audio at 576kbps. While aptX and SBC have similar maximum bitrates, the former is a superior compression codec which offers better perceived sound quality at the same bitrate.
AAC (Advanced Audio Codec)
AAC is a proprietary audio codec that was originally designed as a superior alternative to MP3. It's used my many products and services, and it's become Apple's codec of choice for audio distribution.
Apple's flagship iPhone X, does not support aptX or aptX-HD.
In addition to SBC, Apple's iPhones and iPads can stream ~256kbps AAC audio over Bluetooth without transcoding. It's important to note that Apple devices do not support any form of Qualcomm's aptX codec.
Sound Quality
Shure's RMCE-BT1 only supports the industry standard SBC codec. Now that you understand the differences between the various Bluetooth codecs out there, you should know exactly what this implies. The RMCE-BT1's sound quality is average at best, and dismal at worst.
I'm currently using the RMCE-BT1 cable with a pair of Shure's flagship in-ear monitors, the SE846s. I've also tested the cable with the SE535s and SE215s.
Honestly, there's not much of a difference between wired and Bluetooth wireless operation when using the SE215s. That's probably why Shure actually sells a Bluetooth variation of the SE215s.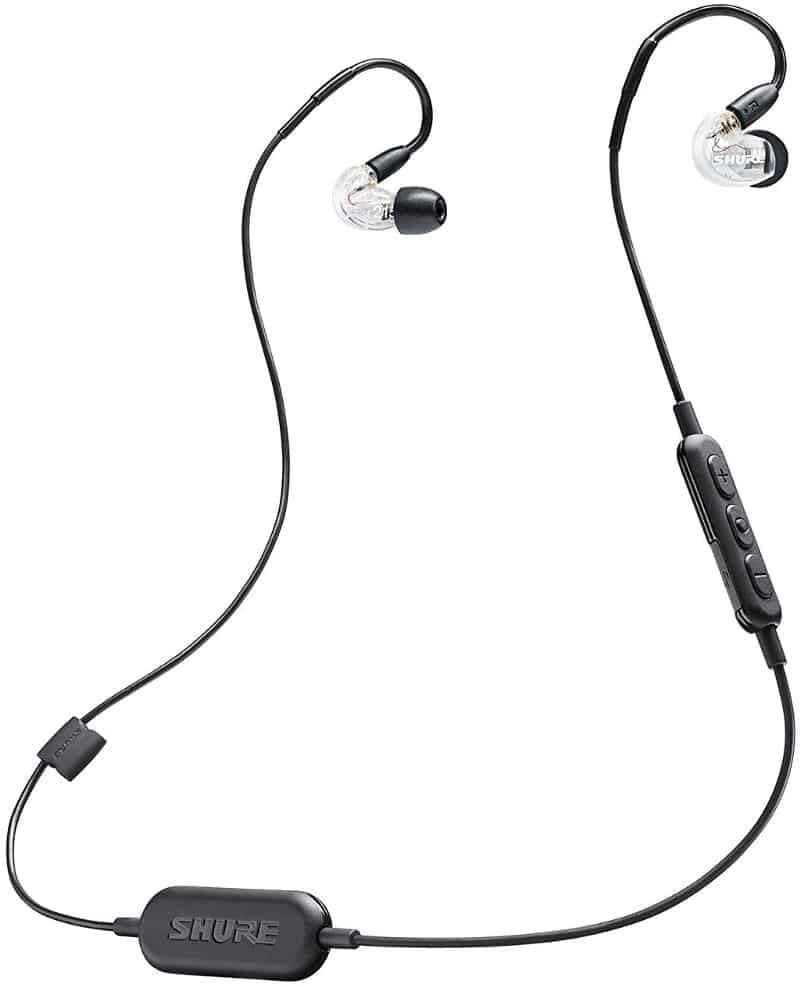 Audio over Bluetooth sounds great with Shure's SE215-CL-BT1.
However, the difference is pretty obvious and astounding when using the SE535s and SE846s. Audio sounds compressed with less dynamic range, soundstage is reduced, the sound signature becomes tinny and metallic, and there's a very audible noise floor.
This is partly due to the nature of using the SBC codec. It's not a great sounding codec for high quality audio in the first place, and now all the music on your phone needs to be transcoded into SBC before it can be played back.
If you're listening with Apple Music or Spotify, this means the AAC or OGG transcoded audio needs to be re-transcoded into SBC. Two stages of lossy transcoding is NEVER a good thing. You may get slightly better results with lossless source files, but don't expect any miracles.
Battle of the Codecs
So, the question is… Why did Shure, a company with a history of creating high quality audio equipment, release such a mediocre sounding product?
Well, they really had no choice. Let me explain.
In the world of mainstream high quality Bluetooth audio codecs, there are really only two choices — AAC and aptX (and their respective variations).
Apple, a huge proponent of AAC, has refused to incorporate aptX into their products. Conversely, many products from other companies that support aptX do not support AAC. Lastly, manufacturers who want to incorporate AAC and aptX into their products need to license the technologies. In the case of aptX, a proprietary hardware chip is also required.
Unlike Apple and Qualcomm, Shure is a codec-agnostic company. Apple uses AAC because it's a great audio codec, and there's no reason for them rely on Qualcomm for this particular technology. On the other hand, Qualcomm uses the aptX codec to entice OEMs to buy and use their hardware SoCs.
Qualcomm CSR8675 chip for aptX and aptX-HD support.
In this situation, it's impossible for Shure to please everyone. If they supported AAC, the aptX users would be furious. If they supported aptX, Apple users would complain.
So, why not support both technologies?
I'm guessing between technology licensing fees, R&D and material costs for hardware chips and radios, and Shure's profit margin goals, the idea was a complete nonstarter for what I would assume to be a low volume product.
Thus, the solution is to just use the lowest common denominator that guarantees compatibility with all Bluetooth products — SBC. Hopefully, Bluetooth 5.0's increased data transmission capabilities will bring about an industry standard high quality audio codec someday. Until that happens, we'll have to live with good old crappy sounding SBC.
Conclusion
Okay, so who should buy the somewhat overpriced RMCE-BT1 cable?
If you're a SE215 or SE315 user who wants to spare no expense to go wire-free, definitely look into this cable. If you're a SE425, SE535, or SE846 user, you probably value sound quality more than convenience. If that's the case, I guarantee you will not be happy with the RMCE-BT1's sound quality.
With that said, if you're someone like me… a SE846 user who values convenience over sound quality, then the RMCE-BT1 makes complete sense. I mostly use my IEMs for casual Spotify listening while commuting. In this situation, maintaining maximum sound quality is just not a huge concern.
By the way, do you know what my favorite feature of the RMCE-BT1 is?
The fact that I can now charge my iPhone while listening to music…