Justin Tabb, CEO of Substratum:
Maybe we will just private sale it. We have enough support to do it.
My thanks to @hodler_krypto for sharing this screenshot from a Telegram channel with Substratum executives and community moderators.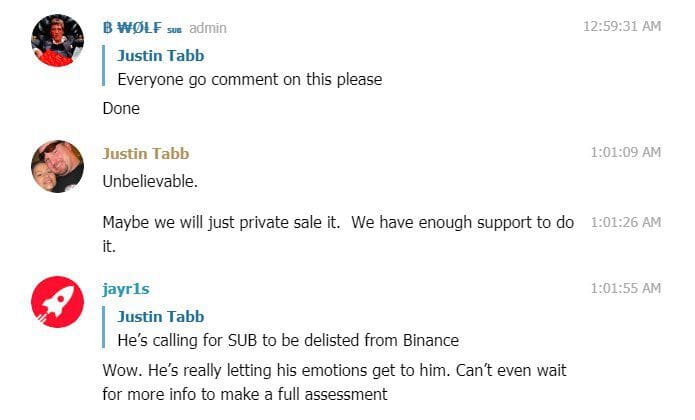 Last week, Substratum announced a second public ICO at their monthly SUBLOCC meetup. The ICO is for a decentralized exchange called Amplify, and investors will be given AMPX tokens for their contributions. Public perception, as shown by this Reddit thread, was mostly negative. The cryptocurrency community at large does not understand why Substratum needs to raise money through a second public ICO to work on "Product 3" when their first two products, SubstratumNode and CryptoPay, are yet to be released. Additionally, many questioned how the Substratum team would be able to compete in the data privacy, payment processing, and decentralized exchange industries without a massive team and adequate (hundreds of millions of dollars) of funding.
On Telegram, Justin Tabb revealed there is enough interest in Amplify to conduct a strictly private sale. In other words, there is apparently no need for a public ICO, as there are plenty of private investors who are willing to put money into the Amplify decentralized exchange. If that's the case, I don't understand why Substratum would risk a PR disaster and go ahead with a public ICO targeted at inexperienced investors instead of a private sale for accredited investors.