Substratum has been releasing a ton of great news lately. Not only has the team figured out how to bypass state of the art cybersecurity infrastructure in China, Russia, and Iran, Substratum CEO Justin Tabb has also been featured on the cover page of a technology publication called "The Technology Headlines" (TTH). Unfortunately, the article was poorly researched, so I just want to highlight and correct a few of its mistakes to ensure it doesn't become a potential source of FUD.
Before I continue, I just want to congratulate the team once again on this momentous occasion. Gracing the cover of a technology magazine is a huge deal, and the fact that Substratum has accomplished this without a fully working product speaks volumes about the potential of a free, fair, and decentralized Internet. Honestly, I just got goosebumps and am at a loss for words, so here's Justin's official tweet about his TTH feature.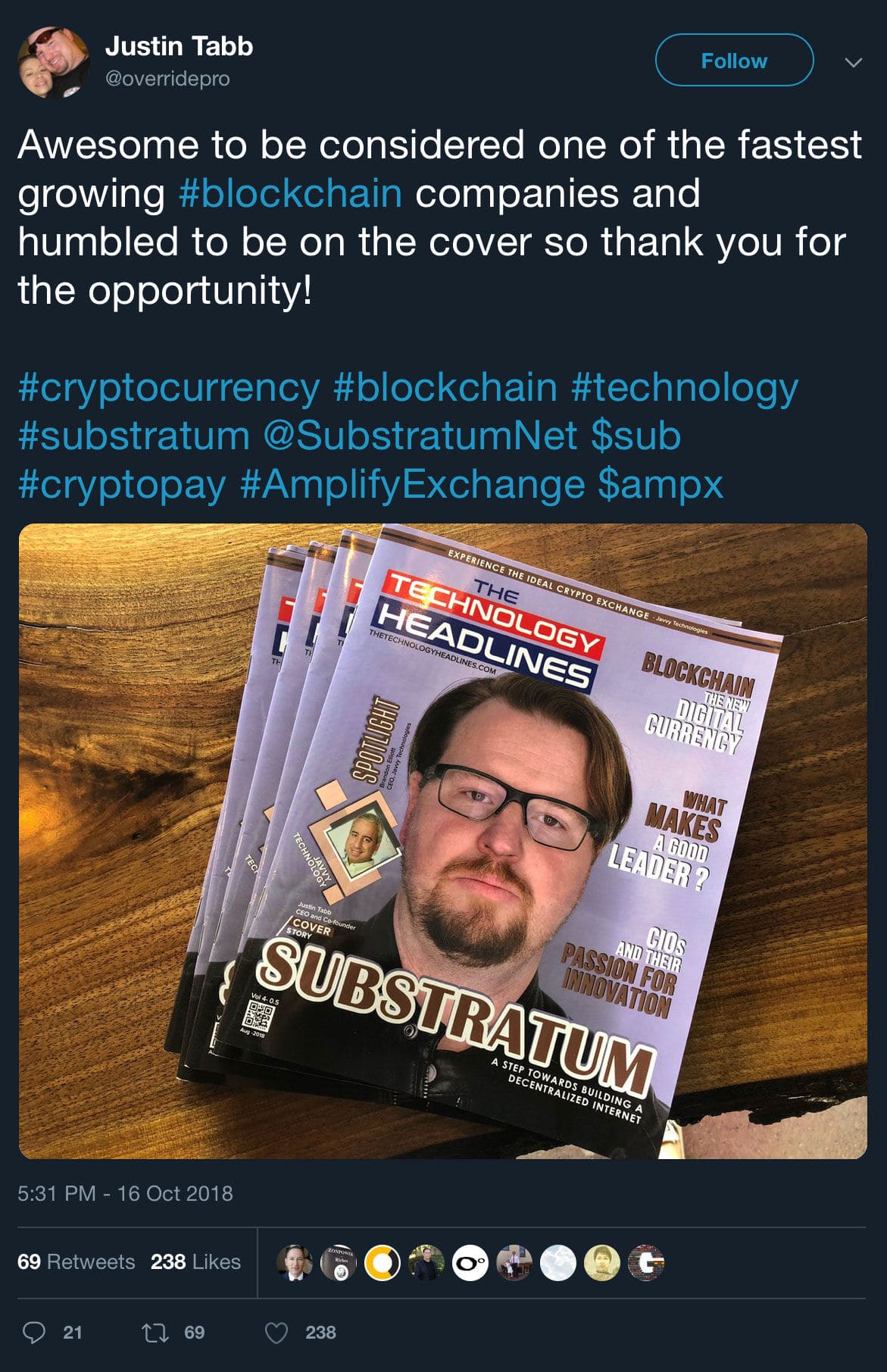 Yes, truly humbling indeed.
A Few Corrections
TTH's post has a staggering number of grammatical errors, but I'll only be going through the factual mistakes in this post. Hopefully TTH will feature the CEO of Grammarly in a future issue.
Founded in 2017, Substratum, is a Columbus, US based software development firm, which has built software solutions for a number of leading companies such as Apple, Facebook, Disney, Hewlett Packard, and many more. But the company's long term aim is to offer a full range of products that ensure global internet and financial freedom by upgrading crypto-currency to its next level.
Substratum has not built software solutions for Apple, Facebook, Disney, and Hewlett Packard. Justin Tabb's previous company OverridePro has allegedly conducted business with these companies. Secondly, Substratum is not looking to "ensure global Internet and financial freedom by upgrading cryptocurrency to its next level." Since SUB is an ERC-20 token on the Ethereum network, Substratum does not have the power to "upgrade" this cryptocurrency. Instead, Substratum is looking to use cryptocurrency to incentivize users to participate in a decentralized network that can potentially result in global Internet and financial freedom.
The fact that Substratum is trying to facilitate the idea of decentralizing the web while accommodating cryptocurrency without compromising on the data that's given to them is an achievement in itself. Yet, earlier they had overseen similar projects, but were not able to completely fulfill their mission of a decentralized network. Nevertheless, their engineers did find a way to provide all content to all people across the globe in an anonymous way that protects each user.
Wait… What failed projects did Substratum oversee before? I don't know.
In addition to this, the company implemented solutions using a standard TCP stack to prevent governments or ISPs from locating the traffic using network analyzing tools and shutting it down. Hence proves, that it is an unstoppable force the world is craving for.
These two sentences imply that Substratum has already successfully bypassed the firewall capabilities of every single global superpower. Unfortunately, SubstratumNode is still in beta and doesn't encrypt web traffic yet. No need to worry though, as we should see Tabb's "unstoppable force" in the form of V1 before the end of the year.
The Substratum Host acts as a sibling product to the Substratum Node which provides a decentralized platform for companies or people to host their web-sites and online content.
SubstratumHost doesn't exist yet.
Additionally, Substratum Node heavily encrypts all data passed through it, at every bounce along the way so your data is most secure through the Substratum Network.
According to the team, SubstratumNode does not encrypt data yet.
Conclusion
Overall, I think this article is good press for Justin Tabb and Substratum. Even with its grammatical and factual mediocrity, there's no denying the awe-inspiring, ego-boosting, and positive-shilling effects of a sexy cover page feature. After reading the article on Substratum, I felt a pang of jealousy, so I reached out to TTH to inquire about the possibility of featuring my company in their publication.
To my surprise, TTH quickly responded with the following information. You can view the raw email headers here if you're into that sort of thing.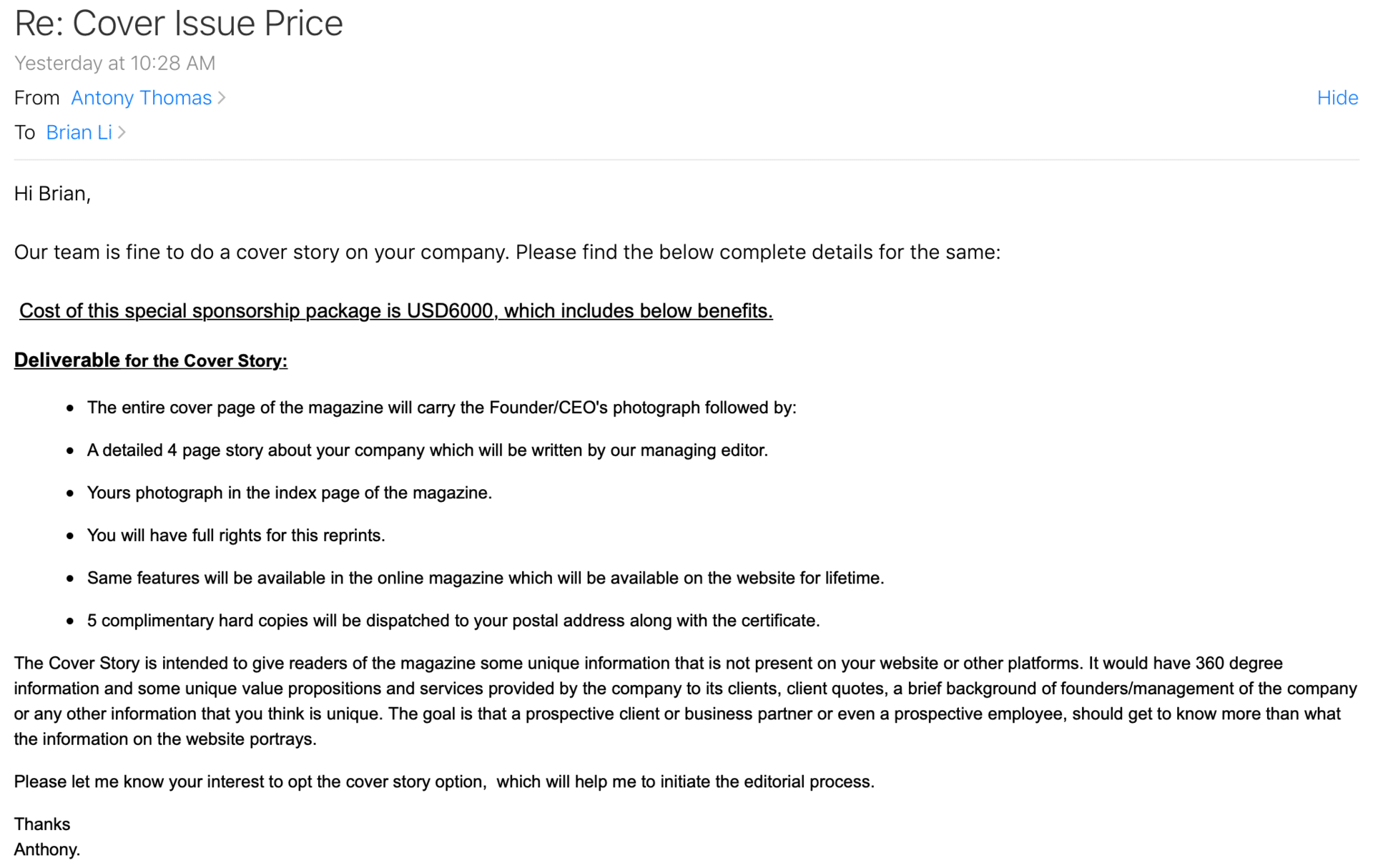 Wow! For a mere $6,000 (less than 1 BTC), my face could also grace the cover page of TTH. As an added bonus, I'd also receive five complimentary hard copies of my featured issue, just like how Justin Tabb received five copies of his Substratum issue! What a coincidence!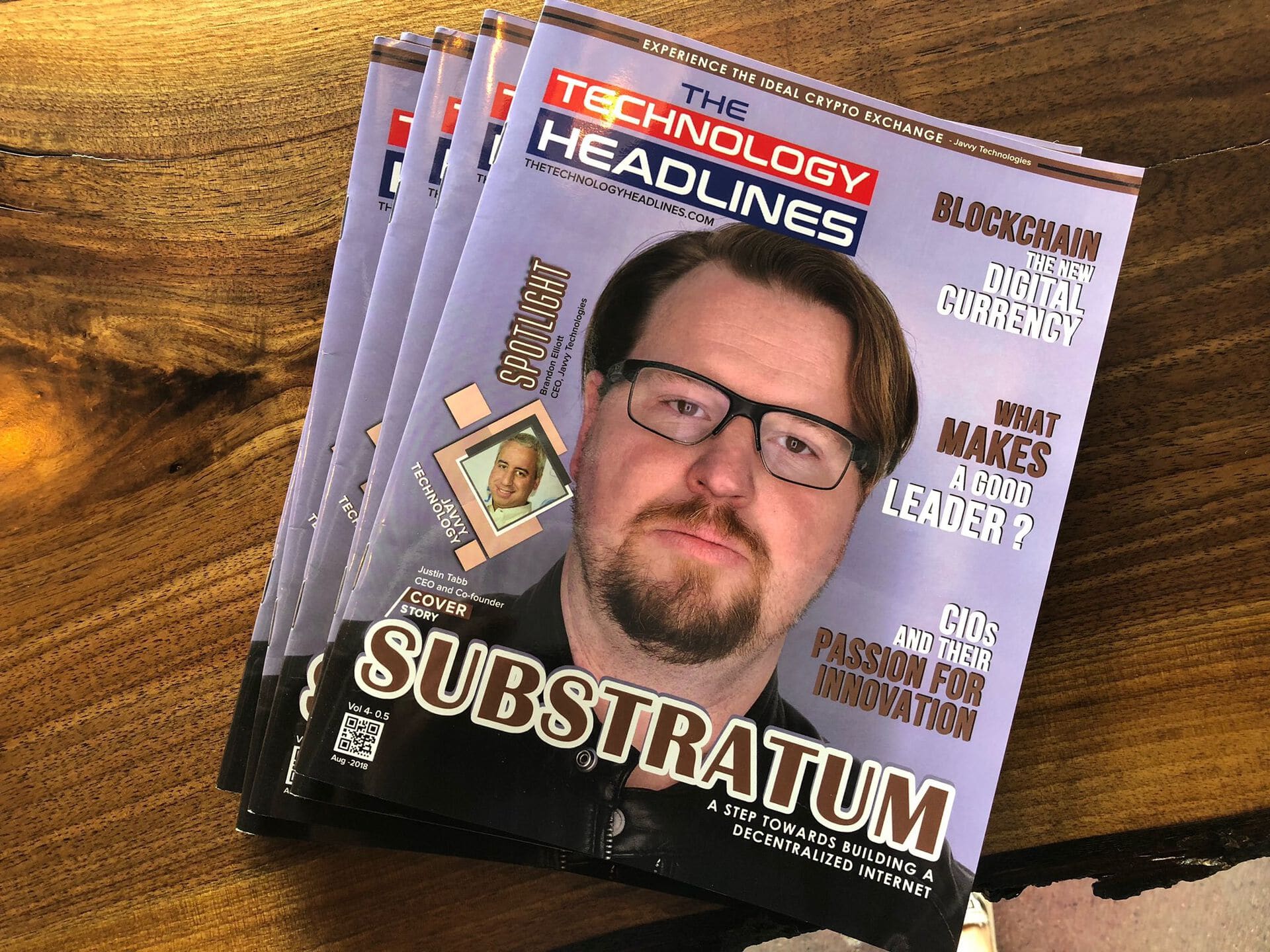 I don't know about you guys, but I'm seriously considering cashing out $6,000 in SUB to pay for a cover page feature. Appearing on the front page of TTH was hugely beneficial for Substratum, and I think the same could be a great marketing opportunity to better my company's optics.