I recently made a few small upgrades to my home studio. My old Focusrite Saffire PRO 40 has been replaced with a RME Babyface, and my JBL LSR305 monitors are now accompanied by the larger Yamaha HS80m monitors. I wanted to keep the Babyface's line outputs at 0dB and the HS80m's volume knob at 12 o'clock. Unfortunately, this was WAY too loud…so I finally had an excuse to buy the TC Electronic Level Pilot.
The Level Pilot is a glorified analog volume knob. Its passive design means no external power is needed. There are four cables running out of the unit (2x XLR inputs and 2x XLR outputs). While removable cables would've been a nice touch, it definitely wasn't a deal breaker for me. The Level Pilot itself is machined out of aluminum, and volume control is extremely smooth. It's definitely a high quality product for the price.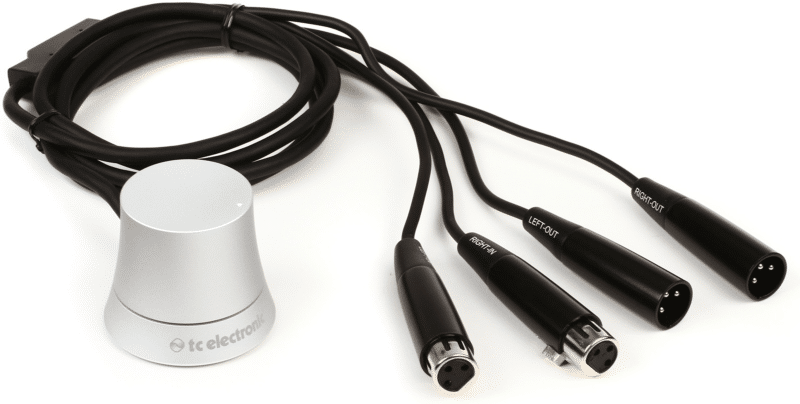 In my setup, the Level Pilot is placed between my RME Babyface and my HS80m monitors, and allows both of these components to be left at max volume without damaging gear or my hearing. This is important because I had my Babyface's outputs down at least 15 dB before getting the Level Pilot. Imagine the volume spike if I had to reset the Babyface!
I haven't noticed any significant sound degradation or coloration with the Level Pilot between my audio interface and monitors. What I did notice was the instability of the stereo image at really low volumes (under 15% for my setup). Fortunately, 25% — 50% is usually where I do most of my mixing, and the Level Pilot performs fine at these volume levels.
Grace Design, Dangerous Music, and Goldpoint all make products with similar functions, but the TC Electronic Level Pilot is the most affordable one…and it may be all you need.