Logic Remote is a super useful app. Two weeks ago, I was in a band rehearsal for Newsies tweaking volume levels of the keyboard patches. Before Logic Remote was a thing, I would remote desktop into the rig computer and tweak that way. Now, I can mix the entire show with an iPad without distracting the keyboard player. Unfortunately, the theatre didn't have the best WiFi connection and I wasn't able to connect the usual way. I could've technically set up a WiFi hotspot on my phone, but I didn't want to go that route. Here's how I was able to set up a local ad-hoc network on the Mac so that Logic Remote could connect to it.
Create a Network
First, create a WiFi network on the Mac. To do this, click on the network icon in your menu bar and select "Create a Network," Name the network, select a channel (I usually use Channel 11), and create a password. You'll now be automatically connected to the network you created. This means you won't be able to browse the Internet. Next, navigate to the Network window in System Preferences.
The network you created should now appear in your preferred networks. Highlight it, and then click on the TCP/IP tab.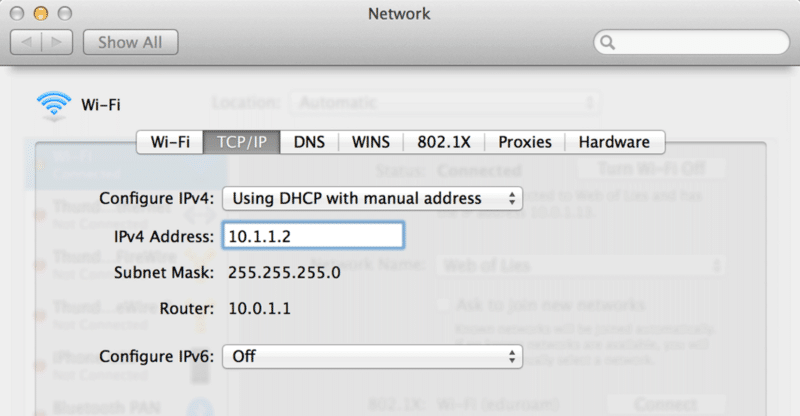 Select "Using DHCP with manual address," and use 10.1.1.2 for the IP address. Everything else can be left as is. Confirm the settings by clicking OK, then move on to the DNS tab. Under DNS Servers, click the + symbol and enter in 10.1.1.1 as the address. Here's what it should look like. Once again, click OK to confirm.

Set Up the iPad
Go into the iPad settings menu and join the network you created. It should be under "Devices" close to the bottom of the screen. After it's connected, click on the "i" icon next to the network name to open up the inspector. This is where the network information will be entered.
Choose Static Mode
For IP Address, use 10.1.1.3 (not 10.1.1.2).
For Subnet Mask, use 255.255.255.0.
For Router, use 10.1.1.1.
For DNS, use 10.1.1.1.
Connect with Logic Remote
Open up Logic Remote and connect to Logic Pro X or MainStage 3. If you don't see the connection popping up, try restarting the app. For future use, you can save the Network profile on your Mac for easy recall.
It's also possible to use Logic Remote though Bluetooth. To do so, turn on Bluetooth on the Mac and make it discoverable. Next, enable Bluetooth on the iPad and pair it to the Mac. After that, open up Logic Remote to finish the setup process. I've found that WiFi has two main advantages over Bluetooth — range and stability.
With that said, Bluetooth can definitely be used if WiFi setup isn't working for some reason.