Audio-Technica's new remastered versions of their M-Series professional headphones were made available on the market last month. The original M-Series were known for their closed-back design, featuring great sound isolation for tracking and a professional sound that could even handle mixing duties. The new, remastered M-Series feature some nice design improvements, but they are largely the same headphones as their predecessors.
Sound Quality
The Audio-Technica ATH-M50x is the flagship of their remastered M-Series headphones. Built with the same speaker components as its predecessor, the ATH-M50x features a nearly identical sound. Like the original M50s, the overall sound is clear and detailed, with an extended frequency response (15Hz-28Hz) that is excellent for studio purposes. The high-end is crisp and full of clarity, but still avoids the harshness that many of the more affordable studio cans deliver.
The M50x's strong suit is the mid-range, which is impressively detailed and balanced throughout, really allowing you to identify any problems within the mix. The low-end is deep and full, perhaps too much so for mixing purposes. While the bass response is great for getting a handle of your low-end content, its prevalence in the frequency range does detract from what is otherwise a mostly flat sound.
The sound is excellent for tracking purposes, and it is certainly capable of being used for mixing purposes as long as the accentuated low-end is accounted for.
Comfort & Design
The ATH-M50x's biggest improvements are in its design. The older M50s were known to crack and become uncomfortable over long periods of use. These new cans feature more comfortable ear cushions and a higher durability construction.
The M50x has a closed-back design that provides excellent sound isolation, making them highly suited for tracking. The isolation is good enough to listen to the track at a loud volume without the noise bleeding into sensitive microphones. In addition, the headphones fold up easily for storage.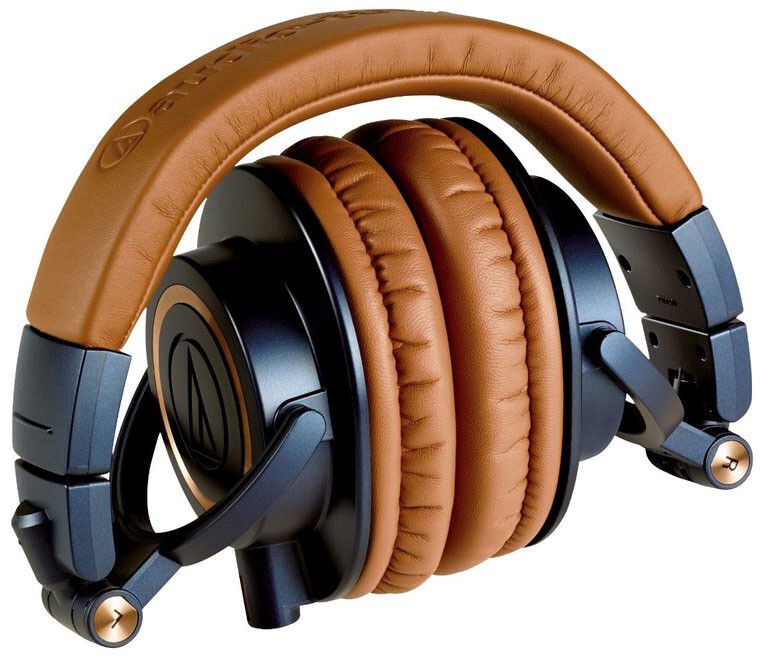 Another improvement is a detachable cable design. The headphones come with three sets of these cables in case any of them fail. The original M50 was known to have durability issues with their cables, so the inclusion of multiple sets is a nice touch. Overall the closed-back design is comfortable and provides excellent sound isolation.
Conclusion
Audio-Technica's remastered M-Series features significant improvements in design over their original series of headphones. However, a nearly identical sound performance and functionality makes the new ATH-M50x only slightly more desirable than the original M50s.
Currently, the remastered M-Series headphones run at about $50 more than the original series. The extra comfort and durability may be worth the extra, but we do not suggest buying these if you already have the original cans. Overall, the ATH-M50x is an excellent pair of studio headphones at an affordable price.