After a beautiful morning of lavender ice cream, pretty flowers, and delicious melon smoothies at Farm Tomita, Garret and I boarded the JR Norokko Train towards Biei.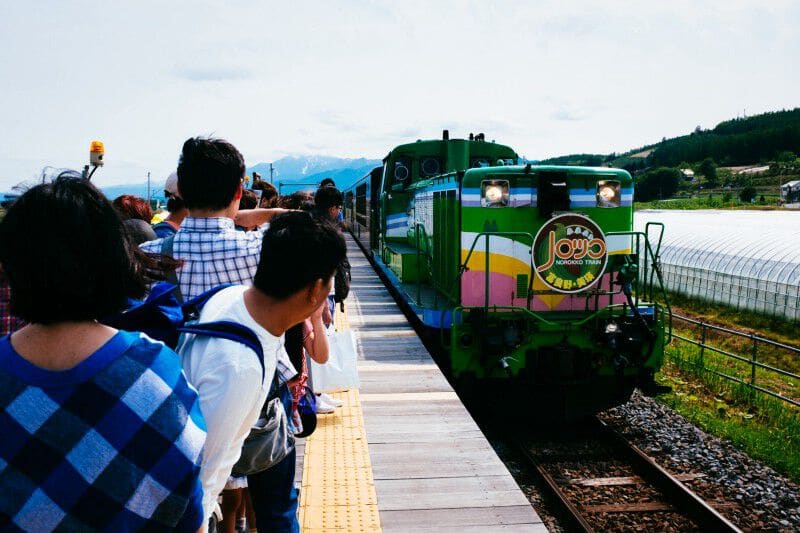 Biei is a small town in central Hokkaido famous for its rolling hills and beautiful flower fields. Its uniquely picturesque landscape can be found in the background of many Japanese TV shows and commercials.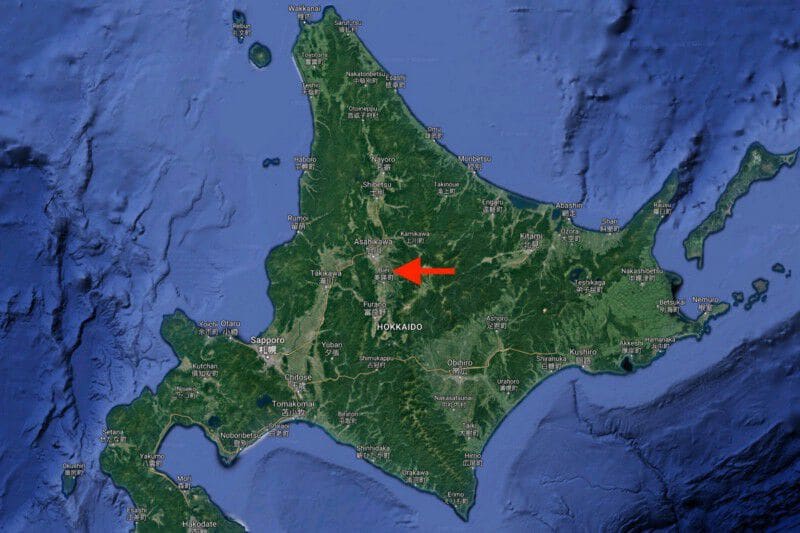 How to Get to Asahikawa
Biei is easily accessible from many major cities in Hokkaido, and Asahikawa is the most convenient option. In addition to serving as a major rail hub in Hokkaido, Asahikawa also has its own airport with frequent low-priced flights to and from other parts of Japan.
Tokyo to Asahikawa by Train
Tokyo Station to Shin-Hakodate-Hokuto Station via Tohoku Shinkansen.
Shin-Hakodate-Hokuto Station to Sapporo Station via JR Super Hokuto.
Sapporo Station to Asahikawa Station via JR Lilac-Kamui.
Tokyo to Asahikawa by Plane
Haneda Airport (HND) to Asahikawa Airport (AKJ).
Sapporo to Asahikawa by Train
Shin-Hakodate-Hokuto Station to Sapporo Station via JR Super Hokuto.
Sapporo Station to Asahikawa Station via JR Lilac-Kamui.
Osaka to Asahikawa by Plane
Kansai Airport (KIX) to New Chitose Airport (CTS).
Sapporo Station to Asahikawa Station via JR Lilac-Kamui.
How to Get to Biei from Asahikawa
Biei Station is a short train ride away from Asahikawa Station via the JR Furano Line. If you happen to be traveling between June and September, be sure to check the schedule for the JR Norokko-go train.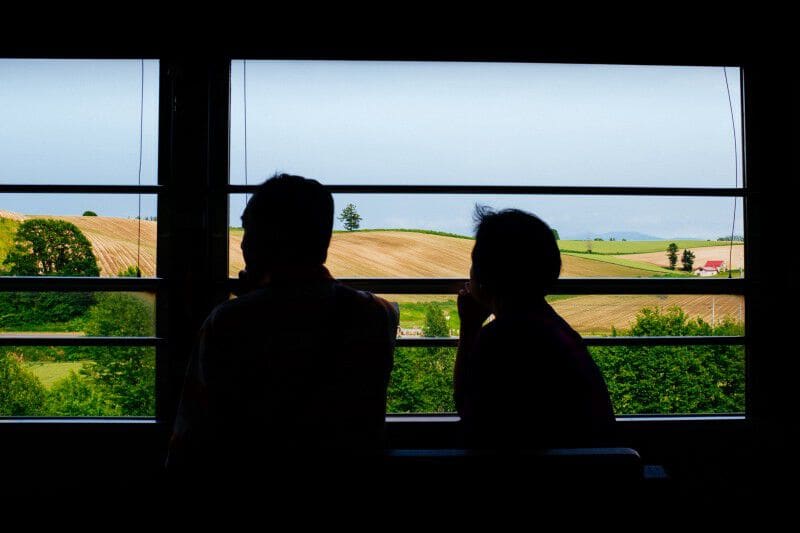 The Norokko-go is a special large-windowed scenic train that operates unparalleled views of the surrounding landscape. The Norokko-go only makes three roundtrips a day between Asahikawa and Furano, so make sure you plan ahead and reserve a seat.
Cycling in Biei
For me, Biei is one of those "holy s*** this is beautiful, but what the heck do I do here" type of places. There aren't really any specific attractions here because the town itself is the attraction. Tens of thousands of people come to Biei each year just to enjoy the scenery, and it turns out one of the best ways to explore Biei is on a bicycle.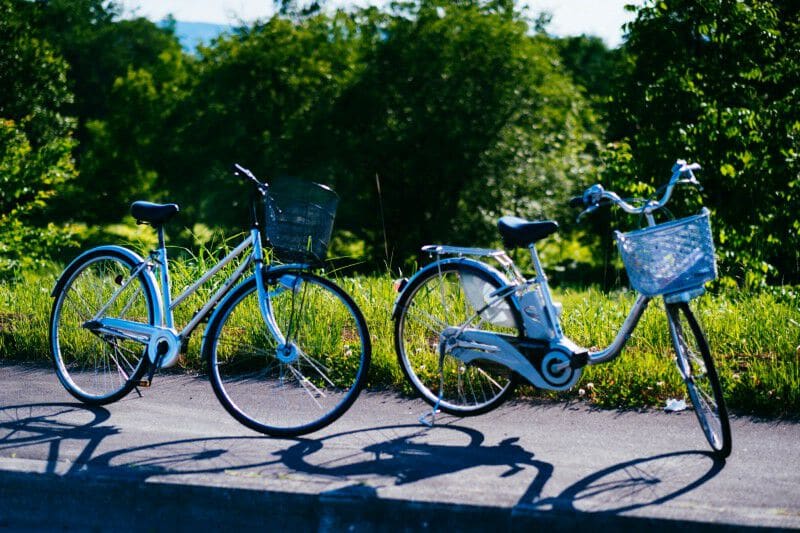 There are a few bicycle rental shops around the Biei Station area. The one we went to was right beside the tourist information center. Regular bicycles cost ¥300 per hour, while electric cost ¥600 per hour. Since Biei's landscape is VERY hilly, I recommend renting an electric bicycle. The last thing you want to do is awkwardly struggle up a hill while you're on vacation.
After renting a bicycle, you'll receive a map of Biei. The path you'll be instructed to use is called Patchwork Road in the northwest part of town.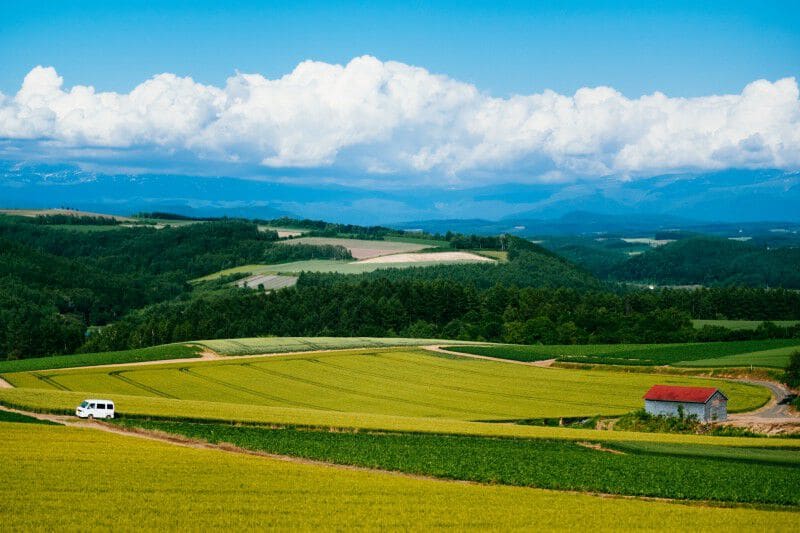 Garret and I discovered something very important about ourselves during our bike ride — we are simply incapable of following a map. We started our ride on Patchwork Road, but quickly got lost. Not to worry though. I was still able to get some nice photos.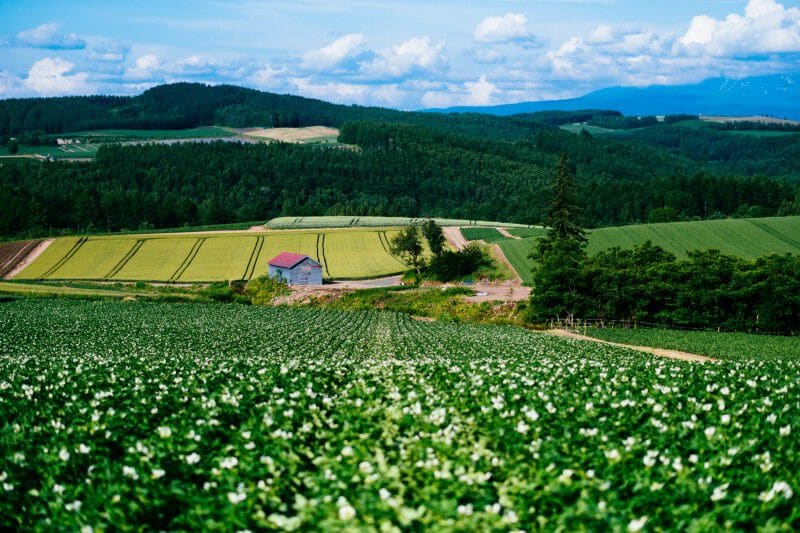 On our way back to Biei, we accidentally turned left instead of right at a crucial intersection. We ended up coasting down a large hill before we realized we were actually heading towards Asahikawa instead of Biei Station. Whoops. That's the moral of the story — if you're not good with maps, always get an electric bike when hills are involved.