The Focusrite Scarlett 2i2 is a portable USB-powered two input/output audio interface from UK-based Focusrite. It's the perfect unit for a small home studio setup, especially for singer-songwriters who don't need more than two preamplifier channels at a time. It's rugged enough to take with you on the road, and the included headphone output means you can work on music any time of the day without disturbing anyone.
Connectivity
On the front of the unit, there are two XLR/TRS/TS combo jacks for microphones, guitars, and other instruments. Both preamp channels have switchable 48V phantom power. In addition to the monitor volume knob, there is also a headphone output with its own volume control knob. On the back of the unit, there are two TRS balanced outputs for your monitor speakers and a powered USB port to connect to your computer. Notice there isn't a connection for a power adapter anywhere. The Focusrite Scarlett 2i2 is USB bus-powered, so you don't have to worry about a power cable.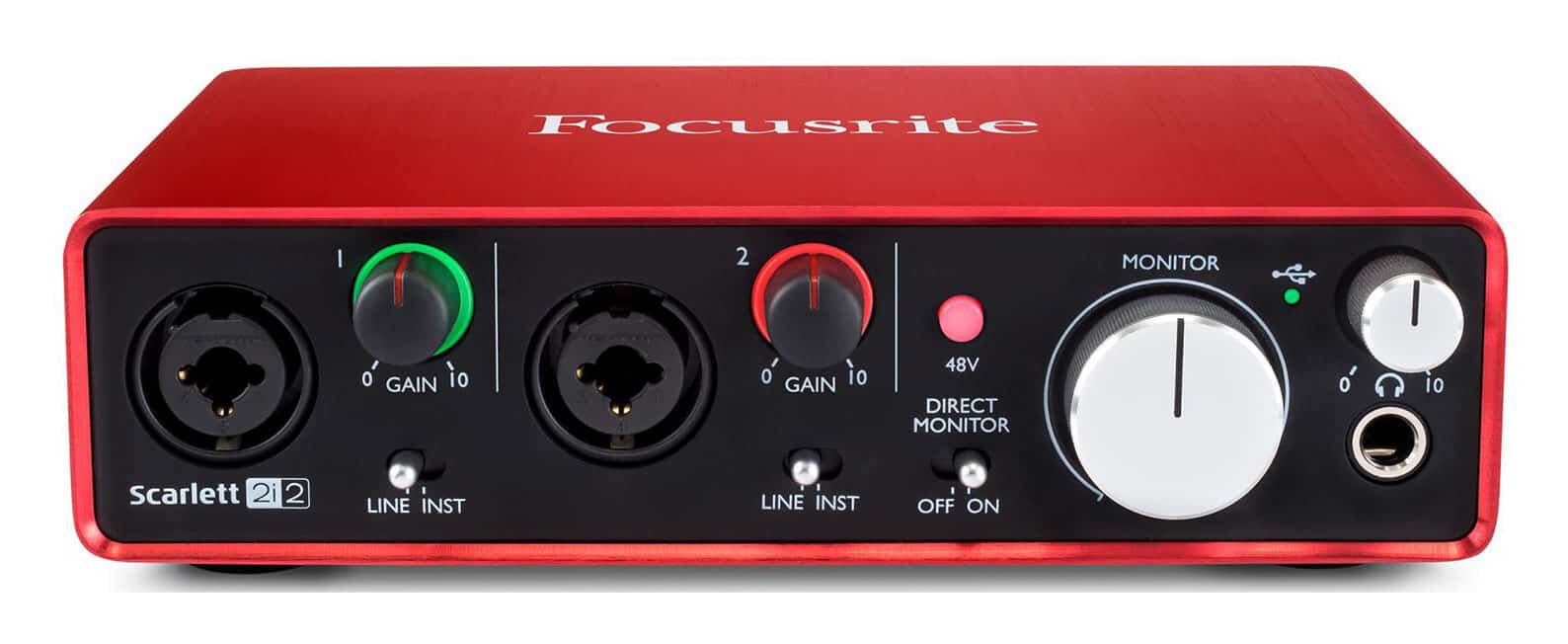 With the latest Mac OS X  drivers from Focusrite, I get about 5 ms of latency in Pro Tools. This figure is totally acceptable for a piece of audio equipment a at this price point. With that said, people have expressed issues with driver performance under Windows. Since I don't own a PC running Windows, I can't comment on that.
The Focusrite Scarlett 2i2 doesn't have any digital connectivity. It isn't expandable via ADAT, and MIDI connectivity isn't present either. This isn't a huge concern considering the low price of the of the Scarlett 2i2. An audio interface that has digital expandability and MIDI connectivity is the RME Babyface, which also happens to cost five times as much.
Sound Quality
Focusrite has a long history of producing excellent preamps, and the two preamps in the Scarlett 2i2 are spectacular for the price. They provide about 55 dB of gain, while providing a transparent sound for recording up to 24 bit/96 kHz in your favorite DAW. Each volume knob is surrounded by a useful glowing halo indicator — green corresponds to a good recording level, and red means the signal is clipping.
The monitor outputs are crisp and detailed. The headphone amplifier gain is my one complaint in the sound quality department. While it drives my IEMs just fine, an extra 10 dB of amplification would be ideal for harder to drive headphones like the Sennheiser HD650.
Accessories & Plugins
In terms of physical accessories, the Focusrite Scarlett 2i2 comes packaged with a USB cable, and I think that's the only thing that's really needed. In addition to bundled driver software, the Scarlett 2i2 also comes with a nice suite of Focusrite plugins which include a EQ, compressor, gate, and reverb. I've occasionally use them on mixes, and they just had more value to an already amazing deal from Focusrite.
The Scarlett 2i2 comes with MixControl, Focusrite's software mixer. While there isn't to much routing that can be done in a two input/output interface, it's still a piece of software you should learn if you ever find yourself upgrading to a larger Focusrite interface. It allows you to create custom mixes to route to different outputs, and there is even a loopback function to record audio from your computer applications.
Final Thoughts
The Focusrite Scarlett 2i2 is a great sounding and well-made audio interface for musicians who don't need a ton of inputs and outputs. If you're a singer-songwriter, recording a microphone signal with one input and a guitar signal with the second is a great solution for creating demos. The Scarlett 2i2 is also a good solution for live musicians who need to send audio from for live performance. In conclusion, the Focusrite Scarlett 2i2 is possibly the best deal in the world for a two input/output audio interface.