Finding the best audio interface for MainStage can be challenging. There are dozens of companies and hundreds of models to choose from. Through my work on Broadway and beyond, I've had the opportunity to test out many different audio interfaces for live performance in MainStage.
For me, a MainStage audio interface must have the following features — great sound quality, built-in MIDI I/O, stable and optimized driver performance, and high quality construction.
I've broken up the recommendations below into four categories — 2 line outputs, 4 – 6 line outputs, 8 line outputs, and 16+ line outputs. In each category, you'll find the best audio interfaces in various price ranges.
2 Outputs
Steinberg UR22mkII
The Steinberg UR22mkII is the best budget audio interface for MainStage on the market. This is the one to get if you're on a tight budget.

Unlike Focusrite's two output offerings, the UR22mkII is a 2-channel audio interface that also offers built-in MIDI I/O. This feature is especially useful if you prefer connecting your controller over MIDI instead of USB. The MIDI IN on the UR22mkII can also be used with a MIDI Solutions Footswitch Controller to increase the number of pedal inputs in your rig. The UR22mkII also features a dedicated 5V DC power port, which is more reliable than USB bus power.
Zoom UAC-2
Zoom's new line of audio interfaces is quickly becoming an industry favorite. In addition to its superb build quality, With its highly-optimized audio drivers, the Zoom UAC-2 is a super fast low-latency audio interface. Just how good are the drivers? The UAC-2 managed to edge out the RME Babyface (a $750 audio interface) in my tests.

The Zoom UAC-2's rear panel features MIDI I/O and two 1/4″ TRS outputs. There is a class compliant mode switch if you wish to connect the UAC-2 to an iOS device. Lastly, the UAC-2 also has a dedicated DC 5V power port.

RME Babyface Pro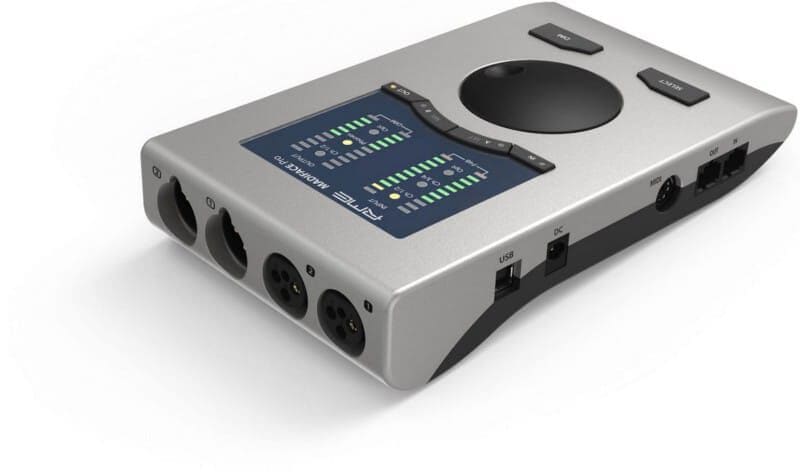 There's little reason to spend more money on the RME Babyface Pro when the Zoom UAC-2 performs so well, but I felt compelled to include an offering from RME because they're the gold standard.
The Babyface Pro is an exceptionally crafted unit, and MIDI I/O is available via a breakout cable. Channel expansion is also possible via 8-channel ADAT.
4 – 6 Outputs
iConnectivity iConnectAUDIO4+
The iConnectAUDIO4+ is a great sounding and highly flexible 4-channel audio interface with built-in MIDI I/O. The interface's iConfig software also allows for complex audio and MIDI routing that isn't available on any other audio interface in this price range.

The rear panel on the iConnectAUDIO4+ has a bunch of stuff you won't see anywhere else. For example, the two USB-B ports allow you to connect the audio interface to two different hosts (Mac, iPad, etc.), and it's even possible to route audio between the two devices. There is also a USB-A port for connecting external MIDI interfaces and peripherals.

RME Fireface UC
The RME Fireface UC is a professional audio interface with six line outputs. It's compact form factor (two Fireface UC units can be mounted into a 1U rack space side by side) and super low latency performance makes it a popular audio interface for high end productions.

The Fireface UC's rear panel is jam-packed with connectors and ports. In addition to the six line outputs, the UC features MIDI I/O via a breakout cable, word clock for syncing, and various digital connectivity options.

8 Outputs
Zoom UAC-8
The Zoom UAC-8 is essentially a UAC-2 with more I/O. The two models share the same all-metal design and high quality conversion, and the UAC-8 is rack-mountable in a 1U rack space.

The UAC-8's rear panel features eight line outputs and MIDI I/O. Similar to the UAC-2, the UAC-8 also has lower latency compared to MOTU and RME's offerings. If you're looking for an eight output interface, definitely consider the UAC-8. For the price of one RME Fireface 802, you can buy the 8-channel Zoom UAC-8 audio interface and a decent PA system.

MOTU UltraLite-mk4
If you're looking for a half-rack 8-channel audio interface, the MOTU UltraLite-mk4 is pretty much the only decent option. You can fit two of these side by side for a redundant rig, or swap one out for one of MOTU's half-rack MIDI interfaces.

The UltraLite-mk4's rear panel actually has ten line outputs (2x main outs and 8x analog outs). There is also MIDI I/O and ADAT connectivity.

RME Fireface 802
The RME Fireface 802 is a great interface for mission critical productions. There's a reason why so many professional shows and broadcast companies go with the Fireface 802.
With that said, I honestly can't recommend purchasing a Fireface 802 unless you have serious money to spend. In most situations, putting that money to better sample libraries and monitoring will have much larger impact on the quality of your sound.

The Fireface 802's rear panel features eight line outputs, MIDI I/O, word clock, and various digital connectivity options.

Universal Audio Apollo 8
The Universal Audio Apollo 8 doesn't have MIDI I/O, but I felt like I should mention it because it does have a special use case. UAD is famous for making incredible software plugins modeled after iconic vintage gear (1176 compressor, LA-2A limiter, Pultec EQs, etc.).
These plugins run on DSP (digital signal processing) chips embedded inside the Apollo 8 interface, thus freeing up your computers' resources. If you're someone who uses a lot of effects in MainStage, the Universal Audio Apollo 8 is definitely worth a look. I love throwing a UAD tape emulation on my instrument buses — it makes my patches sound HUGE!

The Apollo 8's rear panel features two main outs, eight additional line outs, and Thunderbolt connectivity. There are also word clock, S/PDIF, and ADAT connectors, but no MIDI I/O.

16+ Outputs
MOTU 16A
Like the Apollo 8, the MOTU 16A is a specialty interface and doesn't have MIDI I/O. Unless you're using MainStage to run both patches and backing tracks, there's little reason to get a sixteen channel interface.

The 16A's rear panel features sixteen line outputs. There is also an ethernet port that uses MOTU's AVB protocol for signal transmission.

RME MADIface XT
The RME MADIface XT is a primarily an audio interface that operates in the digital realm. Even though there are two analog outputs and a headphone port, the MADIface XT's main function is digital transmission. This interface can send up to 128 channels of digital audio!

Even though the MADIface XT is a specialty interface, it does feature MIDI I/O via a breakout cable. Two analog outputs can be seen on the right, along with two pairs of MADI I/O in the left. The only time I've used a MADIface XT was on a show in China, where I had to send 64 tracks from Ableton Live to the sound department. Good times!

Conclusion
When it comes down to it, the best audio interface for MainStage depends on two major factors - how many inputs and outputs you need, and how much you are willing to spend. Fortunately, there are a variety of high quality audio interfaces at different price points that are suitable for a MainStage live performance setup. If you have any questions about any of the audio interfaces mentioned above, feel free to reach out to me on Twitter or send me an email.