Today's adventure started at Shinagawa Station in Tokyo. Our plan involved taking the Tokaido Shinkansen to Shin-Fuji Station in Shizuoka Prefecture and spending the day exploring and getting lost. After purchasing tickets for the Shinkansen, we picked up a few bento boxes to eat during the train ride. The journey south to Shizuoka is only an hour and fifteen minutes long, but we were hungry.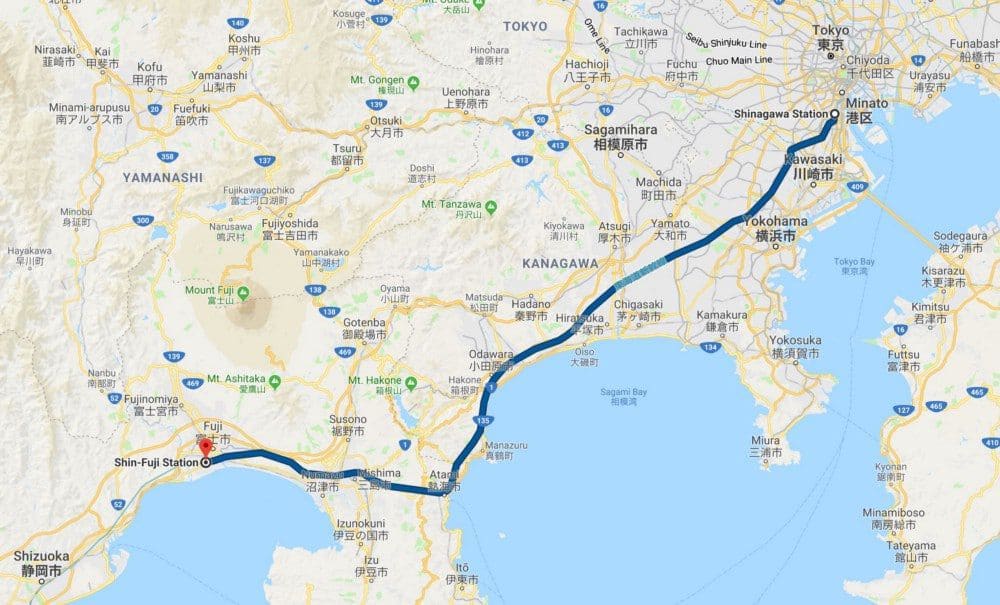 A short while later, we arrived at Shin-Fuji Station. We wandered outside, and it was an absolutely beautiful day. The sky was blue, the air was crisp, and Mt. Fuji in the distance formed a delightfully perfect backdrop.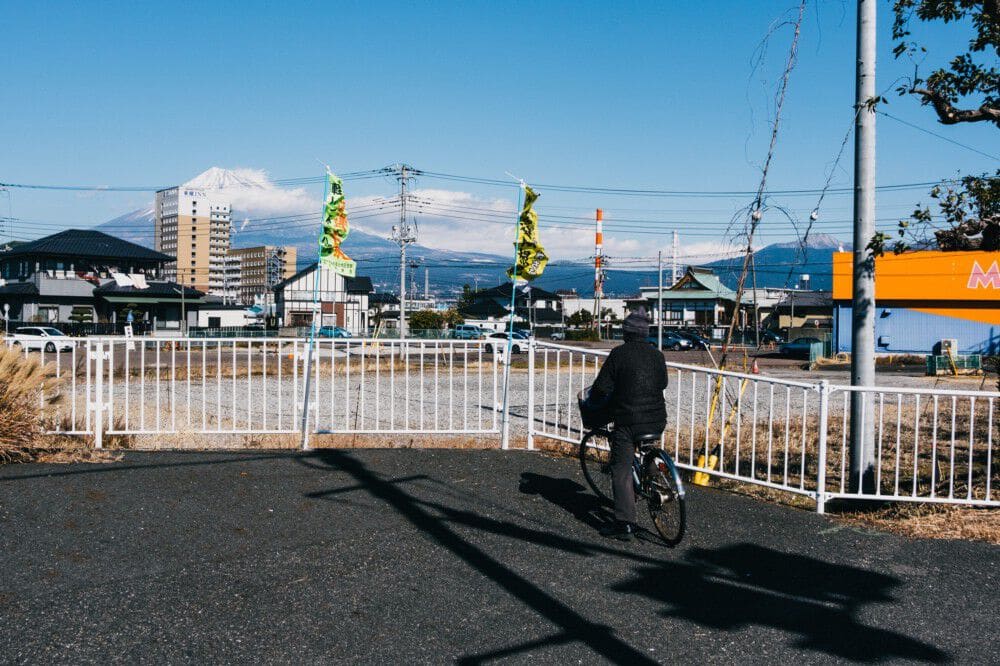 Something was wrong though…
It was too loud.
Across the street, there was a group of well-dressed Japanese men participating in some sort of cult initiation event. At least that's what I thought. Ayaka was puzzled as well, so she decided to ask one of the locals why these men were shouting and singing in public. They didn't have an answer either.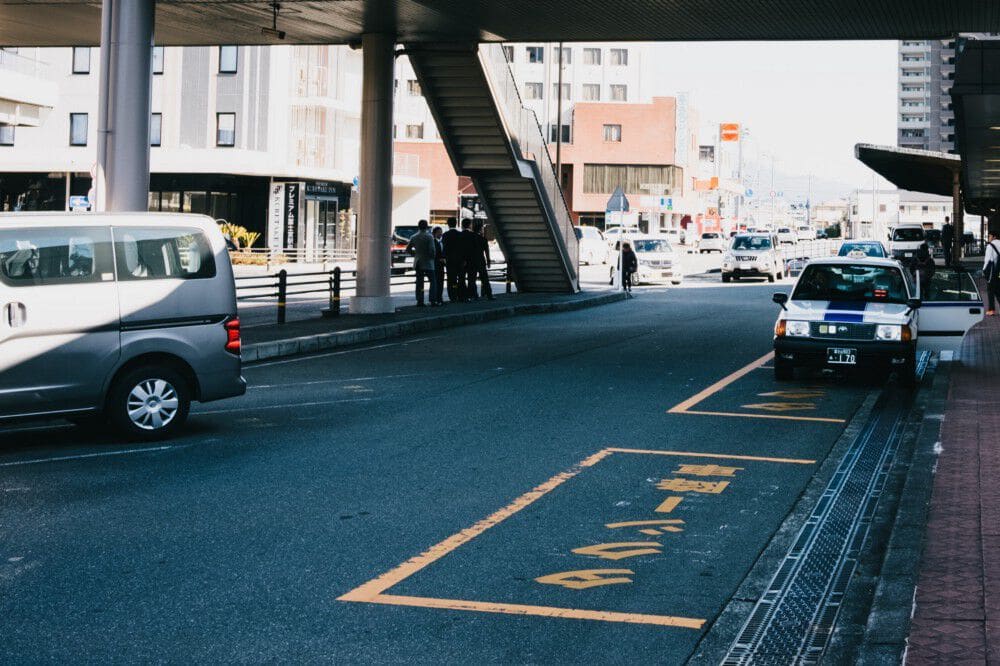 After a few Google searches, we discovered that these businessmen were participating in "hell camp," an expensive business development boot camp that focuses on building character and psychological discipline through public embarrassment and shame conditioning. Okay, maybe I was wrong. It's not a cult. It sounds more like a cult combined with a college fraternity.
We had a few hours of free time before heading to Shiraito Falls, so we wandered around town for a while. I really wish I lived in this part of Japan. Imagine waking up everyday to this view of Mt. Fuji.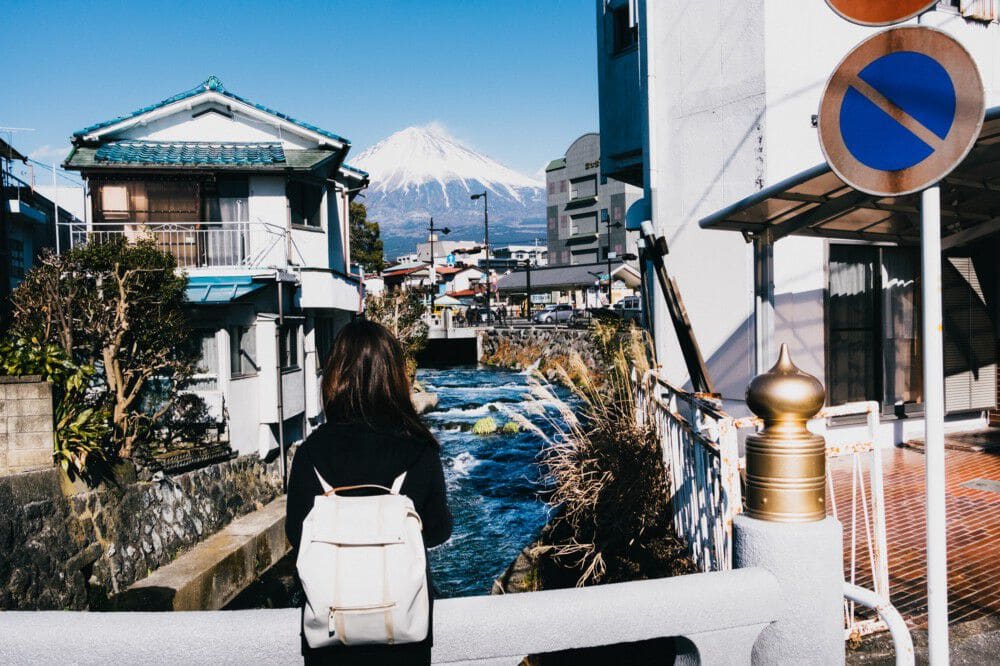 There's always something interesting to see in Japan's alleyways.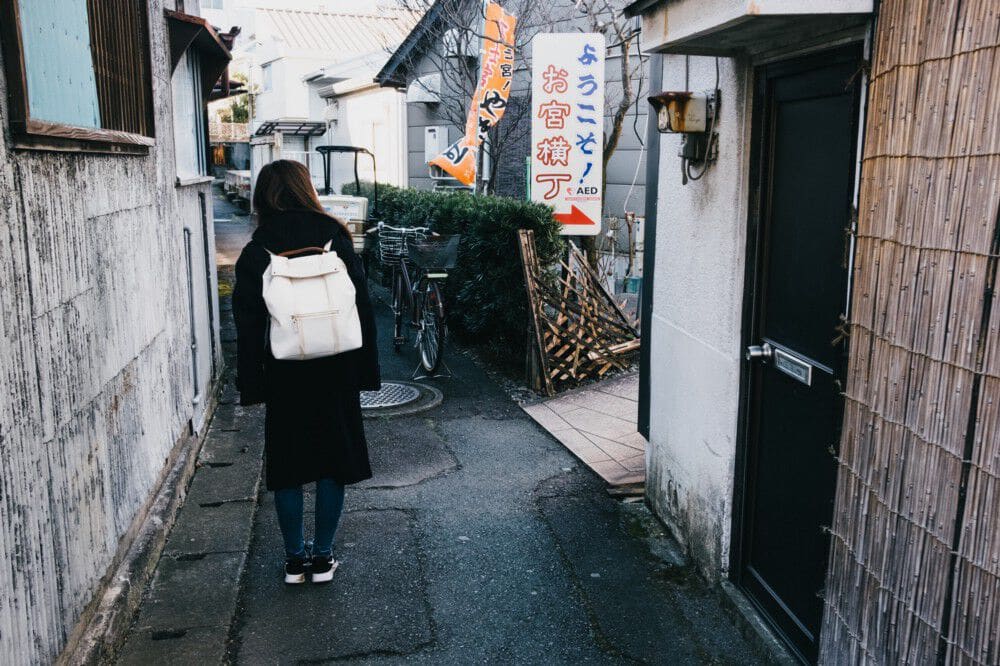 We always seem to be hungry when matcha ice cream is involved.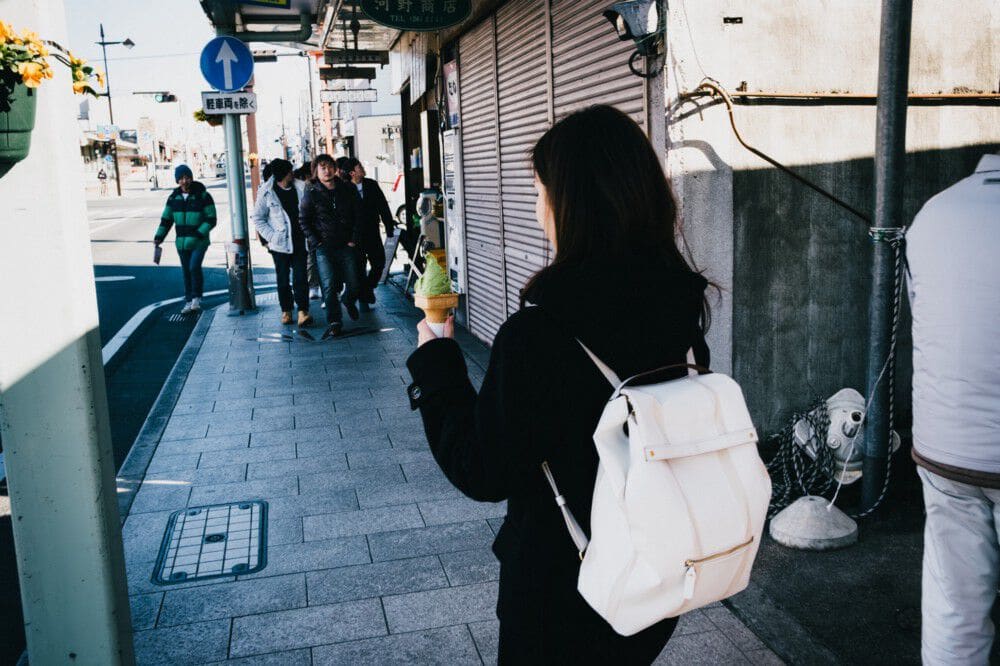 We saw many ema (絵馬) inside the shrine area. These wooden wishing plaques are very common in Shinto shrines and also Buddhist temples. The direct translation for ema is "picture horse," During Japan's Nara Period (c.710 – 794), people donated horses to shrines with the hope that their prayers and wishes would be heard by the Gods.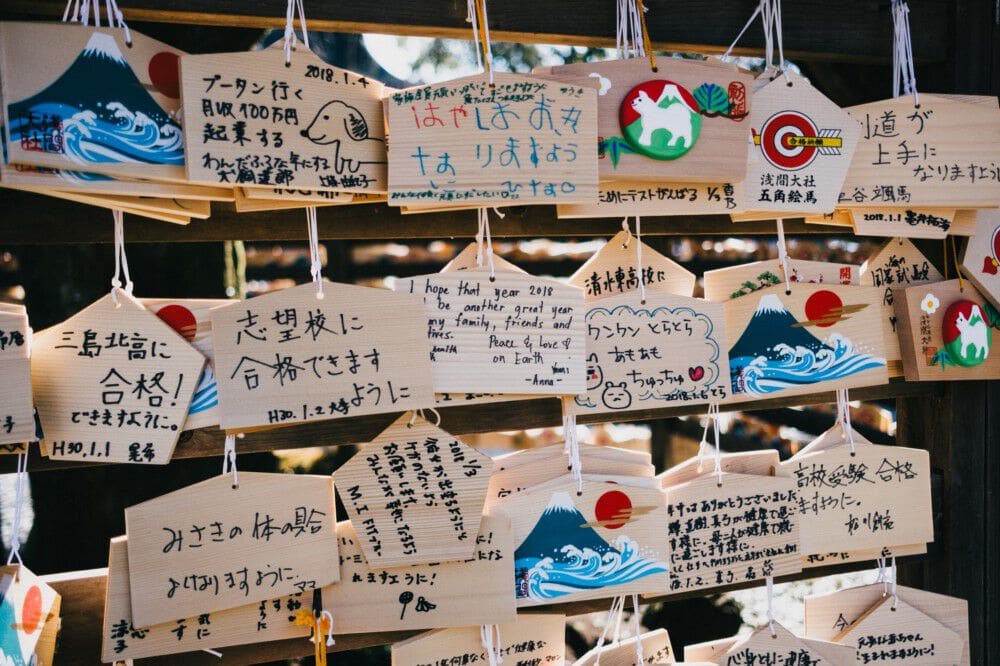 As you can imagine, real horses were prohibitively expensive for many people, so wooden horse figures were often used as substitutes. Over time, the wooden horse figures evolved into wooden plaques displaying many varieties of artwork.
Shrine visitors can use this Mt. Fuji-sourced water to purify themselves.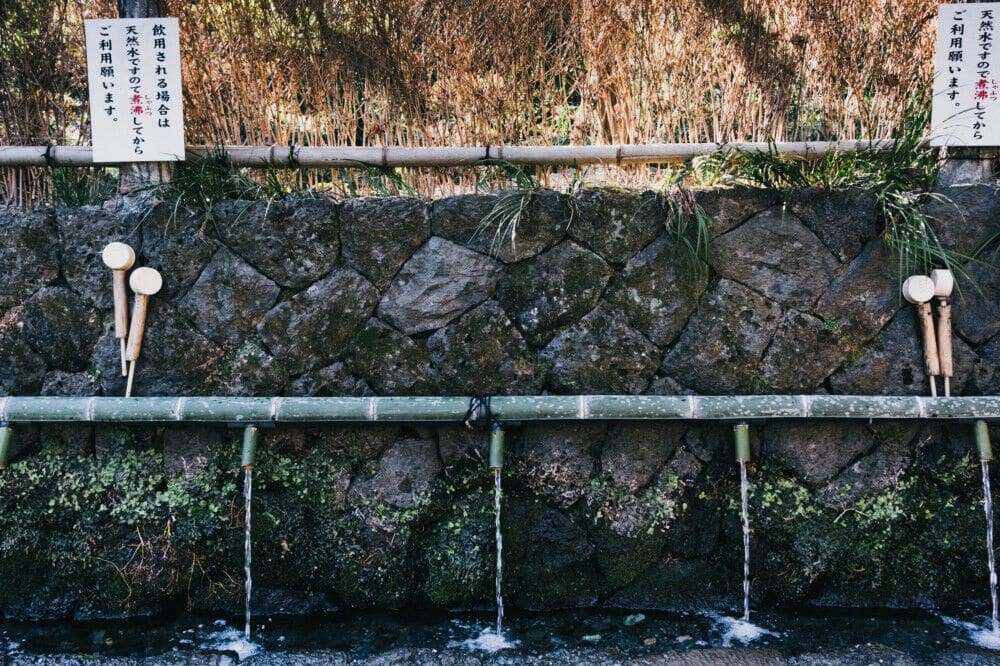 There was a beautiful pond inside the shrine.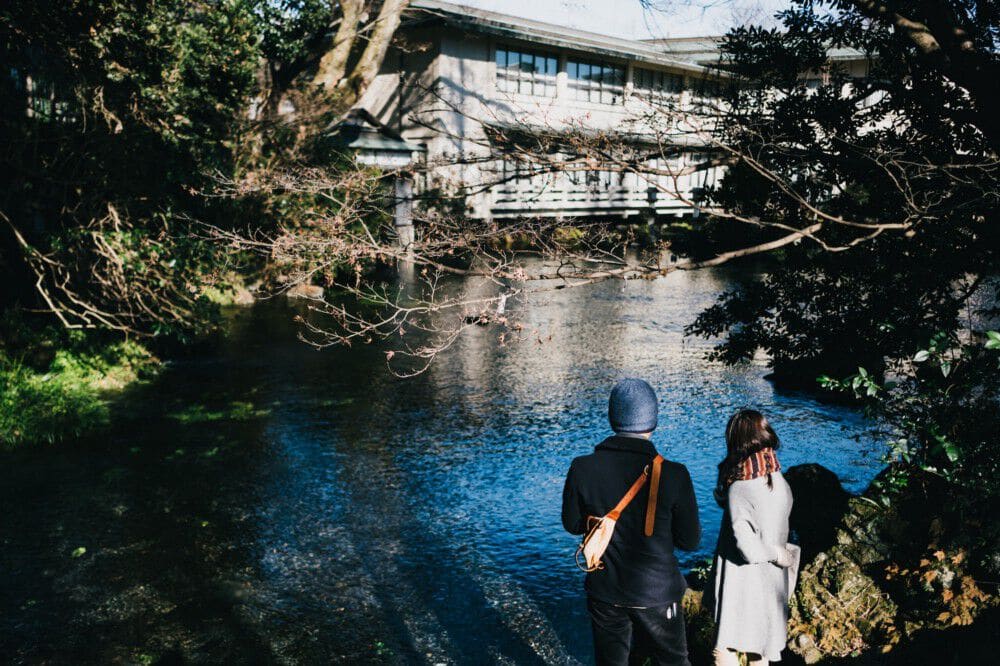 Did you know pigeons evolved from velociraptors? That's why they're so scary.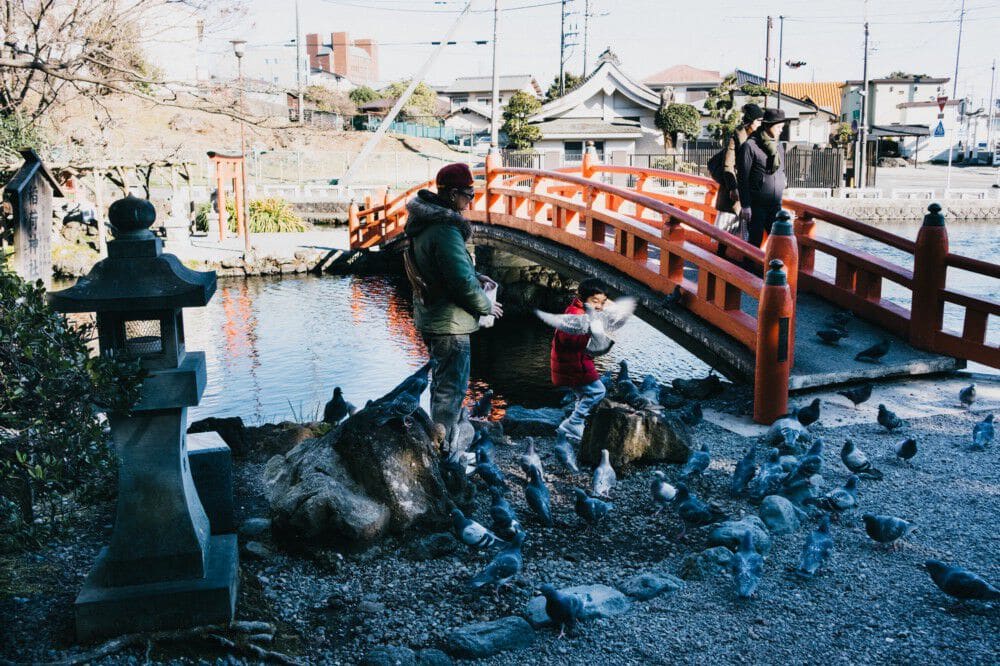 Here's another great view of Mt. Fuji from outside the shrine area.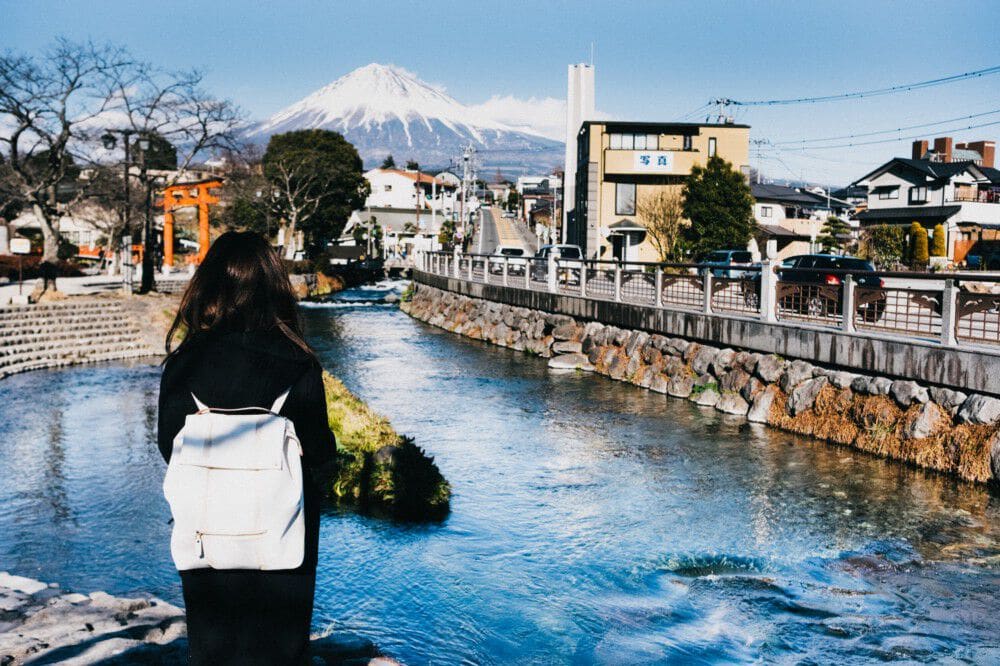 These two women asked Ayaka to take a photo of them, so I took one too.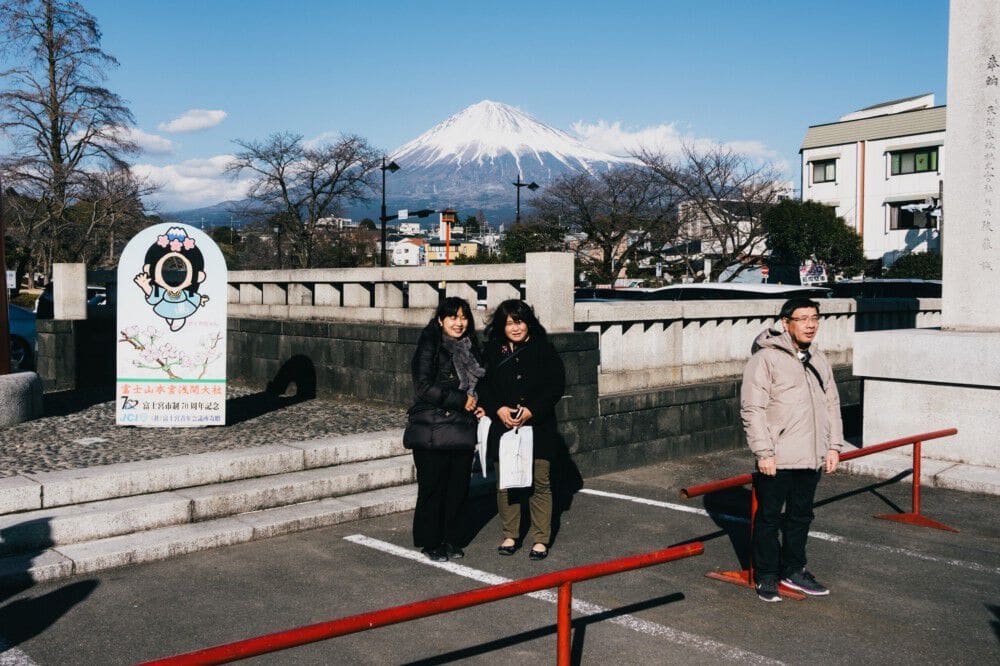 After our shrine visit, we went back to Fujinomiya Station to catch a bus to Shiraito Falls. The half hour bus ride costs JP¥620 each way. I apologize if this is getting old. I know I've already shared too many photos of Mt. Fuji, but don't you agree that this view is too beautiful not to share?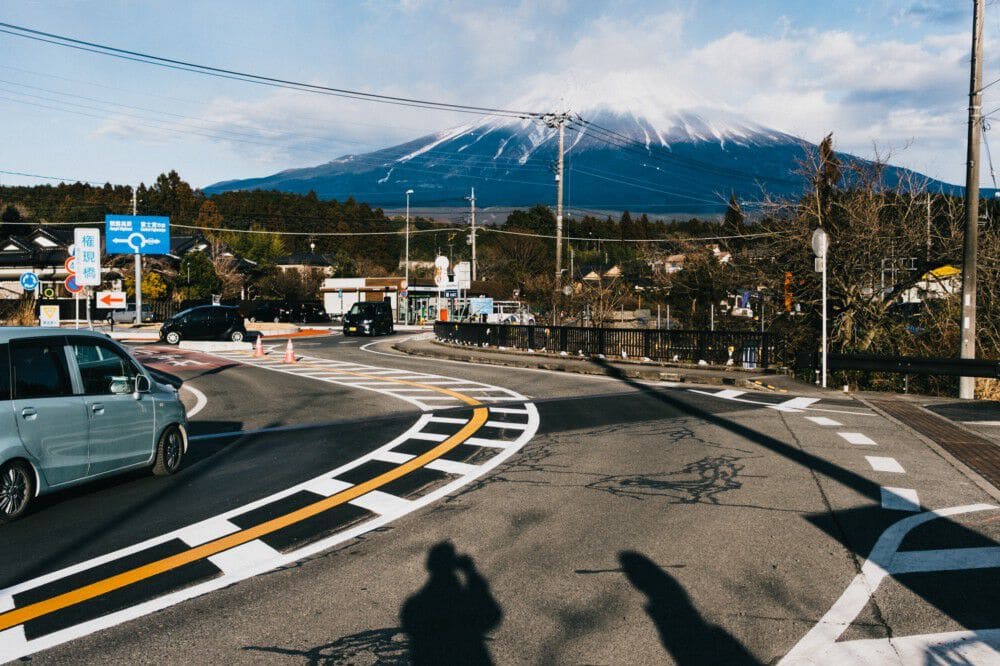 Shiraito Falls is located in Mt. Fuji's southwestern foothills, and it's considered to be one of Japan's most beautiful waterfalls. The waterfall is approximately 150 meters wide and 20 meters tall, and is fed by Mt. Fuji's spring water. I wonder if the volcanic water has magical healing powers. Maybe.
Here it is. Absolutely stunning. I can see why Shiraito Falls is one of Japan's most beautiful waterfalls. I'd like to go visit the other waterfalls on the list. The only other waterfall I've seen in my life is Niagara Falls.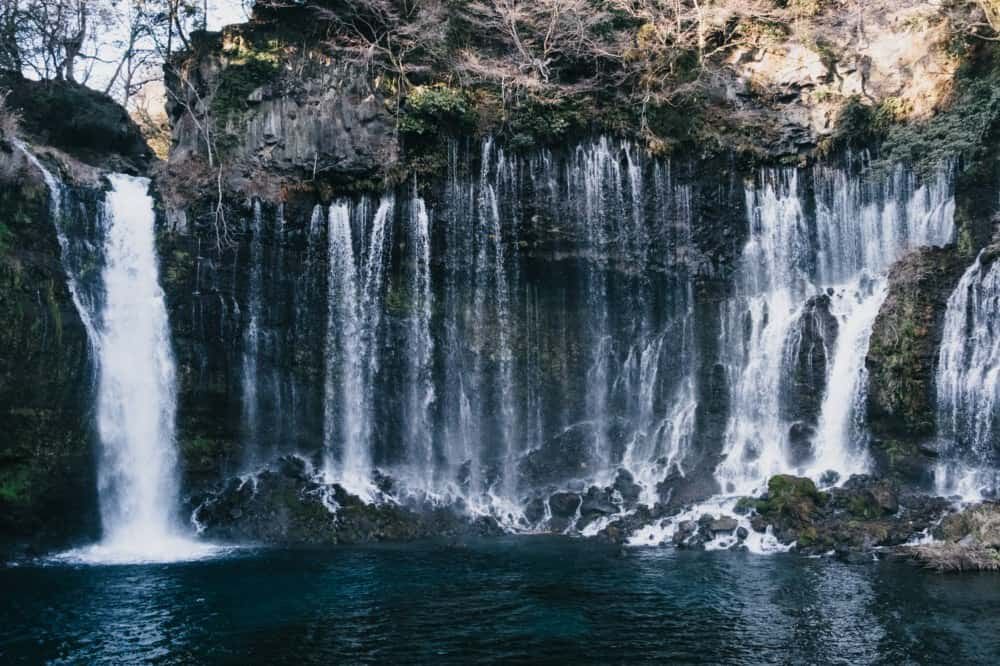 Okay, here's one last photo of Mt. Fuji (maybe). This view is from the observation deck at Shiraito Falls. I'm glad no one else was up there at the time, or I wouldn't have been able to take this photo.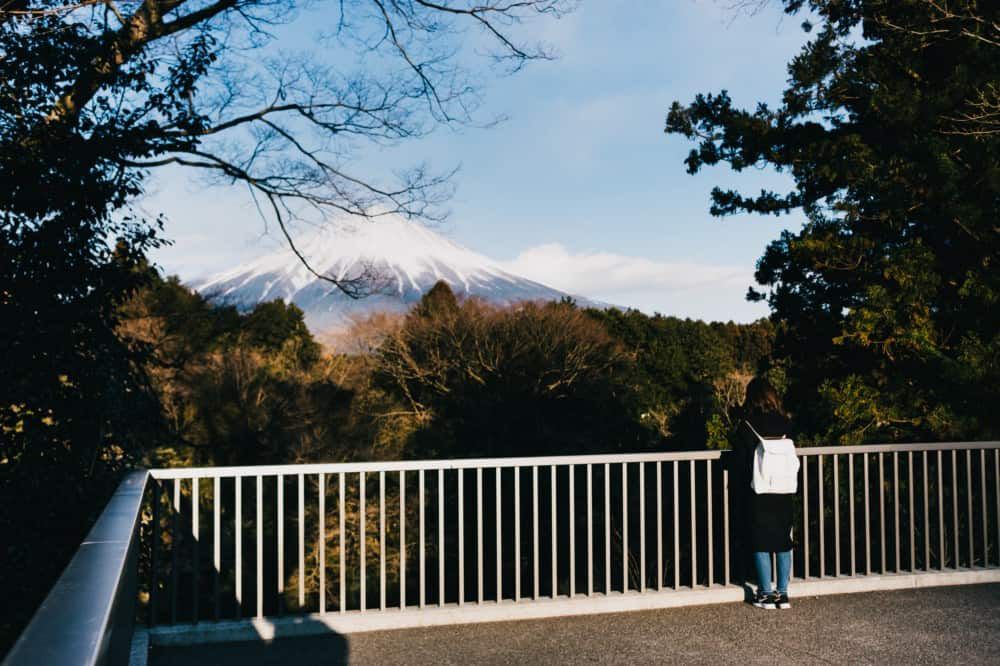 It was getting late and we were getting hungry, so we took the bus back to Fujinomiya Station. When we got back to the station, we decided to take a taxi to Mondo . It's one of the most famous unagi restaurants in Shizuoka, and I highly recommend eating there if you're in the area. I'd argue it's even good enough to make a special trip for.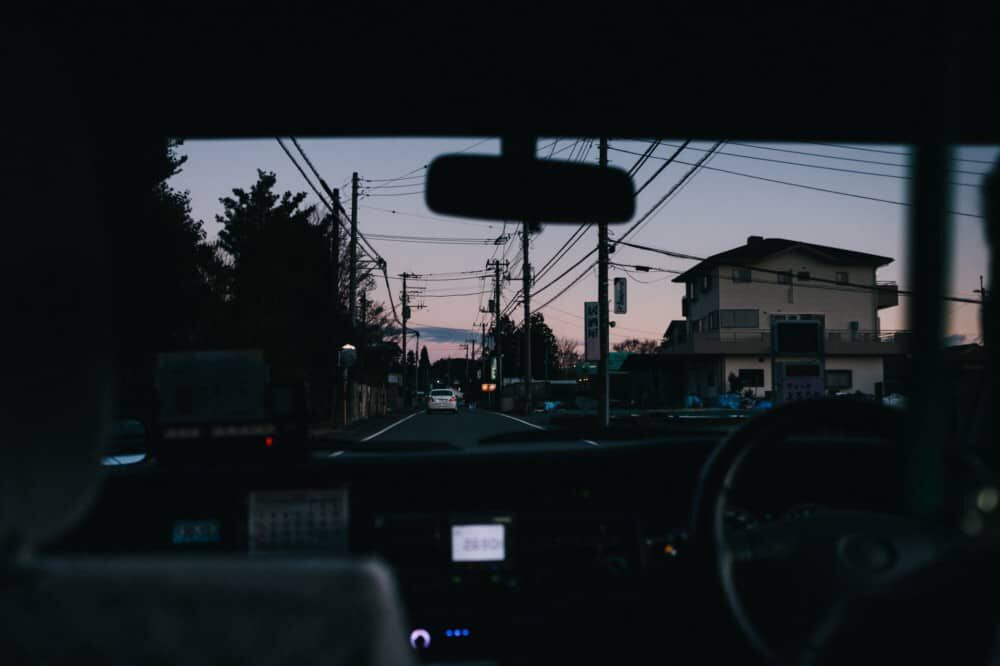 After dinner, we took a taxi back to Shin-Fuji Station and boarded the Shinkansen back to Tokyo. Our legs were tired from all the walking, but our minds and stomachs were happy. It was a great day.
If you enjoyed this post, be sure to connect with us on Instagram to view more photos and stories from our travels. Good night from Tokyo!