The portable MIDI controller industry is a very crowded space. There are literally hundreds of models to choose from. Here are three of our favorite models for work on the go — one for ultimate portability, one for serious production capability in a small package, and one that strikes a balance between functionality and affordability.
CME Xkey Air
The Xkey Air offers Bluetooth connectivity, full-sized keys, and polyphonic aftertouch wrapped up in beautiful aluminum housing. If you're looking for a MIDI keyboard without knobs and faders, the Xkey Air is the one to get.

The CME Xkey Air is available in 25 and 37 key variations. I have the 25 key model , and it's super portable (it's always in my backpack or suitcase when I travel). The 37 key model is probably too wide to be a portable solution.
The Xkey Air works over both Bluetooth and USB. If you're not looking for a wireless controller, CME also makes a USB-only version.
M-Audio Code 25
The M-Audio Code 25 is the portable controller to get if you're looking for an instrument with knobs, faders, and pads. The Code 25 also inherits the same excellent semi-weighted keyboard action from the larger sized models.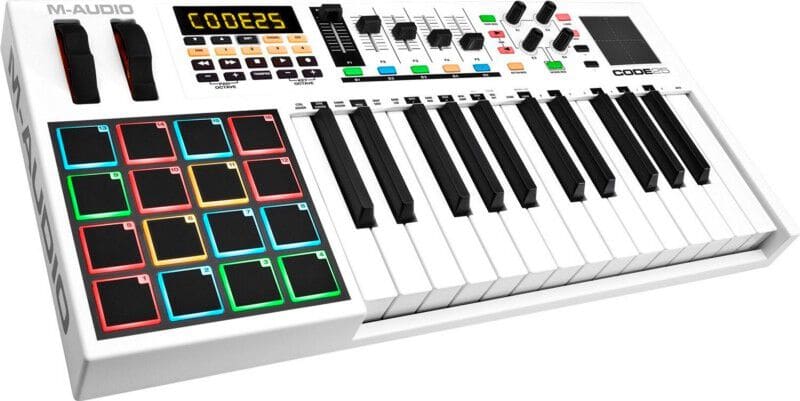 Unlike many other 25 key MIDI controllers, the M-Audio Code 25 supports both USB power and dedicated DC power. The keyboard also features both MIDI IN and OUT, along with sustain and expression pedal inputs.

The M-Audio Code 25 also supports Mackie Control and HUI modes for advanced integration with DAWs. Lastly, the Code 25 ships with Ableton Live Lite and AIR Music Technology's Loom and Hybrid 3.0
Novation Launchkey 25
The Novation Launchkey 25 is a great option if you're on a tighter budget. The Launchkey's action isn't as good as the M-Audio Code 25's, but it's more than suitable for most production duties. The Launchkey also features 8 knobs and 16 pads, all of which are mappable.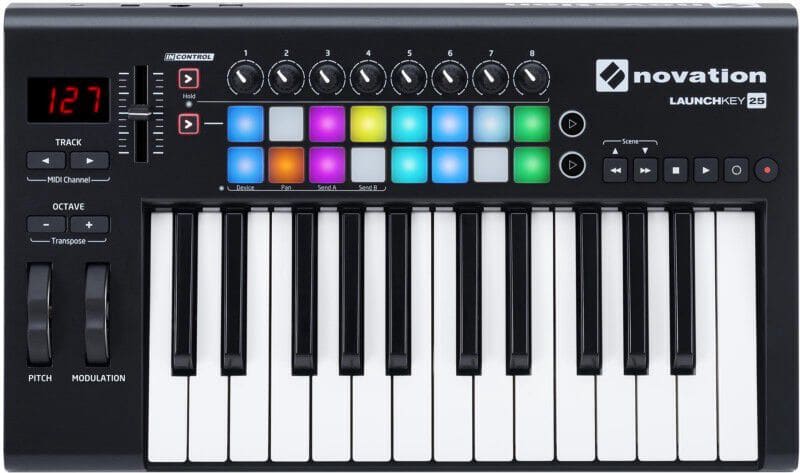 Unlike the CODE 25, the Launchkey does not have MIDI IN/OUT ports. This is problematic if you need to control hardware sound modules without USB MIDI support. The Launchkey 25 has one pedal input for sustain, so volume control will need to be mapped to a fader.